Google Pixel 2 Screen Repair
| Issue | Price |
| --- | --- |
| Google Pixel 2 Screen Repair ( LCD and touch are Still working ) | $149 |
| Google Pixel 2 LCD Repair (Broken LCD, No display, lines, dead pixels, etc ) | $179 |
| Google Pixel 2 Back Glass Replacement | $49 |
| Google Pixel 2 Battery Replacement | $129 |
| Google Pixel 2 Charging Port Repair | $129 |
| Google Pixel 2 Microphone Repair | $129 |
| Google Pixel 2 Ear Speaker Repair | $129 |
| Google Pixel 2 Finger Print Scanner Repair | $99 |
| Google Pixel 2 Ringer/loudspeaker Repair | $129 |
| Google Pixel 2 Headphone Port Repair | $129 |
| Google Pixel 2 Back Camera Repair | $129 |
| Google Pixel 2 Front Camera Repair | $129 |
| Google Pixel 2 Camera Lens repair | $49 |
| | |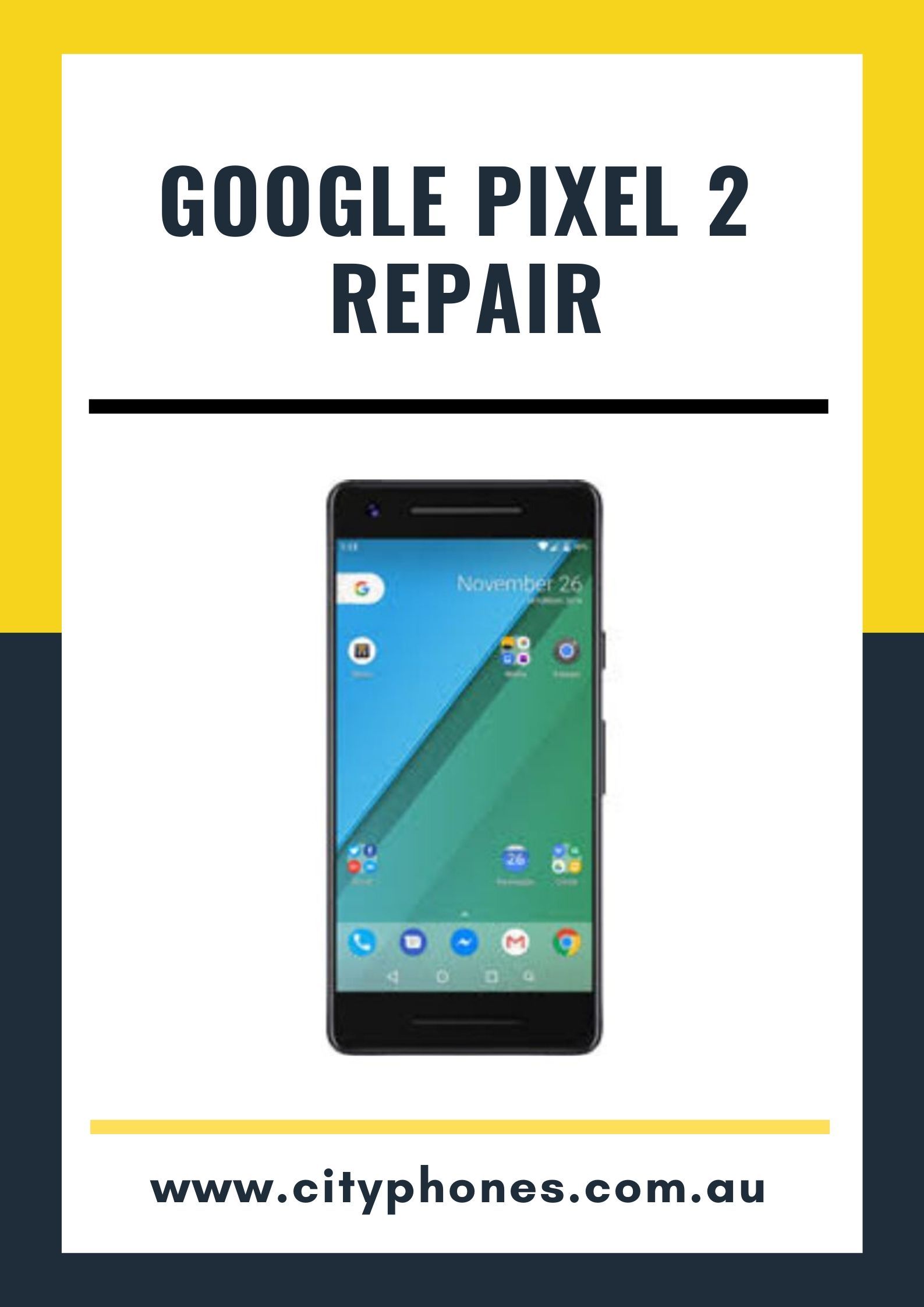 Google Pixel 2 Repair Greensborough
Launched in October 2017 Google gave people a reason to smile by launching a powerful camera phone at low cost. It has the best in the class processor which makes it a top pick. At City Phones, our trained staff is very well equipped with the latest technology and tools to carry out Google Pixel 2 repairs.
Google Pixel 2 repair In Melbourne CBD Australia by Cityphones. If you have broken your pixel 2 and looking for the reliable repairer, look no further than the Cityphones repair center.
We fix the following issues with your Google Pixel 2 smartphone:
Google Pixel 2 Screen Repair Melbourne

Google Pixel 2 comes with a 5-inch display having a 67.9% screen-to-body ratio, resolution of 1080 X 1920 pixels with a protection of Corning Gorilla Glass 5. Though it has a good screen protection from Gorilla Glass, yet the screen of Google Pixel 2 gets damaged due to accidental drop from hands. We stock the most in-demand phone parts in our stores and can complete your Google Pixel screen repair within 30 Mins to 1 hour. We have experienced staff doing screen replacement of Google Pixel 2 smartphones. We understand that breaking or damaging your phone's screen can be bothersome, especially with a fast lifestyle were having a phone at hand at all times is essential. So, we make every effort to bring your phone back to life within a couple of hours or on the same day.
Google Pixel 2 LCD Replacement in Greensborough

LCD replacement is needed when your mobile phone screen goes black or starts showing black lines or the touch screen starts showing touch issues. In these conditions, City Phones addresses your concern with great care and helps you with LCD replacement in minimum time with a repair guarantee too, so that you remain tension-free after LCD replacement in your Google Pixel 2 mobile phone.
Google Pixel 2 Battery Replacement in Melbourne

Google Pixel 2 mobile phones come with Li-Ion 2700mAh non-removable battery. If your Google Pixel 2 starts taking longer to charge or the phone suddenly drops charging, then the phone might need a battery replacement. At City Phones, we are experts in battery replacement as we have been doing battery replacement of Google phones for a couple of years. You can just walk into our Melbourne stores situated at two locations and get the battery replaced.
Google Pixel 2 Charging Port Repair Greensborough

We all experience charging problems with our phones or see nearby people facing charging problems with their phones. The obvious solution which clicks in our minds is that the charging cable or the charger itself have stopped working. However, it could be the charging port of the mobile phone that is having the problem and it needs replacement. City Phones can fix all charging-related issues in your phone within a few minutes, and you will see your phone back to life charging as before.
Google Pixel 2 Camera Repair Melbourne

Google Pixel 2 comes with a 12.2MP main camera and an 8MP front camera to take great selfies. Discover a better way to capture, store, and see the world. Google Pixel 2 features a smart camera that takes beautiful photos in any light. City Phones perform all camera-related repairs of your Google Pixel 2. We believe in customer satisfaction and all our technicians give their level best performing their task, so be assured about the quality of camera repair services.
Google Pixel 2 Motherboard Repair in Greensborough

We also do water damage repairs in smartphones involving soldering or ICs replacement on the motherboard. City Phones is equipped with state-of-the-art tools and technology to perform all motherboard-related tasks. All staff members in City Phones performing motherboard-related repairs are well trained and experienced with the latest technology.
We also provide phone accessories and protective cases to protect your phone against accidental damages, you can either look at them in-store or on our online store. For all the repair services you can visit our store, or you can click on the Book Repair button on this page to book your repair. We also provide pick-up and drop-off repair, on the spot repair service in Melbourne, Australia. Repair time is estimated 1 to 2 hours. Please give us a call to book your repair.