Nokia 7 Repair in Melbourne
Nokia 7 Repair
| Issue | Price |
| --- | --- |
| Nokia 7 Screen Repair | $169 |
| Nokia 7 Battery Replacement | $75 |
| Nokia 7 Charging Port Repair | $99 |
| Nokia 7 Microphone Repair | $99 |
| Nokia 7 Ear Speaker Repair | $99 |
| Nokia 7 Ringer/loudspeaker Repair | $99 |
| Nokia 7 Headphone port Repair | $99 |
| Nokia 7 Back Camera Repair | $99 |
| Nokia 7 Front Camera Repair | $99 |
| Nokia 7 Camera Lens Repair | $45 |
| Nokia 7 Back Glass repair | $65 |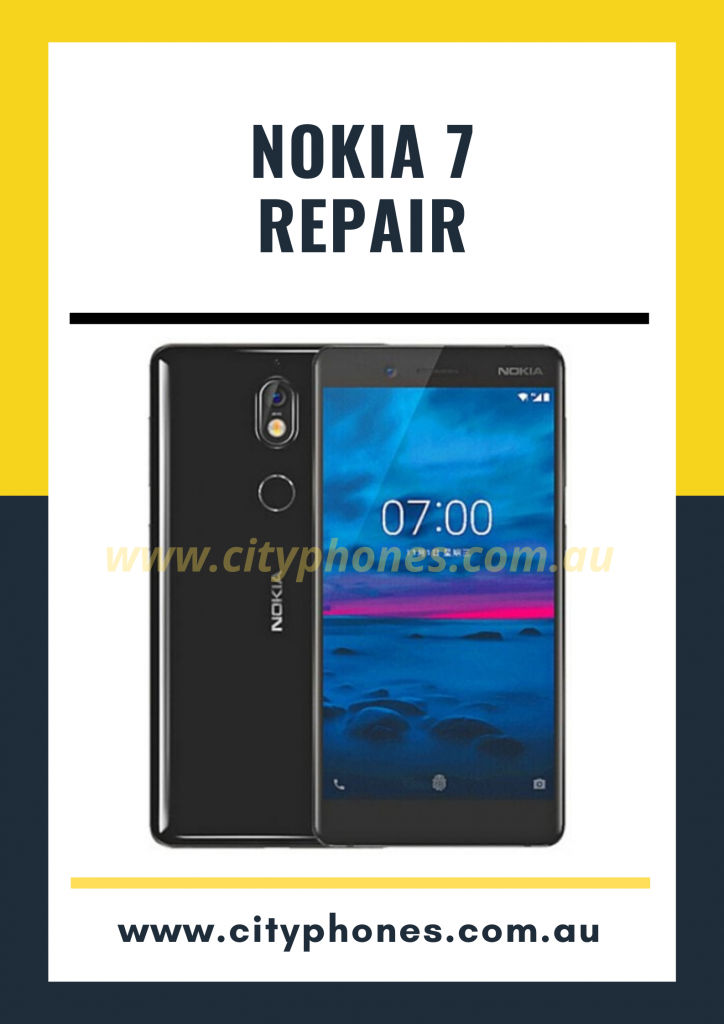 Nokia 7 Repair in Melbourne
Nokia 7 Repair in Melbourne
City Phones provides repair by expert technicians for your Nokia 7 mobile phone using genuine parts. Is your Nokia 7 phone broken accidentally and are you searching for a reliable and trustable Nokia 7 phone repair service within the Melbourne CBD? Then look no further than City Phones, as we are one of the leading Nokia mobile phone repair service providers in Melbourne. We provide the utmost care while repairing your Nokia 7 mobile phone, and we always offer the best possible repair options to get your Nokia mobile phone working again. All parts chosen are of the highest quality and come with a standard warranty.
Special Repair Features:
Standard Repair Warranty
Team of expert technicians to troubleshoot and repair your mobile phone.
Extra care is provided in each repair.
Reasonable prices.
Quality repair work with the best workmanship.
Nokia 7 Screen Repair in Melbourne
The most common repair required is Nokia Phone Screen Replacement. City Phones efficiently replace the screen of your Nokia 7 mobile phone within 30 minutes to an hour. We know the value of the mobile phone to a customer, so we make every possible effort to repair your Nokia 7 Mobile phone screen as soon as possible. You can walk in with a broken mobile phone to get a new screen replaced at a competitive price compared to the market. Some of the most common Nokia repair services are as follows:
    Broken Screen
    Broken LCD
    Faulty charging port
    Faulty Headphone jack
    Faulty back/front camera
    Water damage
    Battery not charging.
    Motherboard issues
Feel free to get in touch with our experts on 0426504955 or email us at info@cityphones.com.au. Our store addresses are 148 Elizabeth Street, Melbourne, VIC, 3000, and Shop 2, 231 Elizabeth Street, Melbourne, VIC, 3000. The hours of operation are Monday through Friday, 9.30 a.m. to 6.30 p.m., and Saturday and Sunday, 10 a.m. to 5 p.m.