Google Pixel 4 Screen Repair
| Issue | Price |
| --- | --- |
| Google Pixel 4 LCD Repair (Broken LCD, No display, lines, dead pixels, etc ) | $249 |
| Google Pixel 4 Back Glass Replacement | $99 |
| Google Pixel 4 Battery Replacement | $149 |
| Google Pixel 4 Charging Port Repair | $149 |
| Google Pixel 4 Microphone Repair | $149 |
| Google Pixel 4 Ear Speaker Repair | $149 |
| Google Pixel 4 Finger Print Scanner Repair | $99 |
| Google Pixel 4 Ringer/loudspeaker Repair | $149 |
| Google Pixel 4 Headphone Port Repair | $149 |
| Google Pixel 4 Back Camera Repair | $149 |
| Google Pixel 4 Front Camera Repair | $149 |
| Google Pixel 4 Camera Lens Repair | $75 |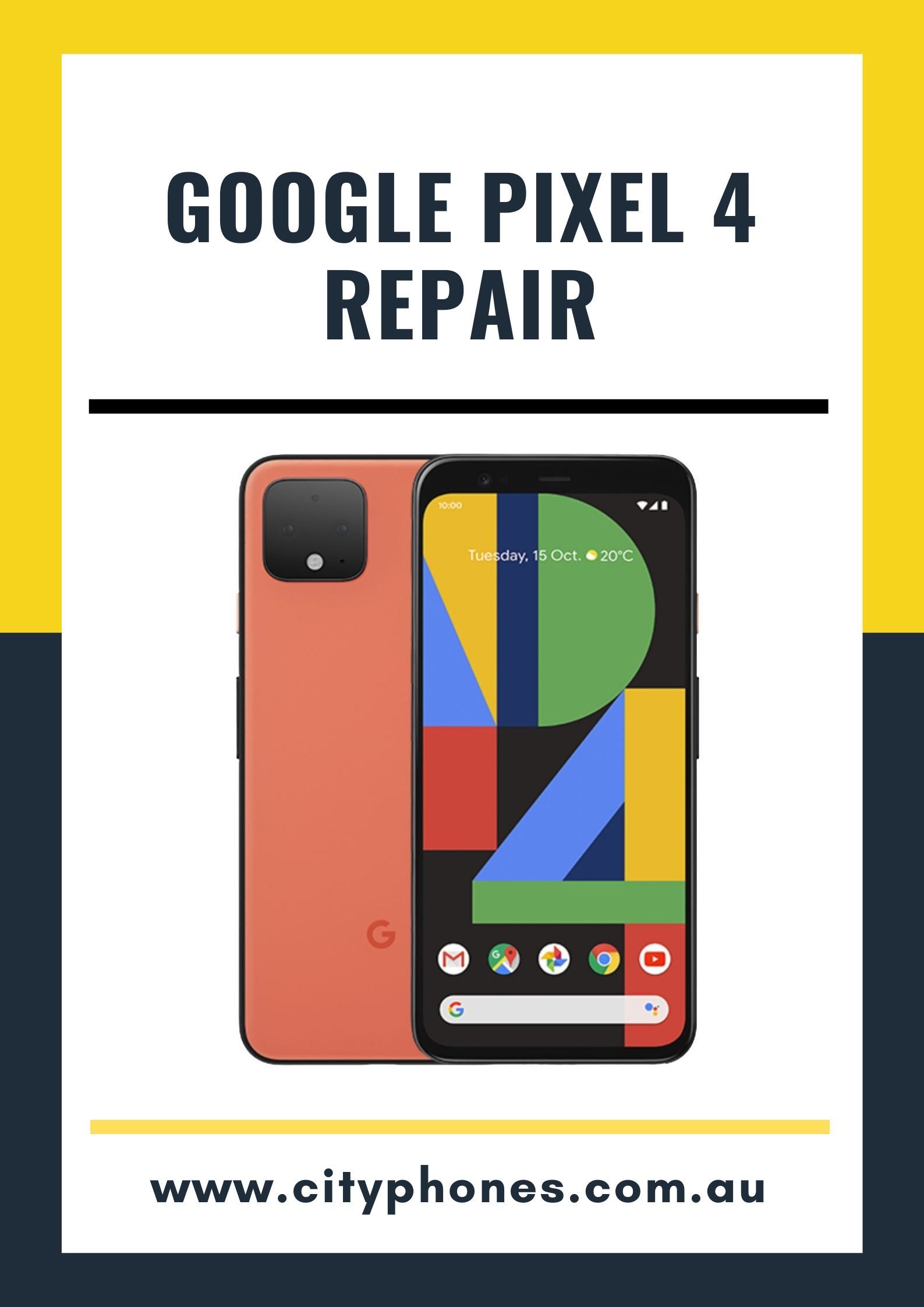 Google Pixel 4 Repair in Melbourne and Greensborough
Google Pixel 4 phone was released in October 2019. The phone is made up of an aluminum frame and has Gorilla Glass 5 on both the front and back. Google Pixel 4 phone weighs 162gm with dimensions of 147.1 x 68.8 x 8.2 mm supporting Nano-SIM and has privileged features of IP68 dust and water-resistant. Google Pixel 4 has a P-OLED HDR display of a 90Hz refresh rate. The size of the display is 5.7-inches with a 79.8% screen-to-body ratio and a screen resolution of 1080 x 2280 pixels 444 PPI density. The mobile phone runs on Android 10 which is upgradable to Android 12. It has two storage variants with storage options of 64GB and 128GB. The RAM the phone supports is 6GB for both variants. Google Pixel 4 has a dual-camera setup. The front camera is 8MP and the rear camera is 12.2MP. Although Google Pixel 4 is a very good phone, it is still vulnerable to physical damage as the Corning Gorilla Glass 5 protection could protect the screen of the phone only up to an extent by if the phone hits a hard surface the screen is likely to get cracks.
Google Pixel 4 Screen Repair in Melbourne and Greensborough
Though you can use tempered glass on top of the Gorilla Glass 5 protected screen of the Google Pixel 4. It sometimes is not enough to protect against cracks on your screen or worse prevent LCD damage. Have you accidentally broken your Google Pixel 4 screen? Visit City Phones stores within Melbourne and Greensborough to get on-the-spot screen replacement service from the most experienced and skilled technicians belonging to the team of technicians available with City Phones. A broken screen is perhaps the most common hardware malfunction. City Phones offer high-quality Google Pixel screen repair service here in Melbourne and Greensborough at an affordable price. We can offer you this service at a competitive price by using genuine Google Pixel parts for the Google Pixel 4 screen repair. Rest assured as City Phones aims to provide complete satisfaction to its customers by providing the highest quality screen repair services giving your cracked screen Google Pixel 4 mobile phone a new look thus making it look just like new.
Google Pixel 4 LCD Repair in Melbourne and Greensborough
In case your LCD touchscreen of the Google Pixel 4 phone is not working and has issues while using it. You need to repair your broken LCD screen using high-quality Google Pixel 4 parts which provide durability and longevity. In case only the glass is broken and your LCD touchscreen is working our expert technicians will repair the broken glass only leaving the working LCD touchscreen as it is. But in case your LCD touchscreen is also not working we need to replace the faulty LCD touchscreen as well with a new one. If you're looking to have your Google Pixel 4 LCD replacement then look no further as City Phones experienced and trained technicians will replace the faulty LCD touchscreen with a new one.
Google Pixel 4 Battery Repair in Melbourne and Greensborough
If you're looking to have your Google Pixel 4 battery replacement then visit City Phones stores in Melbourne and Greensborough using genuine Google Pixel 4 replacement parts. In case your old Google Pixel 4 phone's battery is not charging or the battery is not holding the charge then it is sure your Google Pixel 4 phone needs a new battery. Battery replacement covers the replacement of the faulty battery on your phone. With high-quality original Google Pixel parts used for the repair, you can have the new Google Pixel 4 battery replaced at an affordable price.
Google Pixel 4 Charging Port Repair in Melbourne and Greensborough
If you want to have a high-quality Google Pixel 4 charging port repair at an affordable price then, visit City Phones. We offer Google Pixel 4 charging port replacement using only high-quality Google Pixel 4 parts. You can have the repair done in just 30 mins to an hour from the hands of experienced and skilled technicians offering a standard repair warranty with every repair done thus making your faulty charging port Google Pixel 4 phone charge just like before the damage.
Along with Google Pixel 4 repair service City Phones also offer Google Pixel 4 cases, covers, tempered glass and Google Pixel 4 screen protectors. These Google Pixel cases and screen protectors are very important and provide complete protection against sudden drops and accidental falls to your expensive phone. We have a rich collection of the World's best brands Google Pixel accessories available for your Google Pixel 4 mobile phones available at a competitive price from the market which you can order online or in-store.
We repair most of the faults with Google Pixel 4, some of the common issues are as follow:
-Broken screen replacement.
-LCD Replacement
-Battery Replacement
-Back Camera Replacement
-Front camera replacement
-Backglass replacement
-Sensor replacement
-Motherboard repair
To find out more about it please contact us or call 0426504955.