IPHONE 6S Repair in Melbourne
IPHONE 6S Repair
| Issue | Price |
| --- | --- |
| IPHONE 6s Screen Repair ( LCD and touch are Still working ) | 79 |
| IPHONE 6s LCD Repair (Broken LCD, No display, lines, dead pixels, etc ) | 89 |
| IPHONE 6s Battery Replacement | $49 |
| IPHONE 6s Charging Port Repair | $49 |
| IPHONE 6s Microphone Repair | $49 |
| IPHONE 6s Ear Speaker Repair | $50 |
| IPHONE 6s Home Button Repair | $40 |
| IPHONE 6s Ringer/loudspeaker Repair | $50 |
| IPHONE 6s Headphone Port Repair | $49 |
| IPHONE 6 Back Camera Repair | $49 |
| IPHONE 6s Front Camera Repair | $49 |
| IPHONE 6s Camera Lens repair | $35 |
| IPHONE 6s Back Frame Replacement | $99 |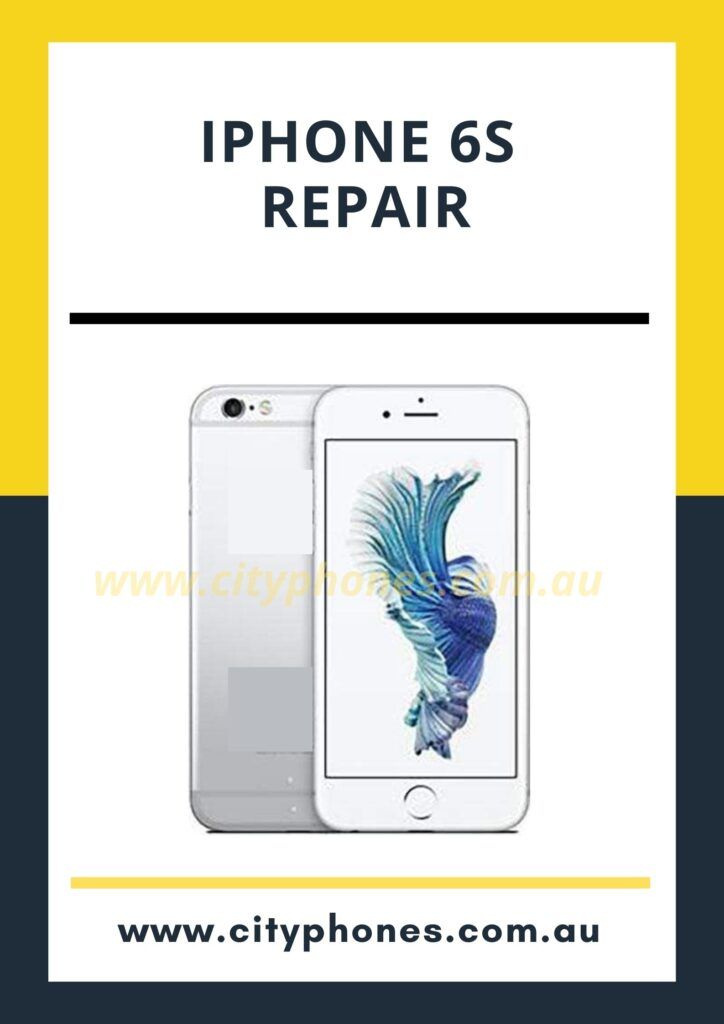 IPHONE 6S Repair in Melbourne and Greensborough
The IPHONE 6S was released in September 2015 has a dimension of 138.3*67.1*7.1mm sleek design with increased weight from its predecessor of 143gm. It continues to use aluminum for its body which has been consistent in all of its previous models. The LED black-lit IPS LCD includes a capacitive touchscreen which shows 16m colors. The screen to the body has been increased from 60.8 to 65.8 in IPHONE 6S. The 4.7 inches screen can produce a resolution of 750*1334 pixels. The screen produces a multi-touch feature and it comes with the protection of ion strengthened glass with an oleophobic coating. In case you are having a problem with your IPHONE 6S phone look no further than City Phones as we cater to all repair needs of this phone. At City Phones, we specialize in every model of IPHONE repairs, as well as IPADs and IPODs. We have been repairing IPHONEs since 2015 and have gathered more than 6 years of experience in this journey.
IPHONE 6S Screen Repair in Melbourne and Greensborough
The most common problem which IPHONE 6S users face is the screen breakage or the damage problem, the solution which exists is the screen replacement service which City Phones is efficiently able to provide with the use of genuine IPHONE repair parts thus making your IPHONE 6S screen look new. With devices these days a cracked screen is a common issue that could be conveniently resolved by a team of professionals having experience in the replacement of the screen of an IPHONE 6S mobile phone with high-quality parts and expert technicians. City Phones is the destination for people who want to replace their IPHONE 6S mobile phone cracked screen with a brand new genuine IPHONE screen thus making it look like new.
IPHONE 6S LCD Repair in Melbourne and Greensborough
In case if the glass of your LCD screen is broken we will repair only the glass leaving the LCD touchscreen as it is. In case your LCD touchscreen is also having issues like it goes blank or shows multiple colored lines then it is sure your IPHONE 6S mobile phone needs a new LCD replacement which City Phones is capable of doing so. With the help of expert and skilled technicians, City Phones can replace the broken LCD screen with a genuine one as we aim to provide our customers the best possible repair service. With quality, we also provide affordable LCD replacement as we carry out all our repair services at our stores located in Melbourne and Greensborough.
IPHONE 6S Battery Repair in Melbourne and Greensborough
IPHONE 6S battery replacement is frequently done in our repair center as batteries become faulty after some time. If your IPHONE 6S phone does not charge properly, then it could be having a battery issue or is on the verge of it. Do bring your IPHONE to us. We will access your IPHONE and provide free assessment and advice. Only if we discover that your phone's battery is faulty and needs replacement, we will advise you on the repair necessities. In our stores, we keep stock of brand new IPHONE 6S batteries. IPHONE 6S battery replacement generally needs 30 minutes to an hour. So in just 30 minutes to an hour, you will have a working phone which will charge like before so that you don't stop and continue in your life just like before.
IPHONE 6S Charging Port Repair in Melbourne and Greensborough
IPHONE 6S charging port replacement is carried out only after establishing that the charging port is faulty. The issue with the charging port is related to the phone not charging properly. However, this could be the issue with the battery, the charging cable, or the charging adapter, as these components can also cause charging failure. Our expert technicians will test these components of the devices, so they can identify which of these parts are faulty and need replacement. In our stores in Melbourne and Greensborough, we have brand new IPHONE 6S connector parts in stock. When it becomes clear that your IPHONE 6S needs charging port replacement our expert technicians will replace the faulty charging port connector within just 30 minutes to an hour. You will have in your hands a working IPHONE 6S  just in 30 minutes to an hour waiting as we make all efforts to repair your phone in the minimum possible time as we want you to begin living a normal life like before as soon as possible.
IPHONE 6S Front and Back Camera Repair in Melbourne and Greensborough
In case you are facing issues with the front and back camera of your IPHONE 6S such as distorted image, blank/black screen, or couldn't capture photos, then most likely the front and back camera of your IPHONE 6S has issues. City Phones offers front and back camera replacement of IPHONE 6S in Melbourne and Greensborough at an affordable price. We offer the best possible repair service with the highest quality parts! Get your IPHONE 6S front and back camera repaired today with a high-quality front and back camera lens for a long-lasting effect.
IPHONE 6S repair in Melbourne CBD and Australia-wide via post. Just mail in your broken device to our IPHONE repair center in Melbourne CBD and we will ship it back after repair. IPHONE 6S Screen Repair in Melbourne CBD by Cityphones. We have quality parts and competitive prices in the market.  IPHONE 6s is a very durable and fast phone within budget. It has all the high specifications you can expect from a high-end smartphone.  We also understand the value of the device in our lives these days.
City Phones also deals with the world's best brand IPHONE 6S cases, IPHONE 6S covers, and IPHONE 6S screen protectors. We offer premium quality IPHONE 6S cases, covers, tempered glass, and screen protectors available at a competitive price. Visit our online store to order high-quality IPHONE 6S accessories available with free shipping and afterpay facility. We will have your device fixed as soon as possible, normally screen repair on Apple IPHONE 6S devices takes around one hour. Our qualified and friendly staff is ready to help you out with any sort of damage. At Cityphones we give most importance to our customer's phones as we know their value. All repair comes with a warranty from us.
Cityphones can fix the following damages to IPHONE 6S,
-Cracked Screen
-Non-Working LCD
-Non-Working charging port
-Non-Working Headphone Jack
-Non-Working Back/Front camera
-Water Damage
-Battery Issue
-Motherboard Problem