Google Pixel 3A XL Repair
Google Pixel 3A XL Screen Repair
| Issue | Price |
| --- | --- |
| Google Pixel 3A XL Screen Repair ( LCD and touch are Still working ) | $179 |
| Google Pixel 3A XL LCD Repair (Broken LCD, No display, lines, dead pixels, etc ) | $249 |
| Google Pixel 3A XL Back Glass Replacement | $150 |
| Google Pixel 3A XL Battery Replacement | $149 |
| Google Pixel 3A XL Charging Port Repair | $149 |
| Google Pixel 3A XL Microphone Repair | $149 |
| Google Pixel 3A XL Ear Speaker Repair | $149 |
| Google Pixel 3A XL Finger Print Scanner Repair | $99 |
| Google Pixel 3A XL Ringer/loudspeaker Repair | $149 |
| Google Pixel 3A XL Headphone Port Repair | $149 |
| Google Pixel 3A XL Back Camera Repair | $149 |
| Google Pixel 3A XL Front Camera Repair | $149 |
| Google Pixel 3A XL Camera Lens Repair | $75 |
| | |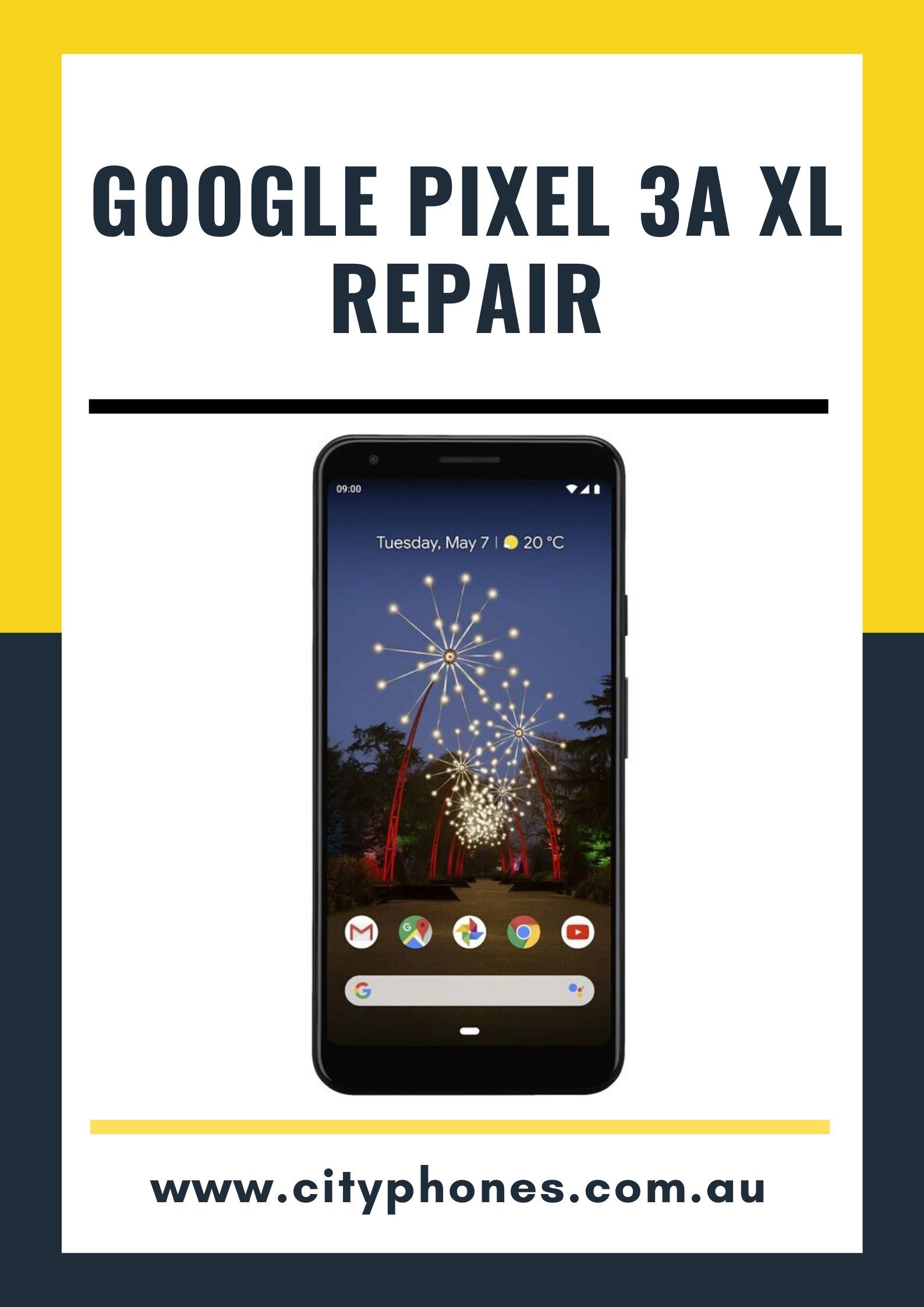 Google Pixel 3A XL Repair
Google Pixel 3A XL Screen Repair in Melbourne and Greensborough
In case you are looking for skilled professionals to repair your Google Pixel 3A XL broken screen mobile phone which after meeting an accidental fall from the hands of the owner got several cracks on the screen, look no further as for Google Pixel 3A XL screen repair service, City Phones have trained and skilled technical staff in Melbourne and Greensborough. City Phones has equipped staff with state-of-the-art equipment which could complete the screen replacement for your Google Pixel 3A XL phone in just 30 minutes to an hour. Though the screen comes with protective glass, the widescreen is yet defenseless against actual harm. A messed-up screen is maybe the most well-known hardware damage. As screens are made up of glass, a single drop may prompt devastating breaks on the screen. Screen repair is likewise perhaps the most costly repair, among others. On the off chance that you just broke your screen, the City Phones team of professionals offers excellent Google Pixel screen repair services here in Melbourne and Greensborough. We offer excellent screen repair services here at our Melbourne and Greensborough stores at an affordable price by using genuine Google Pixel parts.
Google Pixel 3A XL LCD Repair in Melbourne and Greensborough
If your Google Pixel 3A XL display screen has gone black, showing purple or multi-colored lines on it or you are not able to see anything within your mobile phone's touchscreen you need a new LCD replaced in place of your faulty LCD touchscreen. The modern equipment assists our team in providing high-quality LCD replacement service for your Google Pixel 3A XL phone. We know how important your phone is for you so we handle LCD replacement issues with utmost care and make every effort to return your Google Pixel phone to you after replacing the faulty non-functional LCD with a genuine Google Pixel 3A XL LCD touchscreen after replacement. Our technical staff members have more than six years' experience making them perfect for handling all issues you face with your Google Pixel phones. This is the reason people remember us to avail extraordinary work. Our competent team can handle the issues in Google Pixel 3A XL mobiles which are even hidden. They have their fingers on the pulse of the Google Pixel 3A XL mobile phone.
Google Pixel 3A XL Battery Repair in Melbourne and Greensborough
Are you experiencing battery-related issues with your Google Pixel 3A XL phone? City Phones is here to help you by resolving all battery-related issues in the minimum possible time frame. Our technical staff implies a focused approach to every aspect of the Google Pixel 3A XL battery replacement service. So we execute productive solutions for the battery replacement for your Google PIxel 3A XL phone that was not possible before. With the help of genuine Google Pixel 3A XL parts, your battery replacement issue will be solved with enhanced durability and long-lasting nature so that you don't need to face the same issue in near future with your Google Pixel 3A XL phone. We offer battery replacement services fast due to our competent experienced team members who have more than six years expertise in battery replacement services.Meanwhile we also ensure the efficiency and the productivity between different repairing procedures. City Phones provide rapid Google Pixel 3A XL repair services that would work for a long time. Our repair for Google Pixel 3A XL is more advanced and fast.
Google Pixel 3A XL Charging Port Repair in Melbourne and Greensborough
If your Google Pixel 3A XL phone is creating problems while charging you need to replace your phone's charging port as it has gone faulty over time and needs replacement. City Phones experienced team of professionals can replace your faulty charging port with a new one at our stores within Melbourne and Greensborough at an affordable price. Within just 30 minutes to an hour, you will get the old charging port for your Google Pixel 3A XL phone replaced with a new one and you will experience the same charging ability as your Google Pixel 3A XL phone before damage. These strategies help our team to handle Google Pixel 3A XL phone's charging port issues with much confidence and expertise. We have a skilled team of professionals having complete knowledge about charging port replacement and can complete it with much more perfection and expertise. When we commit, we give our best to provide Google Pixel 3A XL charging port replacement done on time. Our skillful team members work hard and deploy the latest tools and techniques while replacing the faulty charging port of your Google Pixel 3A XL phone.
The phone was released in May 2019 with dimensions of 160.1 x 76.1 x 8.2 mm and 167 gm weight. The body of the phone is built up of a glass front(Asahi Dragontrail), plastic back, and plastic frame. The display of the phone is of OLED type with a screen size of 6.0 inches and a 76.3% screen-to-body ratio. The resolution of the screen is 1080 x 2160 pixels and has 402 PPI density. It is protected by Asahi Dragontrail Glass which is the always-on display. The phone ships with Android 9.0 (Pie), upgradable to Android 12 with Qualcomm SDM670 Snapdragon 670 processor and Octa-core CPU and Adreno 615 GPU. The phone comes in 64GB of storage with 4GB of RAM. The main or the back camera of this phone is 12.2MP and the selfie camera or the front camera is 8MP with excellent video shooting and photo-taking capability. The phone is powered by Li-Po 3700 mAh battery supporting 18W fast charging. Google Pixel 3A XL is a top-rated model released by Google and needs experts to deal with its repair services.
City Phones also deals with Google Pixel 3A XL cases and covers with Google Pixel 3A XL screen protectors. We have a rich collection of world's best brand Google Pixel cases, covers, tempered glass and screen protectors available at a competitive price. These Google Pixel cases and screen protectors are very important and provide complete protection against sudden dumps and falls to your expensive phone. Visit our online store to order high-quality Google Pixel accessories available with free shipping and afterpay facility in which you buy now and pay later.
At Cityphones, we have fixed the following issues with Google Pixel 3A XL
-Broken Screen,
-Broken LED or LCD
-Broken Charging port
-Faulty Motherboard
-Faulty cameras
And much more, visit our store to find out more.