Google Pixel 4A Screen Repair Prices
| Issue | Price |
| --- | --- |
| Google Pixel 4A Screen Repair ( LCD and touch are Still working ) | $279 |
| LCD Replacement (Broken LCD, No display, lines, dead pixels, etc ) | $249 |
| Back Glass Replacement | $150 |
| Battery Replacement | $149 |
| Charging Port Repair | $149 |
| Microphone Repair | $149 |
| Ear Speaker Repair | $149 |
| Finger Print Scanner Repair | $99 |
| Ringer/loudspeaker Repair | $149 |
| Headphone Port Repair | $149 |
| Back Camera Repair | $149 |
| Front Camera Repair | $149 |
| Camera Lens Repair | $75 |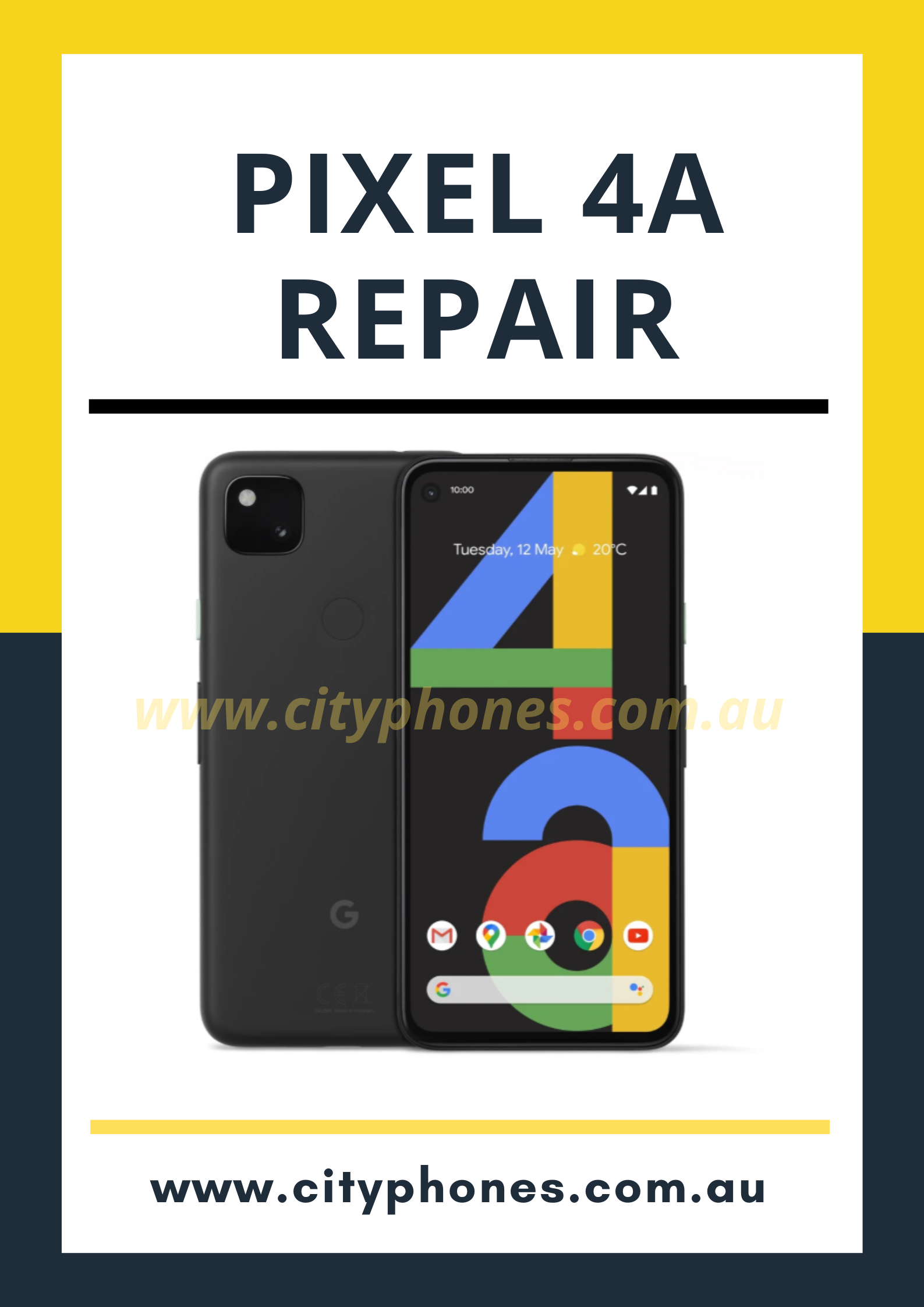 Google Pixel 4a Repair
Google Pixel 4a repair in Melbourne CBD Australia. The most waited for the phone of the year for Android fans. Google Pixel 4a is here, comes with features like wireless charging, Fingerprint (rear-mounted), accelerometer, gyro, proximity, compass, barometer, Type C charging cable, rapid charge, and much more. As its a very durable and highly technical phone, but still, there is a chance you can damage it easily. If you have accidentally broken the Screen on Google Pixel 4a or looking for any other Google Pixel Repair in Melbourne then look no further than Cityphones.
At Cityphones, we can fix the following issues with Google Pixel 4a
Google Pixel 4a Screen repair
City Phones can fix your shattered glass on the Google pixel screen, if the LCD screen and the touchscreen are still working, within a few hours. we are equipped to provide the services for original Google pixel 4a screen repair and original Google pixel LCD replacement on the same day.
Google Pixel 4a LCD replacement
Your phone needs Google Pixel LCD replacement if the screen of your phone went totally black, showing some lines on the screen. In that case, City Phones can provide Google pixel LCD repair.
Google Pixel 4a charging port replacement
The phone has become a crucial part of our lives that we always need it whether to send an email or checking a message or to do a conference meeting. Imagine that, the gadget of that importance if simply denies getting charged! We can diagnose the issues and repair the charging port if necessary. All of the repairs are carried out at City Phones repair centre Melbourne by our trained staff with the help of advanced equipment.
Google Pixel 4a battery replacement
if your phone suddenly drops off the charged power or takes a long time to charge, then that might be because of the faulty battery in the phone. City Phones can perform the Google Pixel 4a battery replacement within 45 minutes.
Some of the other Google Pixel 4a repairs at City Phones include
Faulty Motherboard
Faulty cameras
Camera lens
Backglass replacement
Faulty Microphone
Faulty ringer/loudspeaker
Google Pixel 4a Insurance & Damaged Report
And much more, visit our store, or alternatively you can click on the Book Repair button on this page to book your repair. We also provide pick-up and drop-off repair, on the spot repair service in Melbourne, and repair by post in Australia. One can also take care of their device and save it from the damages of the minor fall by using quality accessory products like Google Pixel 4a screen protectors and Google Pixel 4a covers.
We are open seven days
148 Elizabeth Street
Melbourne CBD 3000     
Mon-9.30 AM to 6.30 PM
Tue  -9.30 AM to 6.30 PM
Wed -9.30 AM to 6.30 PM
Thr  -9.30 AM to 6.30 PM
Fri    -9.30 AM to 6.30 PM
Sat   -10.00 AM to 5.00PM
Sun -10.00 AM to 5.00PM