Nokia 6.2 Repair in Melbourne
Nokia 6.2 Repair
| Issue | Price |
| --- | --- |
| Nokia 6.2 Screen Repair | $149 |
| Nokia 6.2 Battery Replacement | $75 |
| Nokia 6.2 Charging Port Repair | $99 |
| Nokia 6.2 Microphone Repair | $99 |
| Nokia 6.2 Ear Speaker Repair | $99 |
| Nokia 6.2 Ringer/loudspeaker Repair | $99 |
| Nokia 6.2 Headphone port Repair | $99 |
| Nokia 6.2 Back Camera Repair | $99 |
| Nokia 6.2 Front Camera Repair | $75 |
| Nokia 6.2 Camera Lens Repair | $45 |
| Nokia 6.2 Back Glass repair | $65 |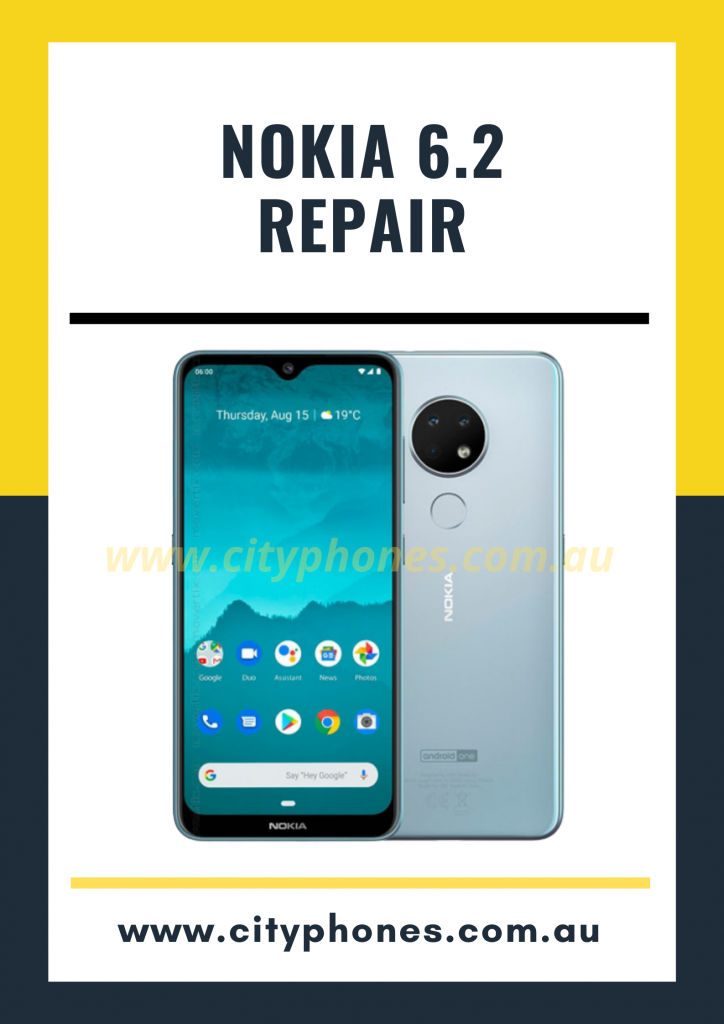 Nokia 6.2 Repair in Melbourne
Nokia 6.2 Repair in Melbourne
For Nokia 6.2 repair, we have well-trained and experienced technicians in Melbourne and Greensborough. To perform Nokia repairs, City Phones has equipped its staff with state-of-the-art equipment. The modern equipment assists our team in providing sustainable solutions. City Phones has vast experience in Nokia phone repairs. This is the reason people refer to us when they need Nokia 6.2 repairs in Melbourne with expert technicians and high-quality parts. We cover a wide variety of repair services for the Nokia 6.2 mobile phone. You can visit our stores for any necessary mobile phone repairs in Melbourne and Greensborough. Our expert technicians are familiar with all the repairs that you may need if your Nokia 6.2 gets accidentally damaged. Your Nokia mobile is in safe hands as we use genuine parts to repair your Nokia mobile phone.
Nokia 6.2 Screen Repair
If you're searching for Nokia 6.2 repair shops in Melbourne and Greensborough, contact us for further details regarding the phone repairs you need. You can walk into our store, call us or contact our customer care team for any queries via our website. Nokia phone screen replacement is the most common repair needed after your Nokia phone gets damaged after an accidental drop from your hands. Screen replacement is the costliest repair needed, so we repair your device with the utmost care and always offer the best possible option that is available. We offer a standard repair warranty with every repair we perform. Our experienced team can handle every issue you may face after your Nokia mobile gets damaged.
We have quality parts and competitive prices in the market. The Nokia 6.2 is a very durable and fast phone within your budget. It has all the high specifications you can expect from a good smartphone. We will have your mobile fixed as soon as possible. Normally, screen repair on Nokia 6.2 mobile phones takes 30 minutes to 1 hour. Our qualified and friendly staff is ready to help you out with any sort of your repair service.
Some of the most common Nokia repair services are as follows:
Broken Screen
Broken LCD
Faulty charging port
Faulty Headphone jack
Faulty back/front camera
Water damage
Battery not charging.
Motherboard issues
Feel free to get in touch with our experts on 0426504955 or email us at info@cityphones.com.au. Our store addresses are 148 Elizabeth Street, Melbourne, VIC, 3000, Shop 2, 231 Elizabeth Street, Melbourne, VIC, 3000, and another one at L01, Shop 137, 25 Main Street, Greensborough, VIC 3088. The hours of operation are Monday through Friday, 9.30 a.m. to 6.30 p.m., and Saturday and Sunday, 10 a.m. to 5 p.m.