Google Pixel 8 Pro Repair in Melbourne
Google Pixel 8 Pro Screen Repair
| Issue | Price |
| --- | --- |
| Google Pixel 8 Pro Screen/LCD Repair | Call us for stock availability and price |
| Google Pixel 8 Pro Camera Lens Repair | Call us for stock availability and price |
| Google Pixel 8 Pro Battery Replacement | Call us for stock availability and price |
| Google Pixel 8 Pro Charging Port Repair | Call us for stock availability and price |
| Google Pixel 8 Pro Microphone Repair | Call us for stock availability and price |
| Google Pixel 8 Pro Ear Speaker Repair | Call us for stock availability and price |
| Google Pixel 8 Pro Finger Print Scanner Repair | Call us for stock availability and price |
| Google Pixel 8 Pro Ringer/loudspeaker Repair | Call us for stock availability and price |
| Google Pixel 8 Pro Headphone Port Repair | Call us for stock availability and price |
| Google Pixel 8 Pro Back Camera Repair | Call us for stock availability and price |
| Google Pixel 8 Pro Front Camera Repair | Call us for stock availability and price |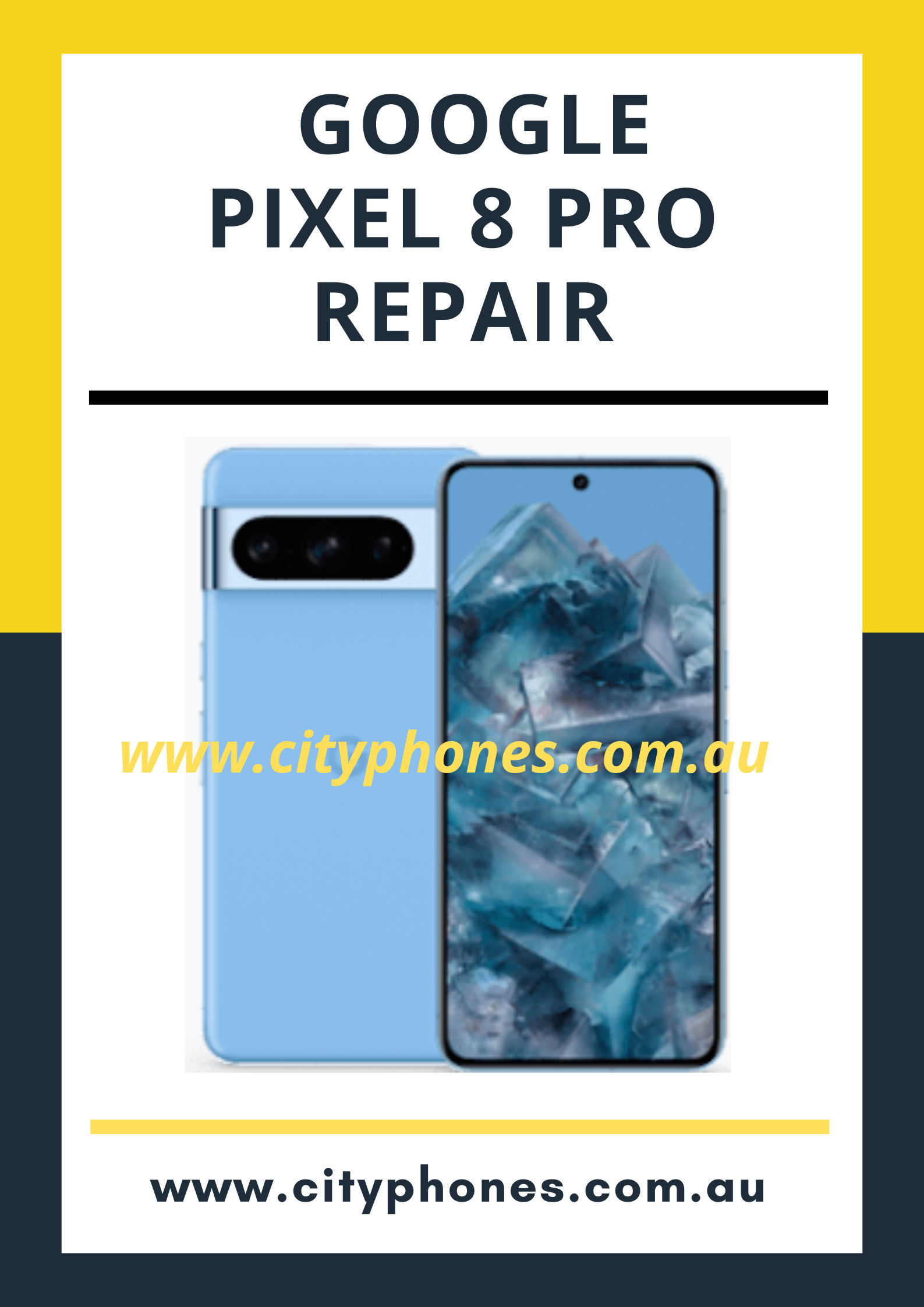 Google Pixel 8 Pro Repair
Pixel 8 Pro Repair Melbourne
What's New About the Pixel 8 Pro?
The Pixel 8 Pro is a flagship phone from Google released in 2023 that comes with new features and improvements. A few of the latest features that have been introduced within the Pixel 8 Pro are the all-new Google Tensor G3 chip is designed to bring the power of AI into use by on-device machine learning. Tensor G3 chip offers improvements in speech and natural language understanding with enhanced camera capabilities. The Pixel 8 Pro has a thermometer sensor that can measure the temperature of objects and surfaces. AI-powered Google Assistant can summarize webpages for you, understand natural speech, and seamlessly let you voice type in multiple languages. Other AI improvements can be seen within calls, Google Photos, and the Recorder app. The Pixel 8 Pro comes packed with a generous 12GB of RAM. The Pixel 8 Pro promises an outstanding smartphone camera experience. This phone by Google comes with a massive 5050mAh battery for 24+ hour battery life. This phone supports fast wireless charging with a battery share facility.
Is the Pixel 8 Pro Screen Repairable if I Accidentally Dropped it?
Yes, the Pixel 8 Pro screen is repairable if the LCD screen and the touch screen are functional as we will replace the broken glass to make the screen look as before. If the damage to the screen is more and replacing the screen is the only solution, then we with the help of our most experienced and highly skilled technicians replace the Pixel 8 Pro screen very carefully and use the original Google Pixel 8 Pro parts. We never compromise with the quality of the Google Pixel phone repair despite keeping the screen replacement prices affordable and within the budget of every person. The Pixel 8 Pro screen type is LTPO OLED with Corning Gorilla Glass Victus 2 cover glass which provides screen extra durability and drop protection. Accidents do happen and the screen could break because of the sudden impact of falling on a hard surface. Visit immediately any of our three repair stores located in Melbourne and Greensborough. After analyzing the extent of the damage caused to your Pixel 8 Pro screen, our technicians will either replace the damaged glass or replace the screen as per the need at that time and will make your damaged screen look new again.
How to Choose the Best Technician to Replace Pixel 8 Pro Cracked Screen?
The technician you choose to replace the cracked screen of your Pixel 8 Pro should have good experience in replacing cracked screens of Google Pixel phones. Another thing you should see is that the technician you choose must have a good number of positive reviews on Google. Read the feedback posted by its previous customers and focus on whether they have a good experience with your selected technician or bad. If the experience of the previous customer is good on an average, you can go forward towards replacing the damaged screen with that technician. And if the feedback is bad on an average, you should look for someone else to replace the screen of your damaged Pixel 8 Pro. The reputation of that technician within the local market also matters so see that it is highly reputed in the local market.
How Much Will It Cost to Replace the Damaged Screen of Pixel 8 Pro?
The cost to replace the damaged screen of the Pixel 8 Pro includes the cost of the original Google Pixel 8 Pro screen along with our labor cost. City Phone repair prices are quite affordable as we aim to provide high-quality mobile phone repair services at pocket-friendly prices. We employ mostly experienced technicians as we are committed to providing excellent quality repair services to our customers. We also offer a price match in which if you find any other Google Pixel phone repair store offering lower prices of repair than what we have quoted then we will match the prices offered by that store. We have confidence in the repair services provided by our technicians, so we offer a standard repair warranty on every repair we complete.
How Can I Know That My Pixel 8 Pro LCD Touchscreen is Faulty?
If after the accident your Pixel 8 Pro LCD touchscreen starts showing unusual behavior as the screen goes blank on some occasions and returns to its normal condition on its own or you start seeing some multi-colored lines on the screen of your Pixel 8 Pro screen, it becomes sure that your Pixel 8 Pro LCD touchscreen is not working correctly, and it could stop working anytime. You should replace the LCD touchscreen when it is clear that the LCD touchscreen is not working correctly. City Phones is a group of highly skilled and talented technicians who have many years of experience with the replacement of the LCD touchscreen. So, after handling your faulty LCD touchscreen in the hands of our technicians, you can rest assured that your Pixel 8 Pro will be repaired perfectly, and your phone will again start displaying a magnificent screen after the LCD replacement.
How Much Time Will It Take to Replace the Draining Battery?
If the battery of your Pixel 8 Pro is draining fast and you keep on charging your Pixel 8 Pro again and again in a bid to keep working on it then it is the right time to replace the draining battery as soon as possible. If you continue to use the draining battery within your Pixel 8 Pro phone, it may affect the performance of this high-end mobile phone. If you are searching for a skilled technician to replace the draining battery of your Pixel 8 Pro, then City Phones is a perfect choice as this company is a team of highly skilled and many years of experienced technicians who could replace the draining battery within your Pixel 8 Pro very easily and also without noticing by anyone.
Where to Get the Pixel 8 Pro Charging Port Replaced?
If your Pixel 8 Pro charging port needs replacement as the phone is not charging due to the accidental fall from your hands, then it is sure that the Pixel 8 Pro phone charging port is not working, and replacement is the best possible solution. City Phones is the leading provider of Google Pixel phone repair service provider in Melbourne and Greensborough at a reasonable price. City Phone technicians are expert technicians and could replace the non-working charging port in just 30 minutes to an hour. We guarantee that after the non-working charging port replacement by City Phones, your Pixel 8 Pro phone will start charging like before and it will charge at the same time as it used to charge when the Pixel 8 Pro phone was new.
Along with excellent quality Google Pixel phone repair services, City Phones also sells Pixel 8 Pro cases and Pixel 8 Pro screen protectors at a competitive price within the Australian market. If you are looking to buy the world's leading brands Pixel 8 Pro cases and Pixel 8 Pro screen protectors,  you can buy these Pixel 8 Pro accessories both online and in-store. You will get amazing discount offers of more than 50% on every Pixel 8 Pro order placed online and in-store. Enjoy free shipping, 10-days return guarantee, and amazing payment offers like afterpay where you can buy now and pay later on every Google Pixel 8 Pro cases and screen protectors order placed online.