Google Pixel 5 Screen Repair
| Issue | Price |
| --- | --- |
| Google Pixel 5 Screen/LCD Repair | $349 |
| Camera Lens Repair | $149 |
| Battery Replacement | $149 |
| Charging Port Repair | $149 |
| Microphone Repair | $149 |
| Ear Speaker Repair | $99 |
| Finger Print Scanner Repair | $99 |
| Ringer/loudspeaker Repair | $99 |
| Headphone Port Repair | $99 |
| Back Camera Repair | $149 |
| Front Camera Repair | $99 |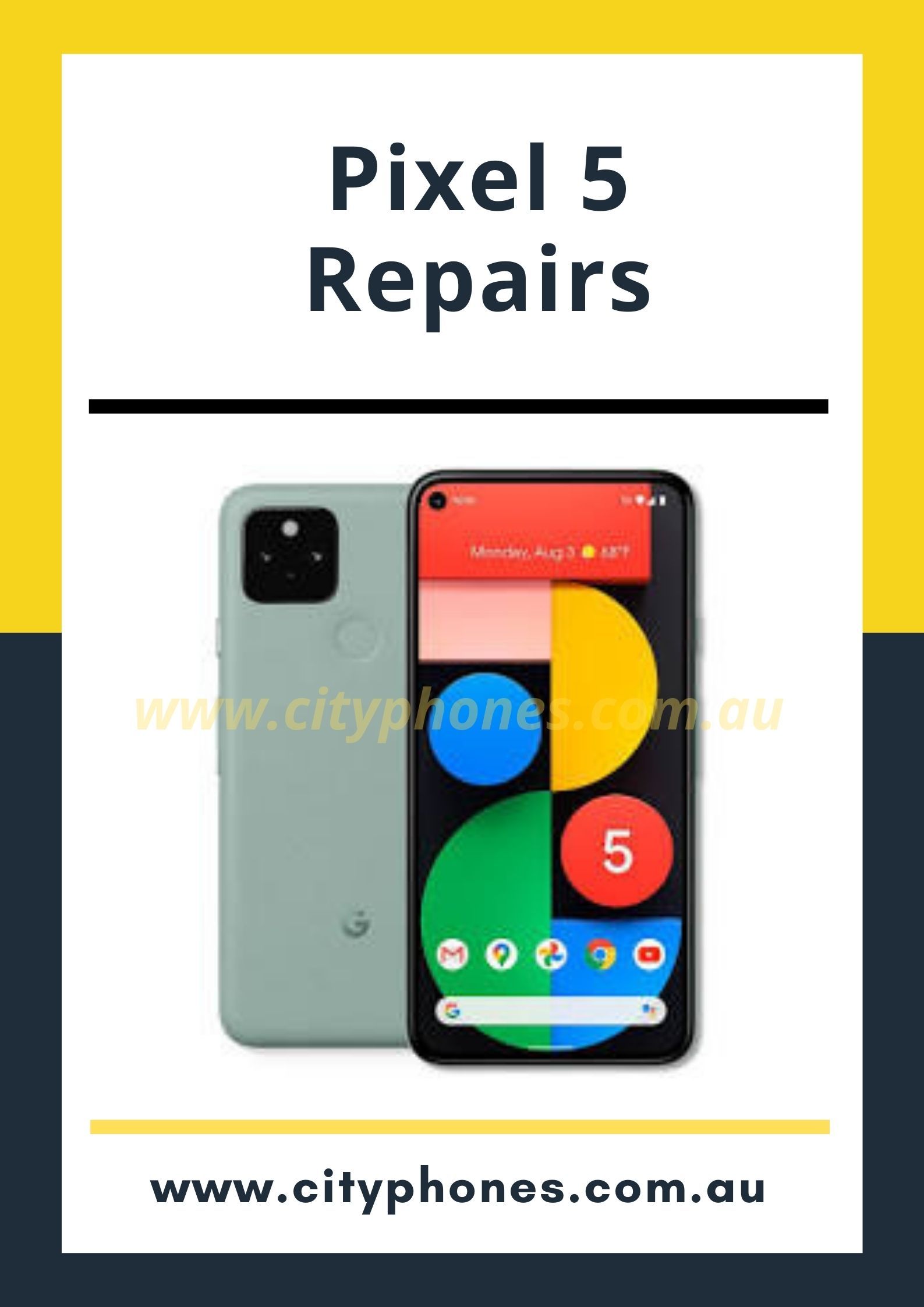 Google Pixel 5 Repair in Melbourne at City Phones
The ultimate 5g Google is a super-fast performance phone that lets you move from task to task really quickly. The phone is made up of a water-resistant metal body. it supports wireless charging and gives 48hours of battery life with its extreme battery saver. Other features include a camera that helps you to capture the moments with utmost clarity and lets you take clips with effects. And Google Assistant's help to find the answers when you need them. Everyone looks for the best place to get their device fixed, City Phones is one of the best repair centers providing services for Google Pixel 5 repairs in Melbourne.
Google Pixel 5 Screen repair
City Phones can provide services for almost every fault in your Google Pixel 5. With genuine prices, parts, and high-quality Google Pixel 5 repair in Melbourne, your phone will be turned into as good as new by our experienced and professional staff. We can fix the shattered glass on the Google pixel screen, within an hour. In order to get the Pixel 5 glass repair in Melbourne, the Lcd and the touch on your phone should be working. we are equipped to provide the services for Google pixel 5 repairs on the same day.
Google Pixel 5 LCD replacement
All of the Pixel 5 repairs are performed by our experienced technicians who are working in this field for many years. Google Pixel 5 LCD replacement is only conducted if the screen of your phone went totally black, showing some purple, green lines on the screen or having the touch issues. In that case, City Phones can provide Pixel LCD repair in Melbourne.
Google Pixel 5 battery replacement
At City Phones, we can perform the Google Pixel 5 battery replacement within 45 minutes. We provide a standard 90 days warranty on all our repairs. The Google Pixel 5 repairs are conducted by our trained technicians who firmly believe in customer satisfaction. All of the repairs are done within the quoted timeframe.
Google Pixel 5 charging port replacement
The charging port is one of the most often repairs performed by our technicians. what if your phone denies charging even after changing its charger. In that case, the charging port might need replacement. Our technicians diagnose the issues and fix the problem by following the manufacturer's specifications at a reasonable price.
Google Pixel 5 repairs are conducted in Cityphones Melbourne. You can Walk-in, book your repair appointment online, send your phone to us by post or use our pickup and drop-off service. Some areas might not have the pickup and drop-off service. We also provide repair at your place service in some areas of Melbourne. Please click on the Book repair button on this page that will navigate you to the appropriate Google Pixel 5 repair service you wish to book in. 
Some of the other Google Pixel 5 repairs at City Phones include.
Screen Replacement

LCD Replacement

Battery Replacement

Charging Port Replacement

Front Camera Replacement

Back Camera Replacement

Earpiece Speaker Replacement

Headphone Jack Replacement

Loudspeaker Replacement

Power Button Replacement

Volume button Replacement

Vibrator Replacement

Motherboard Repairs

Water Damage Repair

Fault Diagnosis & Quote Service

Insurance Damage Report
And much more, visit our store, or alternatively, you can click on the Book Repair button on this page to book your repair. Every gadget and device need proper care while handling, especially if they have big and delicate front screens. Cityphones also deals with phone accessories to prevent your device from the damages. Our online store had a variety of options when it comes to phone cases or screen protectors.
We are open seven days
City Phones
148 Elizabeth Street
Melbourne CBD 3000