Samsung A42 5g Screen Repair
Samsung A42 Repair
| Issue | Price |
| --- | --- |
| Samsung A42 Screen Repair ( If phone LCD and Touch are still working) | $255 |
| Samsung A42 LCD Replacement (Broken LCD, No display, lines, dead pixels, etc ) | $255 |
| Samsung A42 Battery replacement | $119 |
| Samsung A42 Charging port replacement | $119 |
| Samsung A42 Microphone Repair | $119 |
| Samsung A42 Ear Speaker Repair | $99 |
| Samsung A42 Ringer Repair | $99 |
| Samsung A42 Back Camera Repair | $175 |
| Samsung A42 Front Camera Repair | $149 |
| Samsung A42 Camera lens Repair | $75 |
| Samsung A42 Back Glass replacement ( Cracked Back glass ) | $99 |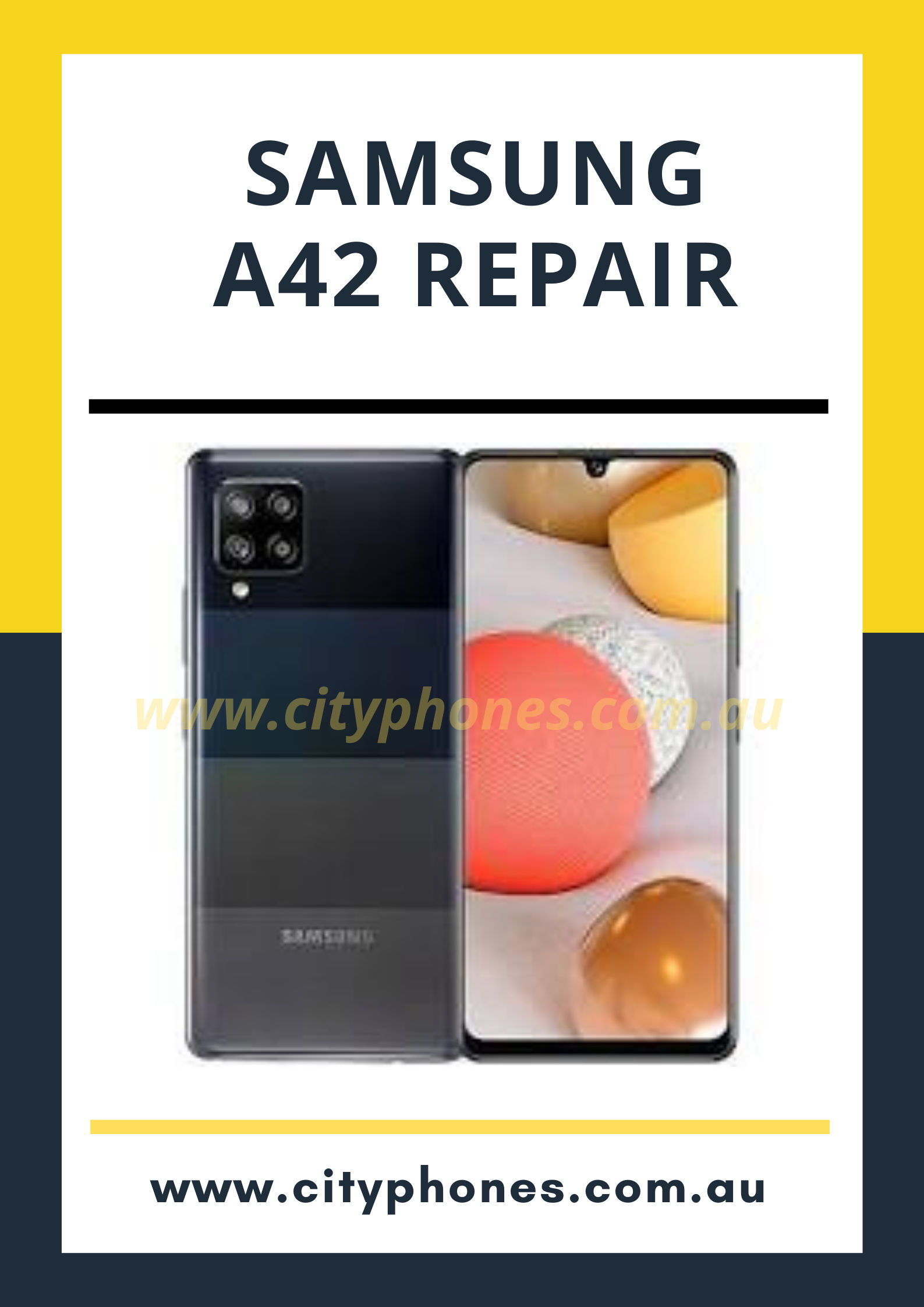 Samsung Galaxy A42 Repair in Melbourne and Greensborough 
Samsung Galaxy A42 5G is a very popular phone, with its sleek and stylish design and powerful specifications, a lot of people use it. However, there are certain problems that you may face if the phone slips from your hands, like most smartphones. It may get broken. Regardless of the problem that you have with your Samsung Galaxy A42 5G smartphone—cracked screen or broken screen, malfunctioning charging port, etc. you can come to our stores in Melbourne and Greensborough and get your Samsung mobile phone repaired in a minimum of 30 minutes to 1 hour. You can also send us your broken Samsung smartphone for repair. We will repair your Samsung Galaxy A42 5G smartphone as soon as possible and send it to your address. If you are interested in knowing the prices of Samsung Galaxy A42 5G repair, then you can visit our website and get a quote on the repair of your choice. If you like the repair quotes, you can "Book Repair" online by clicking on the button. We will get back to you very quickly and your Samsung smartphone will be good as new. Our technicians have more than 5 years' experience in repairing Samsung smartphones of all models, so repairing your Samsung Galaxy A42 5G smartphone won't present any problem whatsoever.
Samsung Galaxy A42 Screen Repair in Melbourne and Greensborough
One of the most frequent ways in which the Samsung Galaxy A42 phone gets broken is on the screen. City Phones will help you resolve the broken screen problem at an affordable price and in 30 minutes to an hour. We use only genuine repair parts to get your Samsung smartphone repaired. All repairs we do come with a standard repair warranty. A broken screen is the most frequent problem, as typically, the Samsung Galaxy A42 screen will get broken if the device survives a hard fall. For on-the-spot repair of your Samsung Galaxy A42 5G mobile screen repair, you can visit our store in Melbourne and Greensborough and get your Samsung smartphone repaired in a minimum of time. We have a team of expert technicians who are well versed in Samsung screen replacement of all models at affordable prices.
Samsung A42 5g screen repair service is available at Cityphones in Melbourne. Bringing next-gen speeds to the mid-range, the Samsung Galaxy A42 5G which is around half the price of both Samsung and Apple's 5G flagships. Samsung's newest addition boasts a generous 6.6-inch Super AMOLED display, disrupted only by a teardrop 20MP selfie camera notch. Out the back, you'll find a quad-lens camera set-up comprising a 48MP main camera, 8MP ultra-wide lens, 5MP macro lens and 5MP depth lens. Design-wise, the A42 5G features a striking prismatic look, available in either Prism Dot Black or Prism Dot White.
At Cityphones we are able to do Samsung A42 screen repair in 1 hour. Or if your back glass is cracked due to dropping, we can do Samsung A42 back glass repair in 30 minutes. No need to wait for few days to get your device repaired. At city phones, we stock most of the parts so most of the repairs are done in a few hours. We also provide Mail-in repair service so if you are busy or unable to come to the store You can post us your device and we will send it back after repair within the same day.
City Phones can fix the following issues with your Samsung A42 Mobile Phone
Broken Screens
Broken LCD
Faulty charging port
Faulty Headphone Jack
Faulty back/front cameras
Back glass cover
Motherboard issues
Feel free to get in touch with the Samsung mobile repair experts on 0426504955 or use our online chat service.