Samsung Note 10 Plus Repair
Samsung Note 10 Plus Repair
| Issue | Price |
| --- | --- |
| Samsung Note 10 Plus Screen Repair | $400 |
| Samsung Note 10 Plus Battery replacement | Call us |
| Samsung Note 10 Plus Charging port replacement | Call us |
| Samsung Note 10 Plus Back Glass Replacement ( Cracked Backglass ) | Call us |
| Samsung Note 10 Plus Camera lens Repair | Call us |
| Samsung Note 10 Plus Microphone Repair | Call us |
| Samsung Note 10 Plus Ear Speaker Repair | Call us |
| Samsung Note 10 Plus Ringer Repair | Call us |
| Samsung Note 10 Plus Headphone Socket Repair | Call us |
| Samsung Note 10 Plus Back Camera Repair | Call us |
| Samsung Note 10 Plus Front Camera Repair | Call us |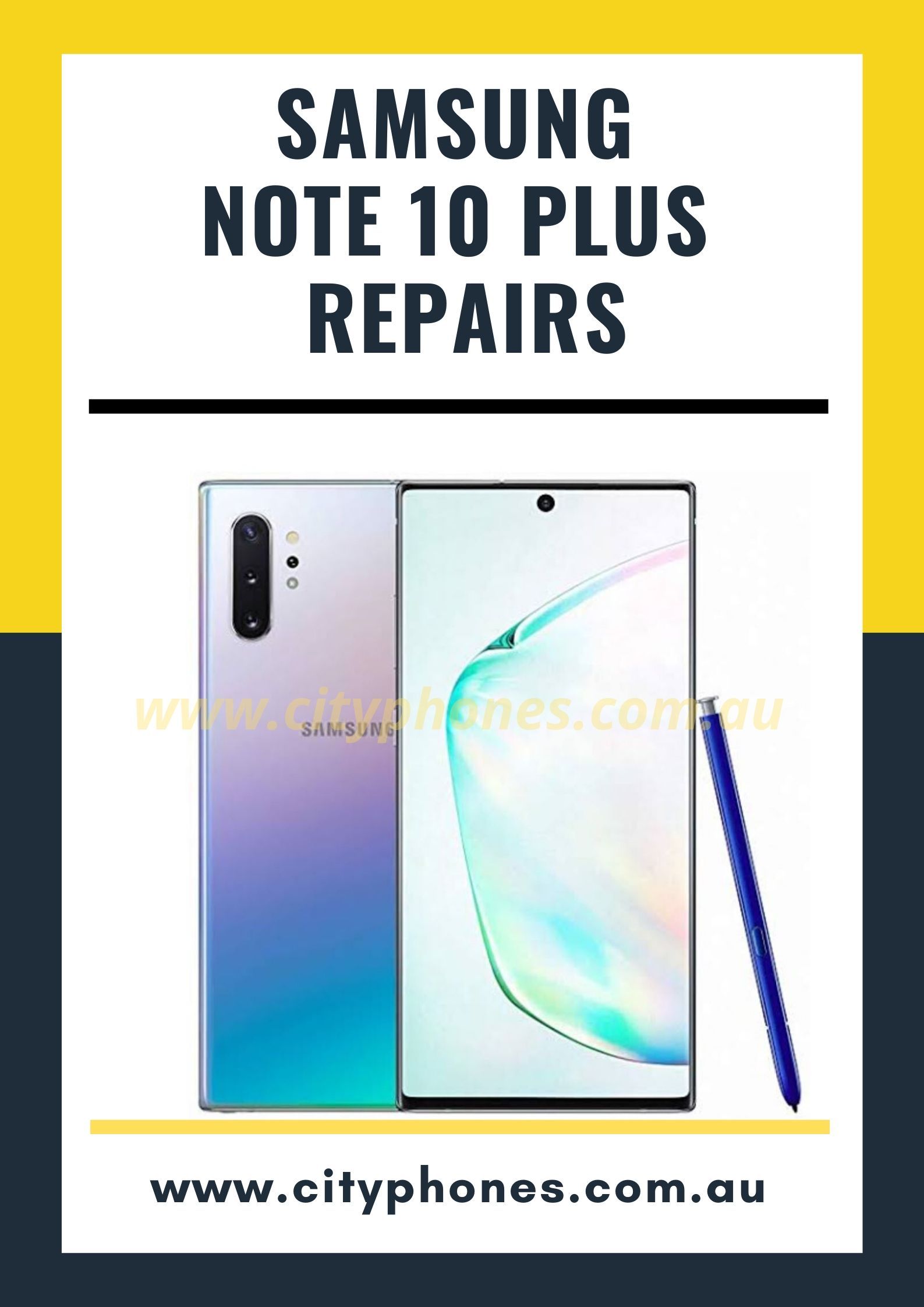 Samsung Note 10 Plus Repair
Samsung Note 10 Plus Repair in Melbourne and Greensborough
Have you accidentally dropped your Samsung Note 10 Plus mobile phone on the ground? City Phones is here to help you as we offer genuine Samsung Note 10 repair in Melbourne and Greensborough at the lowest turnaround time. Our expert technicians offer trusted phone repairs for broken, cracked, and shattered screen Samsung mobile phones. We execute our work with precision and high-quality repair service to make you completely satisfied. Many different faults can occur with your Samsung Note 10 Plus mobile phone. Samsung screen repair is the most common fault, but over time, issues may arise with the camera, charging port, battery, or speaker of the phone. If you're looking for a professional Samsung phone repair Melbourne to be carried out on your Samsung Note 10 Plus mobile phone in Melbourne and Greensborough, look no further than City Phones as your trusted Samsung mobile phone repair shop within Melbourne and Greensborough. We are a professional mobile phone repair service provider with experience of repairing many Samsung mobile phones under our belt.
Samsung Note 10 Plus Screen Repair in Melbourne and Greensborough
Screen repair is the most common type of repair needed on the Samsung Note 10 Plus mobile after a sudden drop from the hands. With devices these days, cracked screens are very common, and you need to have your Samsung Note 10 Plus screen repaired with quality parts and expert technicians. City Phones offers a standard warranty on every repair we undertake. You can bring your Samsung mobile phone to us for repair or you can also send it by post to our store for Samsung screen repair Melbourne and we will repair it and ensure these issues won't occur again. Our Samsung Note 10 Plus screen repair costs are low, but that doesn't decrease the nature of our repairs. We utilize only genuine parts while performing Samsung phone screen repairs, making the standard of our repairs outstanding and above all. We understand that phones hold a great value in our lives these days, so our trained staff will replace your Samsung Note 10 Plus mobile phone screen as soon as possible. Our repair prices are competitive within the market, but that doesn't affect the quality of the parts we use or the quality of service we provide to our customers.
Samsung galaxy Note 10 plus Repairs in Melbourne CBD and Australia wide. Galaxy note 10 is flagship phone launched by Samsung in 2019. After the failure of note 7, the Note 10 came in to restore the customers trust in Note family. If you have broken your Samsung Note 10 Screen and looking for a reliable repairer to fix it within a day than your search is over. Cityphones has the high quality and genuine Samsung parts to fix it and make it look like new again. Our repair prices are very competitive in the market but that does not decrease the quality of parts and workmanship.
City Phones can fix the following issues with your Samsung Note 10 Plus Mobile Phone
Broken Screens
Broken LCD
Faulty charging port
Faulty Headphone Jack
Faulty back/front cameras
Back glass cover
Motherboard issues
Feel free to get in touch with the Samsung mobile repair experts on 0426504955 or use our online chat service.