IPAD Mini 5 Repair in Melbourne
IPAD Mini 5 Repair
| Issue | Price |
| --- | --- |
| IPAD Mini 5 Screen Repair ( LCD and touch are still working ) | $249 |
| IPAD Mini 5 LCD Repair (Broken LCD, No display, lines, dead pixels, etc ) | $299 |
| IPAD Mini 5 Battery Replacement | $150 |
| IPAD Mini 5 Charging Port Repair | $150 |
| IPAD Mini 5 Microphone Repair | $149 |
| IPAD Mini 5 Home Button Repair | $149 |
| IPAD Mini 5 Ringer/loudspeaker Repair | $149 |
| IPAD Mini 5 Headphone Port Repair | $149 |
| IPAD Mini 5 Back Camera Repair | $149 |
| IPAD Mini 5 Front Camera Repair | $99 |
| IPAD Mini 5 Camera Lens Repair | $75 |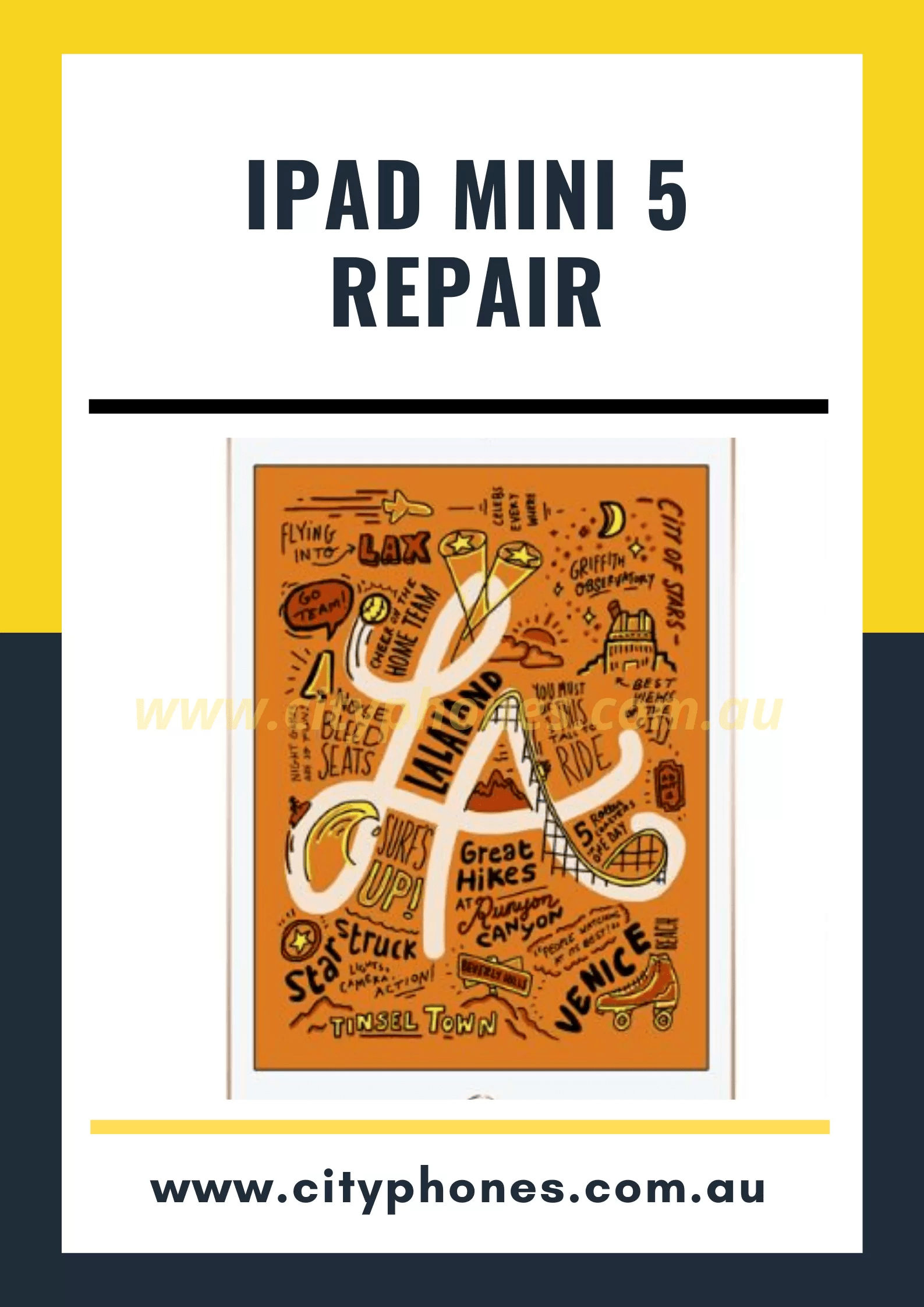 IPAD Mini 5 Repair in Melbourne and Greensborough
Are you looking for an IPAD Mini 5 repair service that will be able to provide you extraordinary IPAD repair services which will transform your broken IPAD into a newly purchased IPAD? Then look no further than City Phones as City Phones is the name that will be able to serve your purpose completely and perfectly. Thanks to the professionalism with which we have been serving our customers ever since we started our journey in 2015, we have gathered many accolades and fame over the years. And this has made us a trustworthy name when it comes to repairing your IPAD Mini 5 tablet from Apple. From screen replacement, battery replacement, charging port replacement to front and back camera repair, customers come to us every day to get fast IPAD repairs at an affordable price. Common IPAD problems we can help you with include power and home button repair, volume button issue, front and back camera issues, battery issues, charging port, speakers, headphone jack, screen repair, and much more!
IPAD Mini 5 Screen Repair in Melbourne and Greensborough  
Are you looking for an IPAD Mini 5 screen repair after a sudden drop of IPAD from your hands which resulted in several cracks on the glass screen? City Phones offers you high-quality display screen replacement services where we take care of every screen-related issue you are facing with your IPAD Mini 5. City Phones uses genuine repair parts for all its repair services which come with a standard repair warranty at a very affordable price. Screen replacement is one of the commonest repair services we perform, and it will not take more than 30 minutes to an hour to make your broken screen IPAD Mini 5 look like new again. Due to our efficient business model, we can focus on keeping the highest-quality replacement parts in our stock for all of our IPAD repairs. Bring in the latest IPAD or the oldest IPAD model to us our highly trained technicians will be able to provide on-time repair solutions for all your needs.
Apple in March 2019 refreshed the IPAD mini, introducing the fifth-generation version four years after the release of the IPAD Mini 4. Prior to the update, it wasn't clear if Apple was going to keep the 7.9-inch tablet around, but it now has a solid place in the company's IPAD lineup. Compared to the prior IPAD Mini, the updated version has new display technology like True Tone for adjusting the white balance to match the ambient lighting of the room and wide color support for more vivid, true-to-life colors. The display is 25 percent brighter than the display of the IPAD Mini 4.
There are no design changes compared to the previous IPAD Mini. There are thick bezels at the top and bottom of the IPAD Mini 5, along with slimmer side bezels. It's 6.1mm thick, identical to the IPAD Air, thinner than the IPAD, and thicker than the IPAD Pro. The IPAD Mini comes in Silver, Space Gray, and Gold, and it continues to feature a Touch ID Home button for biometric authentication and a headphone jack. It also continues to charge via Lightning, unlike the new IPAD Pro models that use USB-C.
At Cityphones we can fix your IPAD Mini 5. Call us today for more details.
City Phones can fix the following issues with your IPAD Mini 5 tablet.
    Broken Screens
    Faulty Battery
    Faulty Charging Port
    Faulty Microphone
    Faulty Headphone Port
    Faulty Back/Front Cameras
    Faulty Home Button
    Faulty Loudspeaker
Feel free to get in touch with the Apple IPAD repair experts on 0426504955 or use our online chat service.