Samsung J8 Repair
| Issue | Price |
| --- | --- |
| Samsung J8 LCD Replacement (Broken LCD, No display, lines, dead pixels, etc ) | $249 |
| Samsung J8 Battery Replacement | $99 |
| Samsung J8 Charging port replacement | $99 |
| Samsung J8 Microphone Repair | $99 |
| Samsung J8 Ear Speaker Repair | $99 |
| Samsung J8 Ringer Repair | $99 |
| Samsung J8 Headphone Socket Repair | $99 |
| Samsung J8 Back Camera Repair | $99 |
| Samsung J8 Front Camera Repair | $99 |
| Samsung J8 Camera lens Repair | $45 |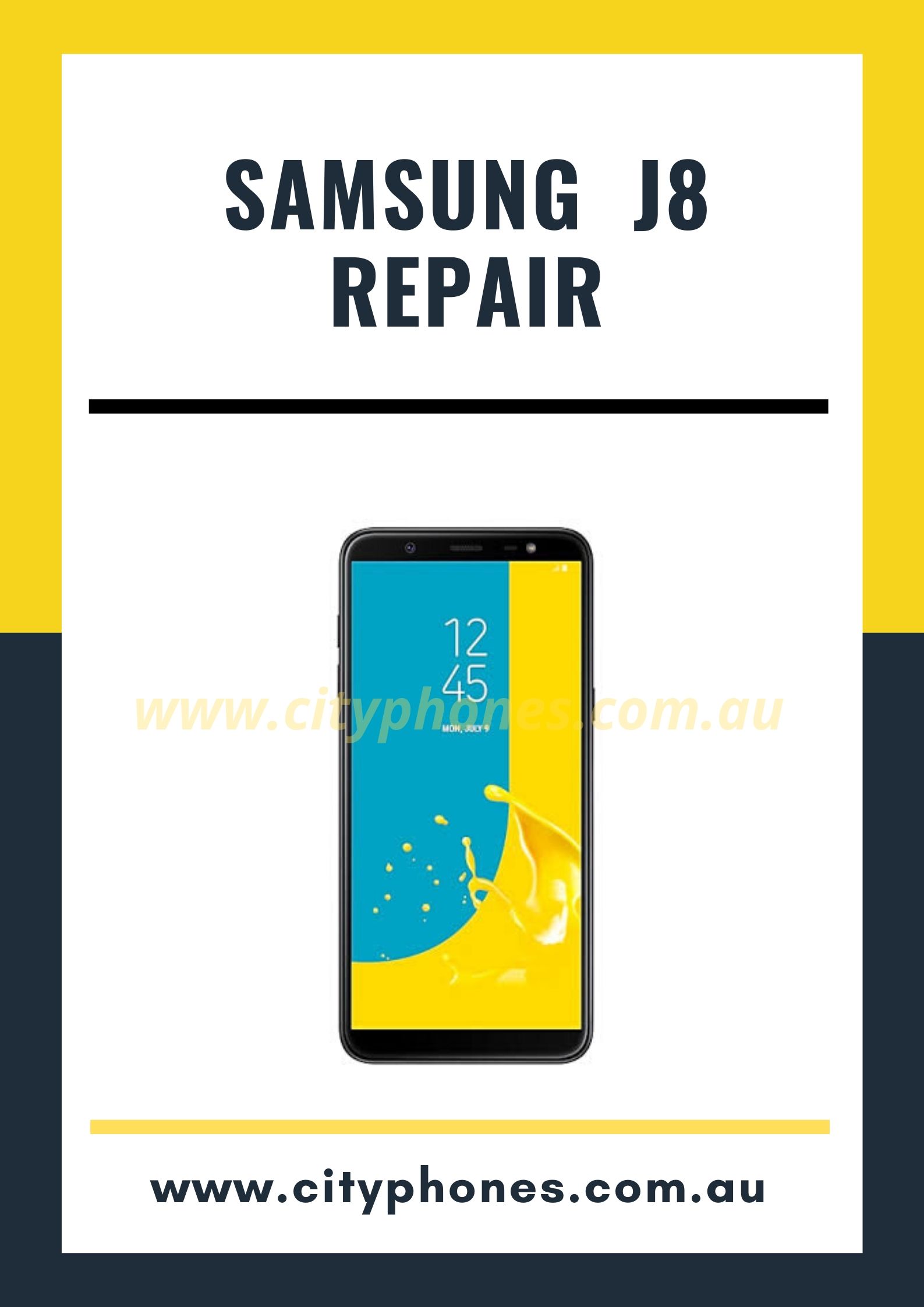 Samsung Galaxy J8 Repair in Melbourne
Everyone is looking for the best place to get their Samsung Galaxy J8 mobile phone repaired fast using original parts from Samsung and there are a lot of choices in front of you to get your mobile fixed. City Phones is Samsung Authorized repair centre. We are a Melbourne CBD-based mobile phone repair service shop that can service almost all faults in your device that is pocket friendly and economically viable for our customers. Samsung Galaxy J8 Repairs are conducted in City Phones Melbourne CBD location where you may walk in with or without an appointment.
Samsung Galaxy J8 Screen Repairs in Melbourne
City Phones Melbourne CBD provides the screen and LCD replacement service at a reasonable price and takes minimum time. The repair is performed by professional technicians who have many years' experience repairing Samsung mobile phones. We only use high-quality parts for the repair. We are located at 148, Elizabeth Street, Melbourne CBD 3000, and Shop 2, 231 Elizabeth Street, Melbourne CBD 3000.
City Phones Melbourne Repair Quality
City Phones is a leading mobile repair company based in Melbourne, CBD. We provide best in class premium phone repair services both in-store and on-site. We provide repair services from our two stores located in Melbourne. Our website can provide you with instant quotes and you can book repair online. You can choose conveniently between Mail-In Service and Online Repair Booking and you can just walk-in in our stores.
City Phones Melbourne CBD Repair Team
We have a well-trained team of technicians that can repair almost all the faults within your Samsung J8 mobile in 30 minutes to 1 hour. We repair most faults with Samsung mobile phones such as cracked screen repair, speaker repair, battery replacement, home button repair, volume button repair, camera replacement, charging port repair, etc. City Phones is equipped with state-of-the-art tools and technology to perform repairs of all the faults including motherboard-related tasks in your Samsung Galaxy J8 mobile phone. All staff members in City Phones performing mobile phone repairs are well trained and experienced with the latest technology.
City Phones' Warranty on Repairs 
All our Samsung repairs come with a standard repair warranty. You can also send your damaged mobile phone by post or courier to us and we will return your repaired smartphone earliest to your address in Australia. The warranty provided is not applicable for any physical damage or damage made by other external factors.
Why People Trust City Phones Melbourne CBD 
City Phones is your trusted destination within Melbourne, CBD for all Samsung mobile-related issues. As we are also a Samsung Authorized Service Centre located at 231 Elizabeth Street, Melbourne CBD we are Samsung Mobile Repair specialists. Whether you need a screen replacement, LCD replacement, battery replacement, charging port replacement, and any other Samsung Galaxy J8 related issues, we are always there for you. We address each smallest repair issue with great care and provide the best possible solutions to each mobile phone-related problem.
Apart from doing Samsung Phone Repair, we sell mobile phone accessories like Samsung mobile phone cases, covers, screen protectors, chargers and cables, earphones and headphones, power banks online for all models. Buy online original mobile phone accessories available at an affordable price with an Afterpay facility which means Buy Now, Pay Later. All online purchases from our online store come with a 10-day return guarantee.
In case of any query and questions regarding repairing your Samsung Galaxy J8 smartphone please contact us at 0426504955 or email us at info@cityphones.com.au
.