Samsung A10 Repair
| Issue | Price |
| --- | --- |
| Samsung A10 LCD Replacement (Broken LCD, No display, lines, dead pixels, etc ) | $149 |
| Samsung A10 Battery Replacement | $75 |
| Samsung A10 Charging port replacement | $99 |
| Samsung A10 Microphone Repair | $99 |
| Samsung A10 Ear Speaker Repair | $99 |
| Samsung A10 Ringer Repair | $99 |
| Samsung A10 Headphone Socket Repair | $99 |
| Samsung A10 Back Camera Repair | $99 |
| Samsung A10 Front Camera Repair | $99 |
| Samsung A10 Camera lens Repair | $45 |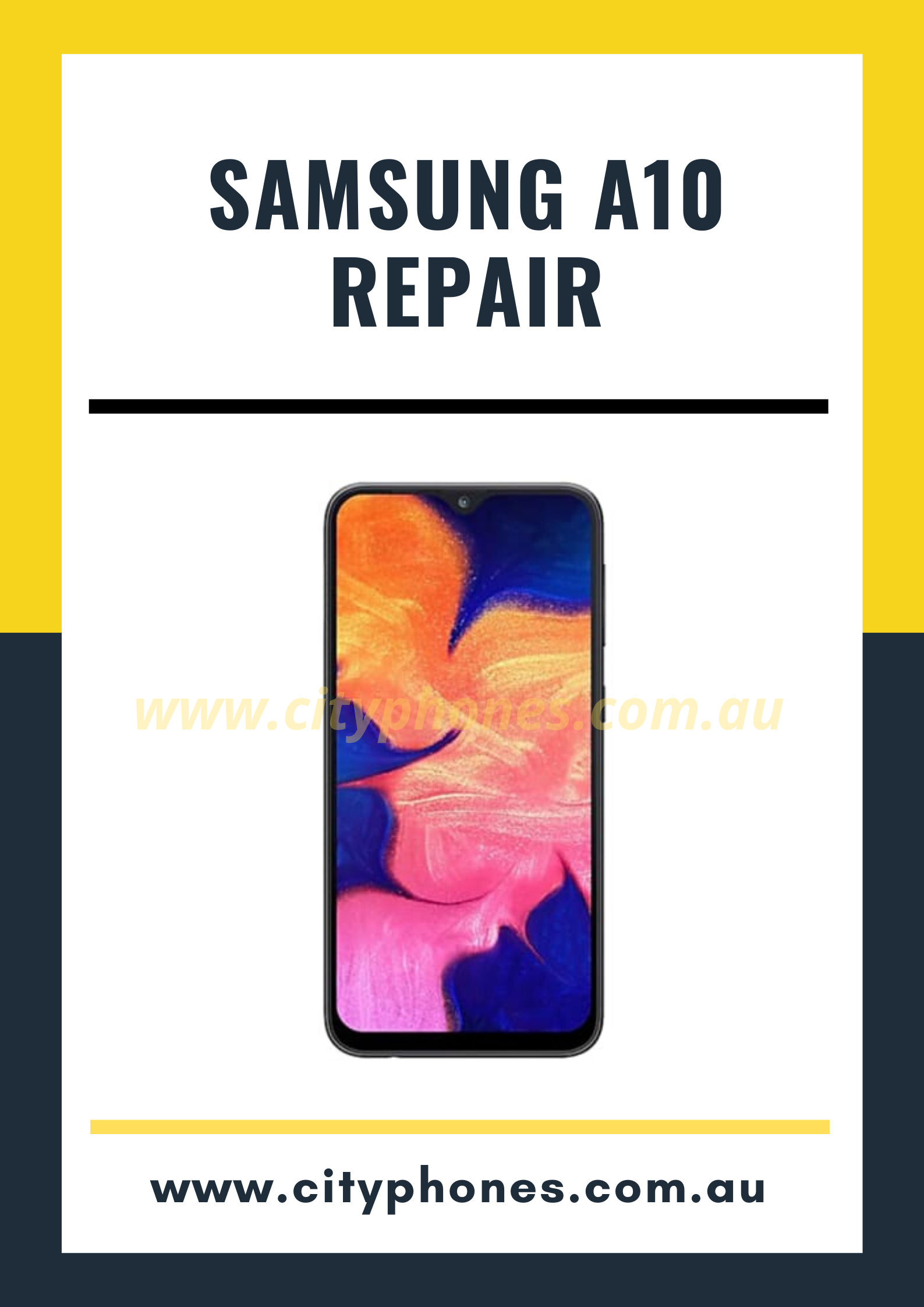 Samsung Galaxy A10 Repair Service in Melbourne
City Phones is the top-notch repair service center for Samsung smartphones. We have a trained team that is an expert in Samsung phone repairs. Providing excellent repair services through professionals makes us the perfect choice. We firmly believe in customer satisfaction. Therefore, we always provide high-quality repairs at a reasonable cost. On the whole, City Phones is the budget-friendly phone repairs service shop in Melbourne CBD.
Cracked Screen Replacement for Samsung Galaxy A10
Are you tired of the broken screen of your Samsung Galaxy A10 smartphone? City Phones has got an optimal solution for you. City Phones offers replacement of cracked screens of Samsung phones at affordable prices. Samsung A10 Screen Repair and Replacement Service for your broken Samsung Galaxy A10 smartphone screen. Most of the screen repairs are done in 30 minutes or on the same day at on the spot in Melbourne CBD. We use genuine parts and our expert technicians always put their best into making your phone just as good as new. Two of our repair centers are located within Melbourne city at different locations.
Reliable Phone repairs in Melbourne CBD
Are you looking for Samsung phone repairs in Melbourne? Plus the phone repairs having vast knowledge and expertise? You will only get experts in
Samsung phone repairs here at City Phones. We also do a cracked screen replacement for the Samsung Galaxy A10 smartphone. Battery and Screen replacement for Samsung mobiles are carried out by professionals which makes us different from others. We provide repair services from our two stores located in the Melbourne CBD. Visit our website to get instant quotes for mobile phone repair and you can book repair for your mobile phone also. So if you want to get your broken screen repaired by the expert technicians then bring your Samsung Galaxy A10 to City Phones. We are open 7 days of the week.

Rear Glass Replacement in Melbourne CBD
Did the rear glass of your Samsung Galaxy A10 smashed? We have the experience and tools to replace it. Just bring it to our repair centers located at two locations within Melbourne CBD 148, Elizabeth Street, Melbourne CBD 3000 and Shop 2, 231 Elizabeth St Melbourne CBD 3000.
Glass is more slippery than plastic and metal and will also crack and shatter on a little bit of impact, with advanced tools and our trained technicians we can easily replace the back glass of your Samsung phone.
Charging Port Replacement in Melbourne CBD
Did you notice charging problems in your Samsung Galaxy A10? The most common reason behind the charging issues is the old battery, however, it could be the result of faulty charging port as well. Getting the port replaced by us takes less than 30 mins. We have repair centers in Melbourne CBD.

Battery Replacement
Have you noticed the fast drainage of the battery of your Samsung Galaxy A10? We have the battery replacement service carried out by our expert technicians. The battery replacement is done within 30 minutes. Simply bring your phone at one of our stores or you can use the repair by post service. Book your phone repair online or you can walk-in into one of our stores. Apart from Samsung Phone Repair, we sell mobile phone accessories like back covers, cases, and screen protectors which protect your costly smartphone from accidental damages. Buy online accessories for your smartphone at an affordable price with the guarantee of genuine products.
Why People Choose City Phones Repair Service
Quality repair services are provided for all types of physical damages, battery problems, water damages, motherboard issues, charging port repair, headphone socket repair, and screen replacement issues. Our technicians are certified and possess experience of many years. For any queries and questions regarding your mobile phone repair service feel free to contact us on 0426504955 or email us at info@cityphones.com.au