Samsung Galaxy Z Fold4 Repair
Samsung Z Fold4 Repair price
| Issue | Price |
| --- | --- |
| Screen Protector Replacement | $49 Main screen, $29 Outer screen |
| Samsung Z Fold4 Screen Repair ( Main/Internal Screen) | $820 |
| Samsung Z Fold4 Screen Repair ( Sub/Outer Screen) | $349 |
| Samsung Z Fold4 Battery replacement | Call |
| Samsung Z Fold4 Charging port replacement | Call |
| Samsung Z Fold4 Microphone Repair | Call |
| Samsung Z Fold4 Ear Speaker Repair | Call |
| Samsung Z Fold4 Ringer Repair | Call |
| Samsung Z Fold4 Back Camera Repair | Call |
| Samsung Z Fold4 Front Camera Repair | Call |
| Samsung Z Fold4 Camera lens Repair | Call |
| Samsung Z Fold4 Back Glass replacement ( Cracked Back glass ) | Call |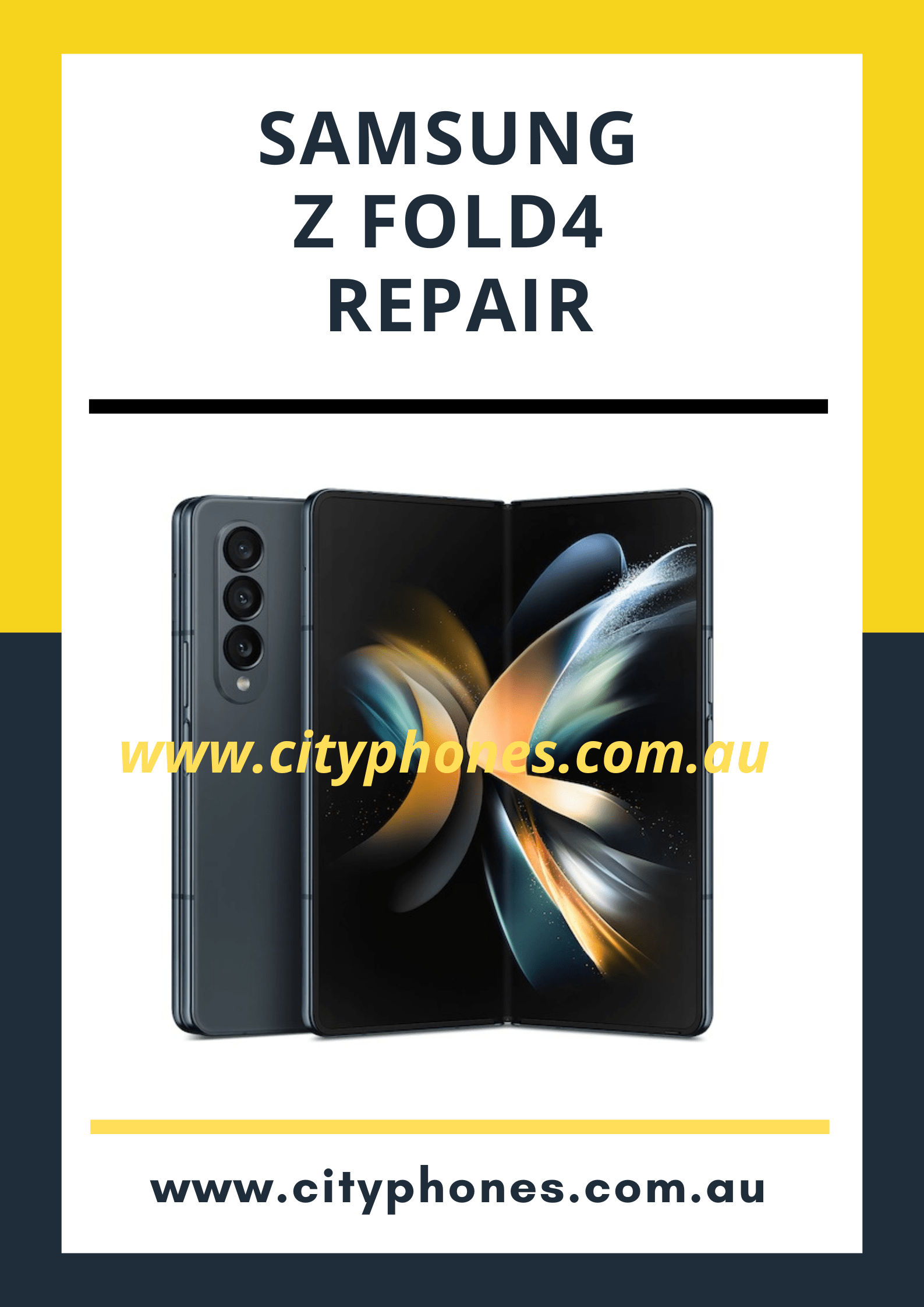 Samsung Galaxy Z Fold4 Repair
Samsung Galaxy Z Fold4 Repair cost – City Phones Melbourne
City Phones is Samsung Authorized service center. Look no further than City Phones if you need to get your device fixed by the Samsung certified technicians and genuine parts. We are located in the Melbourne CBD and provide the diagnosis and repair services for all the faults in your device.
Samsung Galaxy Z Fold4 Screen Repair cost 
Samsung Galaxy Z Fold 4 is the new ultra-premium foldable phone announced by Samsung. The new technology Samsung Galaxy Z Fold 4 is a tough foldable phone that brings PC-like power to your pocket. Though this phone is a very impressive one with high-end features in it yet an accident like a sudden fall from your hands could break its screen. This needs experienced technicians to carry Samsung Z fold4 screen repair. City Phones is a team of Samsung certified and highly experienced technicians capable of providing Samsung cracked screen repair with original replacement parts from Samsung.
Samsung Galaxy Z Fold4 Battery Replacement in Greensborough
We can repair almost every fault with your Samsung Galaxy Z Fold 4.  As one of the most used Samsung mobile phone repair stores in Melbourne and Greensborough, we are able to provide Galaxy Z Fold4 battery replacement service in 30 minutes to an hour. We use the latest tools and equipment provided by Samsung to fix the problem. The battery repair is performed by using an authentic battery as part of the replacement process. You may walk into any of our stores with or without appointment.
Samsung Z Fold4 Charging Port Replacement price Melbourne
City Phones can replace your Galaxy Z Fold4 charger port today in Melbourne. Our technicians perform repairs for almost all faults related to the battery within your Samsung Z Fold4, which can be economically viable for our customers. Samsung Galaxy Z Fold 4 battery replacements are conducted in our City Phones Greensborough and Melbourne locations.
Samsung Galaxy Z Fold4 Camera Repair Greensborough

Everyone looks for the best Samsung phone repair in Greensborough to get their Samsung Galaxy Z Fold 4 front and back camera fixed. City Phones is based in Melbourne and can replace the faulty Samsung Galaxy Z Fold 4 front and back camera lens with an authentic Samsung Galaxy Z Fold 4 front and back camera lens. We also offer mail-in service for most locations Australia Wide. You can send your device to us through mail and we will send your fixed device back to you.
We can fix most of the faults with Samsung Galaxy Z Fold4, the common type of issues we repair for this device are the following: –
Screen Replacement
LCD Replacement
Battery Replacement
Charging Port Replacement
Front Camera Replacement
Back Camera Replacement
Earpiece Speaker Replacement
Headphone Jack Replacement
Loud Speaker Replacement
Power Button Replacement
Volume button Replacement
Vibrator Replacement
Motherboard Element Repairs
Water Damage Repair Assessment
Fault Diagnosis & Quote Service
Insurance Damage Report& Quote Service
City Phones also sells premium quality Samsung Galaxy Z Fold4 cases and screen protectors at a competitive price than the market. Cases protect your costly phone from any damage caused due to a sudden fall or a quick slip from your hands. Huge variety of Samsung Z Fold4 cases are available online or in-store.
Screen protectors protect the screen of your Samsung Galaxy Z Fold 4 phone against unwanted scratches and cracks when the phone slips from your hands. We have a wide collection of Samsung Galaxy Z Fold4 screen protectors available online or in-store.