Nokia 8 Sirocco Repair
| Issue | Price |
| --- | --- |
| Nokia 8 Sirocco Screen Repair | $399 |
| Nokia 8 Sirocco Battery Replacement | $75 |
| Nokia 8 Sirocco Charging Port Repair | $99 |
| Nokia 8 Sirocco Microphone Repair | $99 |
| Nokia 8 Sirocco Ear Speaker Repair | $99 |
| Nokia 8 Sirocco Ringer/loudspeaker Repair | $99 |
| Nokia 8 Sirocco Headphone port Repair | $99 |
| Nokia 8 Sirocco Back Camera Repair | $99 |
| Nokia 8 Sirocco Front Camera Repair | $99 |
| Nokia 8 Sirocco Camera Lens Repair | $45 |
| Nokia 8 Sirocco Back Glass repair | $65 |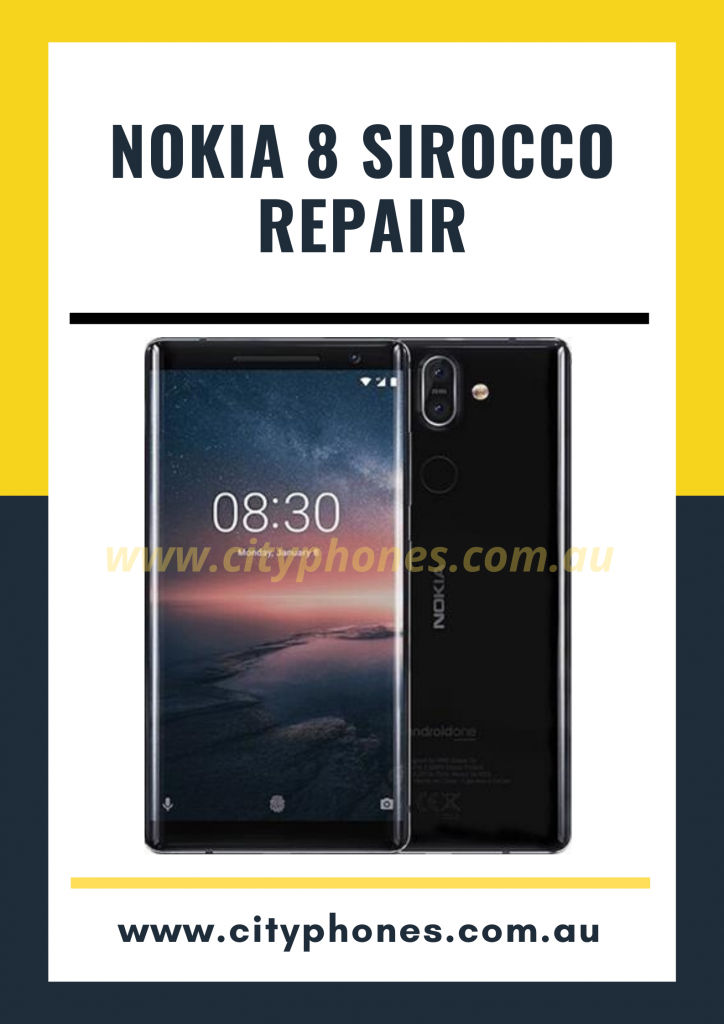 Nokia 8 Sirocco Repair in Melbourne
Nokia 8 Sirocco Screen Repair in Melbourne
For Nokia 8 Sirocco repairs, City Phones has state-of-the-art equipment available in Melbourne for all your Nokia phone repair needs. Modern equipment assists our team in providing reliable and durable solutions for customers. City Phones has all the quality parts available to repair the Nokia 8 Sirocco in Melbourne. Our technicians have several years' experience and great customer service skills.
Skilled Team for Nokia 8 Sirocco Repair
Our vast experience with Nokia mobile phone repair makes us the perfect fit for all types of Nokia 8 Sirocco phone repair. Our competent team's exceptional technical experience, which handles all issues in your Nokia 8 Sirocco mobile with complete care, makes us people's first choice within the Melbourne CBD. They know about all the faults which may occur within the Nokia 8 Sirocco mobile phone and how to repair it while also checking every part of the mobile before handing the repaired mobile to the customer. We provide the best possible solution to all the problems which may occur with your Nokia 8 Sirocco mobile phone and provide them with a reasonable price for repair. We are known as one of the best Nokia mobile phone repair service providers in Melbourne.
A Focused Problem-Solving Approach
We have staff that are very experienced and trained in resolving every issue with your Nokia 8 Sirocco mobile phone, implementing a problem-solving approach to every aspect of Nokia repair. Our different approach has provided productive solutions for Nokia 8 Sirocco screen repairs. These strategies also help our team to execute all Nokia model repair successfully. Your Nokia 8 Sirocco is an aged model and needs experts like us to deal with all repair issues.
If you're searching for a trustworthy and reliable Nokia 8 Sirocco repair service provider in Melbourne CBD, contact us for further details. You can directly walk into our stores located at 2 different locations within Melbourne: 148 Elizabeth Street, Melbourne CBD 3000, and Shop 2, 231 Elizabeth St, Melbourne CBD 3000. Contact us at 0426504955 to get answers to all your questions regarding your mobile phone repairs and their possible solutions. Visit our website or email us at info@cityphones.com.au to get a prompt resolution to all your queries.