Samsung Note 8 Repair
| Issue | Price |
| --- | --- |
| Samsung Note 8 Screen Repair | $375 |
| Samsung Note 8 Battery replacement | Call us |
| Samsung Note 8 Charging port replacement | Call us |
| Samsung Note 8 Microphone Repair | Call us |
| Samsung Note 8 Ear Speaker Repair | Call us |
| Samsung Note 8 Ringer Repair | Call us |
| Samsung Note 8 Headphone Socket Repair | Call us |
| Samsung Note 8 Back Camera Repair | Call us |
| Samsung Note 8 Front Camera Repair | Call us |
| Samsung Note 8 Camera lens Repair | Call us |
| Samsung Note 8 Back Glass Replacement ( Cracked Backglass ) | Call us |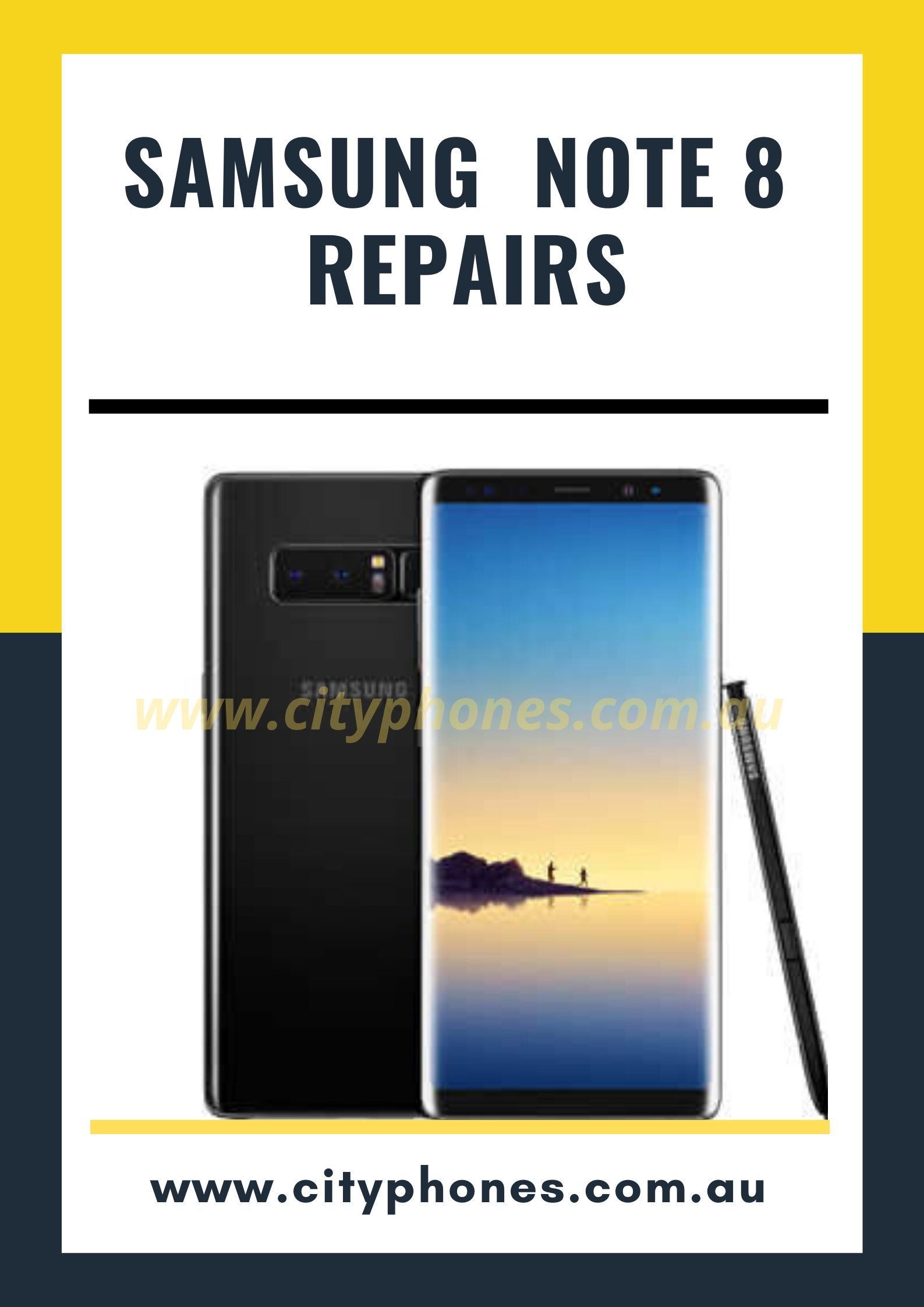 Samsung Note 8 Repair in Melbourne and Greensborough
If you are looking for a reliable and trustable Samsung Note 8 repair in Melbourne and Greensborough, then look nowhere else than at City Phones, the Samsung phone repair store in Melbourne and Greensborough. We are an authorized service centre for all Samsung phone repair Melbourne needs, with the aim of providing customers with a wonderful Samsung mobile repair experience that none other can provide. At City Phones, a team of trained and highly experienced Samsung phone repair specialists are always ready to help you with the resolution of your repair needs with your Samsung Note 8 mobile phone. The parts we use in repairing your Samsung mobile phone are all genuine which last longer. We aim to provide customers with a wonderful mobile repair experience so that they can use a mobile phone without any worry. With the help of expert technicians, most issues, including Samsung phone screen repair, will be done in 30 minutes to 1 hour. City Phones has a total of 3 stores, 2 located in Melbourne and 1 store located in Greensborough.
Samsung Note 8 Screen Repair in Melbourne and Greensborough
City Phones provides the screen replacement service for the Samsung Note 8 mobile phone at an affordable price. We carry out all our repair work within minimum time and take utmost care of customers' mobile phones. The repair at our stores is conducted by professional technicians having many years of experience in replacing Samsung mobile phone screens. Our store addresses are 148 Elizabeth St, Melbourne CBD 3000,  another at Shop 2, 231 Elizabeth St, Melbourne CBD 3000 and L 01, Shop 137, 25 Main St, Greensborough, VIC 3088. Visit us with or without taking an appointment. At our stores, we keep all Samsung mobile parts in stock so you can walk in any time to get your Samsung Note 8 mobile phone repaired at an affordable price. We also keep Samsung Note 8 mobile phone accessories like cases and covers to be purchased online here. The warranty that comes with the screen replacement of your Samsung Note 8 mobile phone will be a standard warranty. You can also send your cracked Samsung Note 8 mobile phone to us at our store address so that we can replace the cracked screen as soon as we receive it and send it to your address. We offer quick, accurate, and affordable service for customers along with high-quality parts.
Samsung galaxy Note 8 Repair in Melbourne CBD and Australia wide. Galaxy note 8 is flagship phone launched by Samsung in 2017. After the failure of note 7, the Note 8 came in to restore the customers trust in Note family. If you have broken your Samsung Note 8 Screen and looking for a reliable repairer to fix it within a day than your search is over. Cityphones has the high quality and genuine Samsung parts to fix it and make it look like new again. Our repair prices are very competitive in the market but that does not decrease the quality of parts and workmanship.
City Phones can fix the following issues with your Samsung Note 8 Mobile Phone
Broken Screens
Broken LCD
Faulty charging port
Faulty Headphone Jack
Faulty back/front cameras
Back glass cover
Motherboard issues
Feel free to get in touch with the Samsung mobile repair experts on 0426504955 or use our online chat service.