Samsung Note 20 Ultra Repair
Samsung Note 20 Ultra Repair
| Issue | Price |
| --- | --- |
| Samsung Note 20 Ultra Screen Repair | $485 |
| Samsung Note 20 Ultra Battery replacement | Call us |
| Samsung Note 20 Ultra Charging port replacement | Call us |
| Samsung Note 20 Ultra Microphone Repair | Call us |
| Samsung Note 20 Ultra Ear Speaker Repair | Call us |
| Samsung Note 20 Ultra Ringer Repair | Call us |
| Samsung Note 20 Ultra Headphone Socket Repair | Call us |
| Samsung Note 20 Ultra Back Camera Repair | Call us |
| Samsung Note 20 Ultra Front Camera Repair | Call us |
| Samsung Note 20 Ultra Camera lens Repair | Call us |
| Samsung Note 20 Ultra Back Glass Replacement ( Cracked Backglass ) | Call us |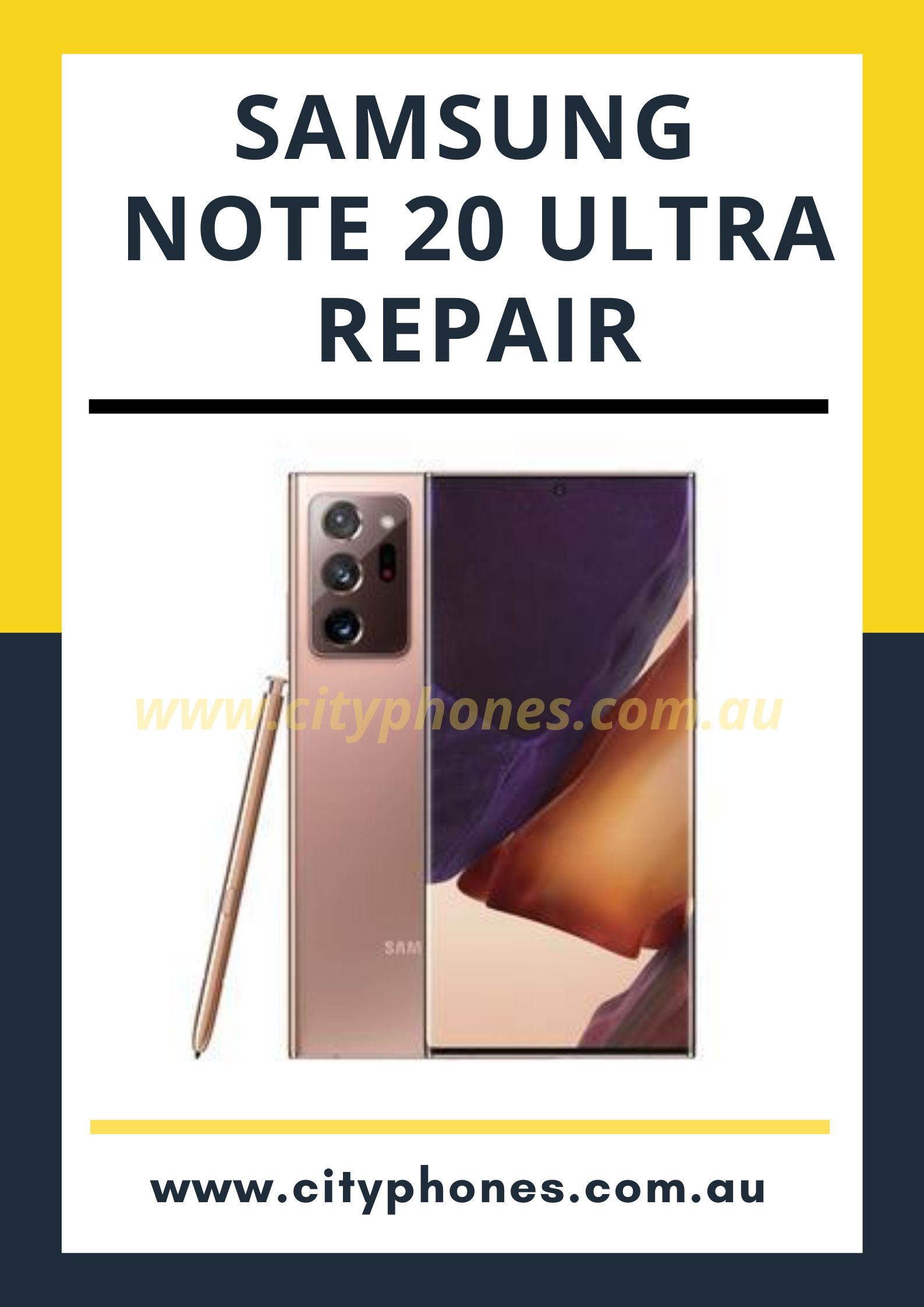 Samsung Note 20 Ultra Repair
Samsung Note 20 Ultra Repair in Melbourne and Greensborough
Samsung Note series is a premium series of smartphones from Samsung. So if the mobile phone needs repair it should be repaired by experts. A mobile phone repair shop with expert technicians having many years of experience will efficiently repair your Samsung Note 20 Ultra smartphone. In these circumstances, City Phones, an authorized Samsung service center in Melbourne will provide premium class repair services for your Samsung Note 20 Ultra mobile phone. With the help of talented technicians in our team, City Phones offers the best repairing services for Samsung phones at low prices. Our low-cost Samsung mobile phone repairs and efficiency to repair all faults within your Samsung mobile phone make us the favorite in the mobile phone repair industry. Meanwhile, City Phones have the quickest turnaround time to repair all battery issues and Screen Replacement issues within your Samsung mobile phones. All the repairing and replacement of Samsung Note 20 Ultra mobile phones is done at an affordable price in Melbourne and Greensborough.
Samsung Note 20 Ultra Screen Repair
Being the most common type of repair needed after an accidental drop from hands, Screen repair is also the costliest repair service. In case your Samsung Note 20 Ultra needs screen replacement contact us with quality parts and expert technicians. We understand that your phone plays a very vital role in your life. Therefore, we offer quality-based service and quick repair for your Samsung Note 20 Ultra mobile phone. Screen replacement for your Samsung Note 20 Ultra mobile phone will be done within 30 minutes to an hour. With every screen replacement, we provide a standard repair warranty to back our mobile phone repair services. In case you need Screen replacement services for your damaged Samsung Note 20 Ultra mobile phone with the help of a team of highly experienced technicians we are always ready to help you at an affordable price.
The Samsung Note 20 Ultra has sharp 1440p+ display that can refresh at 120Hz. This also brings 240Hz touch sampling rate, Samsung wants to turn this into a sort-of gaming phone with a collaboration with Microsoft and its service that will stream 100+ Xbox titles to your phone. The faster display also allows the phone to track its S Pen with lower latency, making its use even more natural. The Galaxy Note20 Ultra will be the first phone to hit the market with the new Gorilla Glass Victus. The Samsung Note 20 Ultra has Snapdragon 865 Plus powering the phone, along with 12GB of RAM and either 128GB or 512GB of storage. The cameras are arranged in a standard array with 108MP main sensor and 12MP wide and telephoto sensors. You've got 8K video capture, as well as a 21:9 cinema mode for more movie-like footage. The phone has a 4,500mAh battery, which is bigger than last year's phone, though smaller than the 5,000mAh beast in the S20 Ultra. There's 5G, Wi-Fi 6, and Bluetooth 5.1, as well as an UWB tech for fast intra-phone file transfers. Samsung Galaxy Note 20 Ultra Repairs in Melbourne CBD and Australia wide.
If you have broken your Samsung Note 20 Ultra Screen and looking for a reliable repairer to fix it within a day than your search is over. Cityphones has a high quality and genuine Samsung parts to fix it and make it look like new again. Our repair prices are very competitive in the market but that does not decrease the quality of parts and workmanship.
City Phones can fix the following issues with your Samsung Note 20 Ultra Mobile Phone.
     Broken Screens
     Broken LCD
     Faulty charging port
     Faulty Headphone Jack
     Faulty back/front cameras
     Back glass cover
     Motherboard issues
Feel free to get in touch with the Samsung mobile repair experts on 0426504955 or use our online chat service.