Samsung Note 20 Repair
| Issue | Price |
| --- | --- |
| Samsung Note 20 Screen Repair | $385 |
| Samsung Note 20 Battery replacement | Call us |
| Samsung Note 20 Charging port replacement | Call us |
| Samsung Note 20 Microphone Repair | Call us |
| Samsung Note 20 Ear Speaker Repair | Call us |
| Samsung Note 20 Ringer Repair | Call us |
| Samsung Note 20 Headphone Socket Repair | Call us |
| Samsung Note 20 Back Camera Repair | Call us |
| Samsung Note 20 Front Camera Repair | Call us |
| Samsung Note 20 Camera lens Repair | Call us |
| Samsung Note 20 Back Glass Replacement ( Cracked Backglass ) | Call us |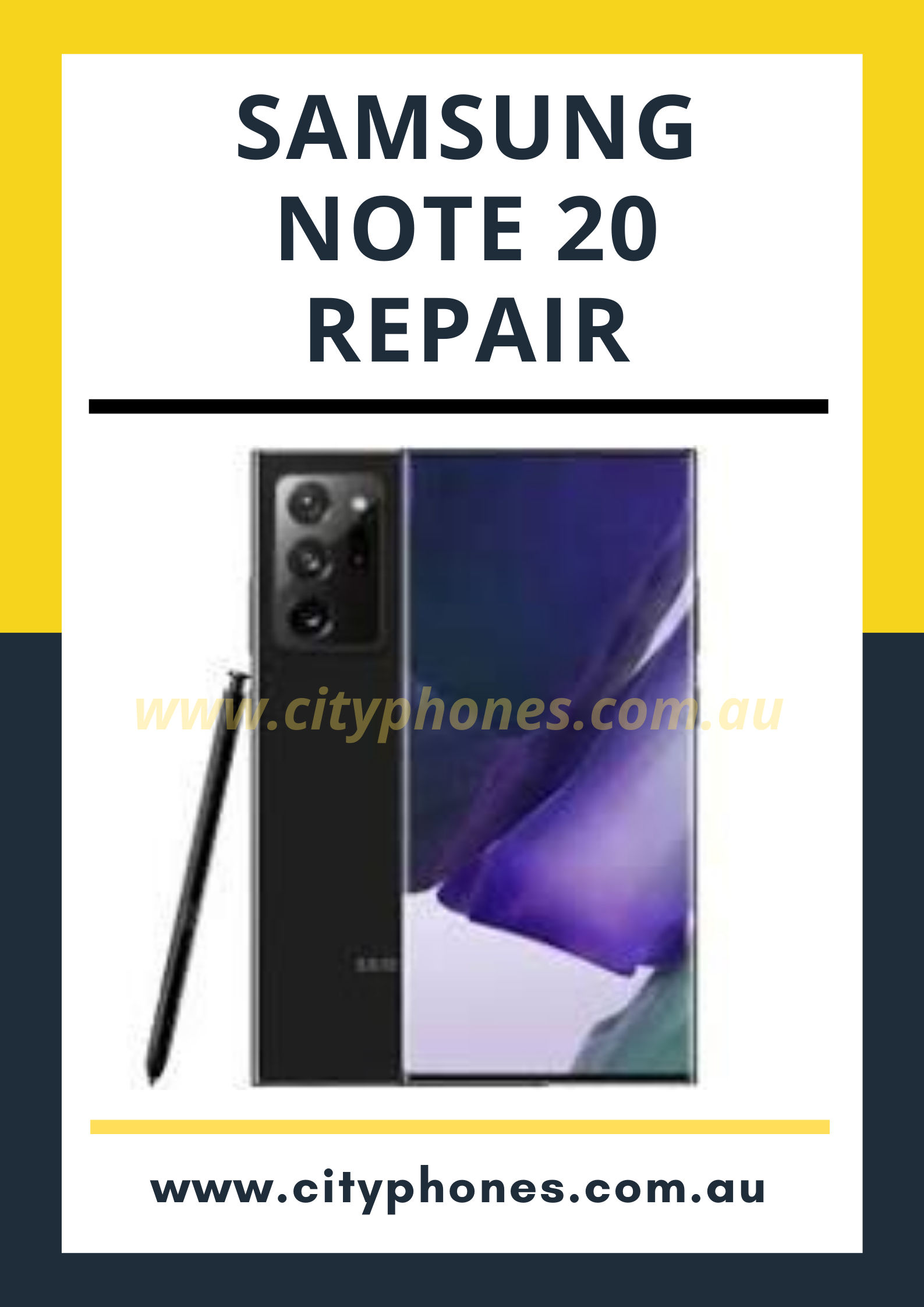 Samsung Note 20 Repair in Melbourne and Greensborough
With the help of expert technicians and high-quality parts, City Phones Melbourne and Greensborough provide excellent repair services for your Samsung Note 20 mobile phones. Several faults in your Samsung Note 20 mobile phone may occur as a result of a sudden drop or slip from your hands. Among all the repairs, screen replacement is the most common one. However, over time, issues may arise with the camera, charging port, battery, and speaker. If you are looking for a professional company to repair your Samsung Note 20 mobile phone, look no further than City Phones, as we are the leading Samsung mobile repair service provider within Melbourne and Greensborough. We aim to provide complete satisfaction to our customers by taking the minimum time, providing high-quality service, and prompt customer support. We are equipped with all the new repair tools at our store to get your Samsung Note 20 mobile phone repaired on-the-spot. You can also send your damaged Samsung mobile phone by post to our store address for repair.
Samsung Note 20 Screen Repair in Melbourne and Greensborough
Broken screens are one of the most common issues users face after an accidental drop from their hands. It is also one of the costliest repairs to your mobile phone. A cracked screen mobile phone is still usable, but it is dangerous to text and pick a call on a cracked screen mobile phone. Getting the cracked screen of your Samsung Note 20 mobile phone replaced is easy. You have to just visit our store, hand your mobile phone to us and the rest leave on us as we will take complete care of your Samsung mobile phone. It will take just 30 minutes to 1 hour for our experienced technician to replace the cracked screen of your Samsung mobile phone. We provide a standard repair warranty with every repair we perform. Also, the use of genuine parts makes you assured of the longer life of the newly replaced screen for your Samsung Note 20 mobile phone.
Note 20 has a premium design with metal edges that are flatter than on previous devices. It means you really notice the lack of curved display edges. The back of the phone feels a little like ceramic in your palm, but it's actually a brushed effect over the top of what Samsung calls 'Glasstic'. That means the back of the phone isn't strictly glass – Samsung confirmed to us that it's Polycarbonate. The Galaxy Note 20 features a top-end chipset: the Qualcomm Snapdragon 865 Plus in the US, and Exynos 990 in the UK and most other markets. The handset is running Google's Android 10 operating system with Samsung's own One UI 2.5 overlay on top.
The S Pen stylus is still housed in the phone's body, but it's moved from the right-hand side of the bottom edge to the left side so if you've previously owned a Note phone you may find yourself reaching for the stylus on the wrong side out of habit. Note 20 has 10MP front camera and sits at the top of the display in the center, with the lens concealed in a small pinhole in the screen. There's a 4,300mAh battery inside the Note 20 and it has 25W fast charging.
If you want a Samsung device that comes with the S-Pen stylus or that large screen, but you don't want to lay down a huge amount of cash, the Note 20 may be just the phone for you. Samsung Galaxy Note 20 Repairs in Melbourne CBD and Australia wide. If you have broken your Samsung Note 20 Screen and looking for a reliable repairer to fix it within a day than your search is over. Cityphones has a high quality and genuine Samsung parts to fix it and make it look like new again.
Our repair prices are very competitive in the market but that does not decrease the quality of parts and workmanship.
City Phones can fix the following issues with your Samsung Note 20 Mobile Phone.
     Broken Screens
     Broken LCD
     Faulty charging port
     Faulty Headphone Jack
     Faulty back/front cameras
     Back glass cover
     Motherboard issues
Feel free to get in touch with the Samsung mobile repair experts on 0426504955 or use our online chat service.