IPAD Air Repair in Melbourne
IPAD Air Repair
| Issue | Price |
| --- | --- |
| IPAD Air Screen Repair | $99 |
| IPAD Air LCD Repair (Broken LCD, No display, lines, dead pixels, etc ) | $150 |
| IPAD Air Battery Replacement | $149 |
| IPAD Air Charging Port Repair | $149 |
| IPAD Air Microphone Repair | $99 |
| IPAD Air Home Button Repair | $99 |
| IPAD Air Ringer/loudspeaker Repair | $99 |
| IPAD Air Headphone Port Repair | $99 |
| IPAD Air Back Camera Repair | $99 |
| IPAD Air Front Camera Repair | $99 |
| IPAD Air Camera Lens Repair | $75 |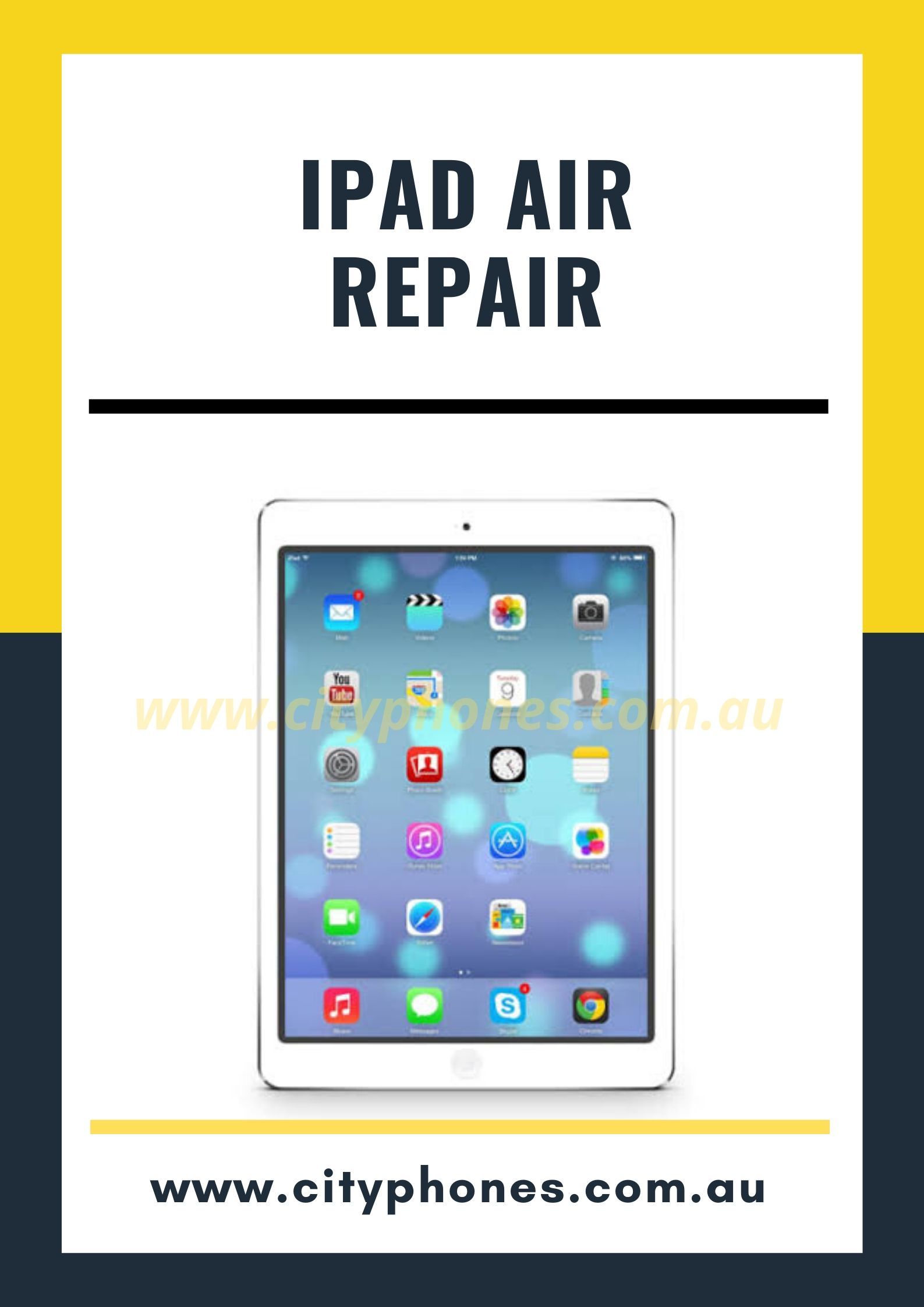 IPAD Air Repair in Melbourne and Greensborough
Apple's IPAD Air is one of the fanciest and best-looking tablets available in the market but yet it isn't able to stand on a mark of durability. At City Phones, we know how precious your IPAD is to you and that one single drop can have devastating effects on the screen of the IPAD. City Phones come into play when you have a broken IPAD that needs repairs from the hands of an expert and experienced professionals. City Phones is known to rekindle broken IPADs with highly trained technicians and professional staff. As a service for IPAD screen repair in Melbourne and Greensborough, City Phones strives to provide the best IPAD Air repair service within a day so that you don't have to be away from your valuable IPAD for long. We specialize in all types of repair jobs for IPAD at City Phones in Melbourne and Greensborough like IPAD screen repair, charging port repair, or battery repair services. Repairing IPADs is one of the many specialties City Phones possess. Most of the IPAD repairs we do are finished within 30 minutes to an hour. Visit us at our store address in Melbourne and Greensborough to get your IPAD repaired on the spot using only genuine repair parts which lasts longer and hence enhances the durability of the IPAD Air tablet. We keep our IPAD repair prices low without diminishing the quality of the repairs we perform on your IPAD Air Tablet. For fast and convenient IPAD repairs in Melbourne and Greensborough contact the experts at City Phones. If you are experiencing problems with your IPAD like the cracked screen, broken LCD, battery-related issues, charging port issues, and many more, we understand you want prompt service and assistance thus City Phones is always available to help you. You can directly visit our store addresses in Melbourne and Greensborough and get your IPAD repaired, or you can also send your damaged IPAD to us for repair. We will repair your IPAD and will return it to you after completely checking every part of the IPAD Air Tablet.
IPAD Air Screen Repair in Melbourne and Greensborough
In case you have accidentally damaged your IPAD Air Tablet screen, look on further than City Phones as we have expert technicians working with us having many years of experience repairing Apple IPAD Tablets. IPAD Air comes with a 9.7-inch IPS LCD with screen resolution 1536 X 2048 pixels at 264 PPI density with protection like scratch-resistant glass and oleophobic coating. With the display contrast ratio of 968:1(nominal) and 2.504:1(sunlight) of this Apple IPAD, the tablet provides a magnificent viewing experience. Despite the presence of the oleophobic coating on its screen surface if you suddenly dropped the IPAD Air tablet and resulted in cracking the screen of the IPAD Air, always trust City Phones as the technicians working with us have the experience of more than 5 years in repairing the IPAD Tablet screens. Repairing the IPAD Air screen is our main specialty, thus making the cracked screen of your IPAD look like new in just 30 minutes to an hour.  Here at City Phones, we can successfully replace the cracked IPAD Tablet screen with the help of an expert and trained technicians at an affordable price. Our IPAD screen repair prices are kept low because we perform all our screen repair jobs by ourselves. We are confident in our IPAD Air screen repair work so to back up our screen repair work we provide a standard repair warranty with each repair work we complete.
City Phones offers you the high-quality and most affordable IPAD Air Tablet repair services using genuine repair parts. Our IPAD Air repair specialists can replace the broken screens or complete the most common repairs on the IPAD Air Tablet. The IPAD Air Tablet screen is replaced by our qualified technicians getting training in repairing the IPAD Air tablet screen conveniently and efficiently. At Cityphones we can fix your IPAD Air generation. Most of the repairs are completed on the same day. Call us today for more details.
City Phones can fix the following issues with your IPAD Air Tablet
 Broken Screens
 Faulty Battery
 Faulty Charging Port
 Faulty Microphone
 Faulty Headphone Port
 Faulty Back/Front Cameras
 Faulty Home Button
 Faulty Loudspeaker
Feel free to get in touch with the Apple IPAD repair experts on 0426504955 or use our online chat service.