IPAD Air 3 Repair in Melbourne
IPAD Air 3 Repair
| Issue | Price |
| --- | --- |
| IPAD Air 3 Screen Repair | $299 |
| IPAD Air 3 Battery Replacement | $199 |
| IPAD Air 3 Charging Port Repair | $199 |
| IPAD Air 3 Microphone Repair | $199 |
| IPAD Air 3 Home Button Repair | $199 |
| IPAD Air 3 Ringer/loudspeaker Repair | $199 |
| IPAD Air 3 Headphone Port Repair | $199 |
| IPAD Air 3 Back Camera Repair | $199 |
| IPAD Air 3 Front Camera Repair | $199 |
| IPAD Air 3 Camera Lens Repair | $99 |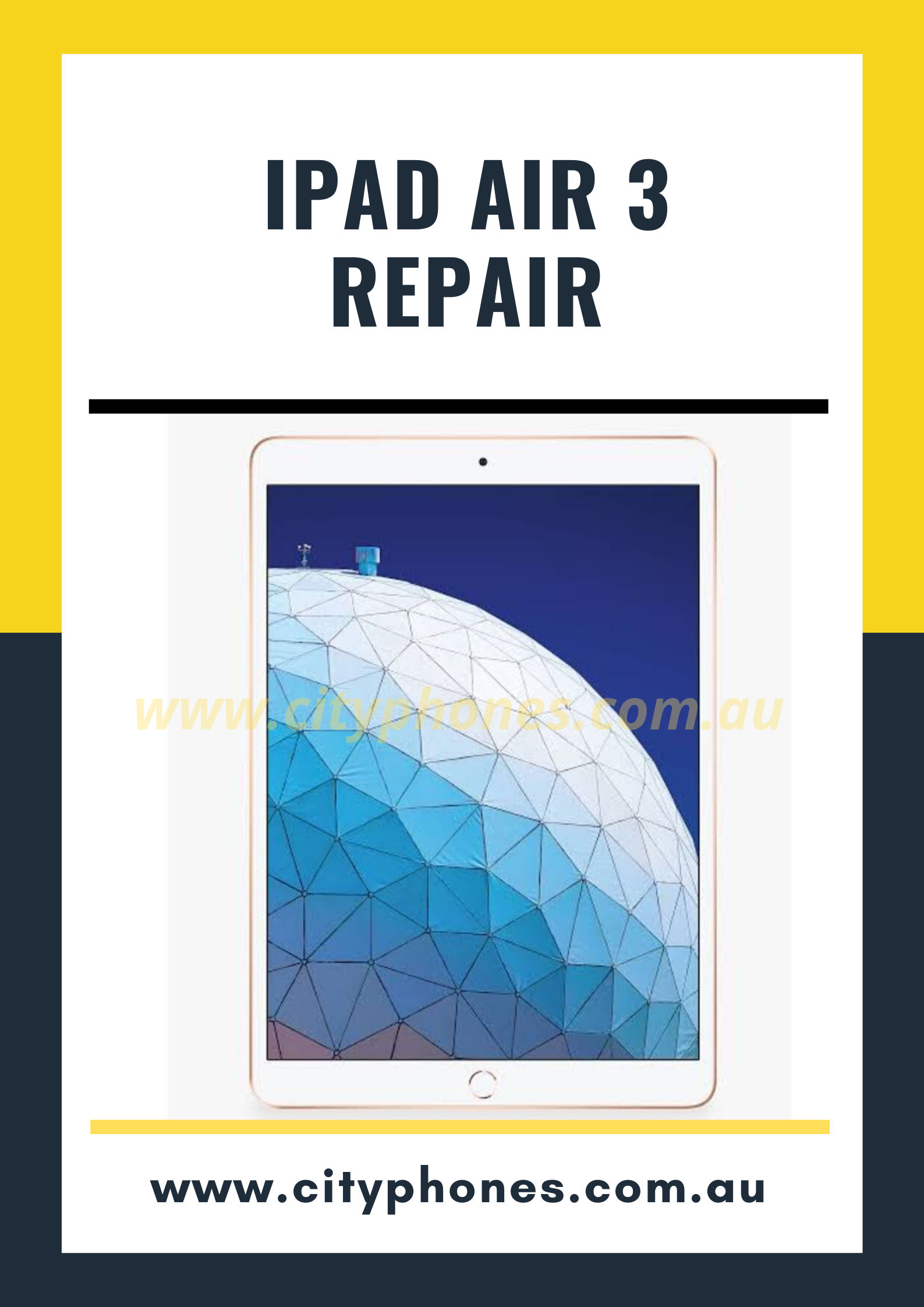 IPAD Air 3 Repair in Melbourne
IPAD Air 3 Repair in Melbourne and Greensborough
Apple's IPAD Air 3 is one of the most astonishing good-looking tablets available in the market, introducing new features first time presented in a tablet like a thinner profile, laminated digitizer, a Touch ID to Apple's tablet lineup for the first time. Though the presence of all good features in a tablet yet it isn't able to stand on a mark of durability. We at City Phones know well how important is your IPAD tablet for you. A single drop from hands can result in several cracks on the screen of the IPAD Air 3 tablet. It is quite frustrating to use a cracked screen IPAD tablet and here the role of the leading IPAD screen repair comes into play. We are known to repair cracked screen Apple IPAD tablets and make them look new after the repair with the help of experienced and professional technicians. Being the leading service provider of IPAD repairs in Melbourne and Greensborough, City Phones always provides the best possible repair service for your Apple IPAD Air 3 tablet within 30 minutes to an hour so that you do not need to remain away from your valuable tablet for long. We use genuine repair parts for repairing your IPAD Air 3 tablet as the use of original parts makes our repair service last longer along with a standard repair warranty which we provide with each repair we perform.
IPAD Air 3 Screen Repair in Melbourne and Greensborough
IPAD Air 3 comes with a 10.5-inch(diagonal) LED-backlit Multi-Touch Retina display. With the help of 2224 by 1668 resolution at 264 pixels per inch(PPI) and wide color display the screen of this Apple tablet provide a very attractive viewing experience while using it thus making the usage of this tablet an astonishing experience so if you accidentally cracked the IPAD Air 3 screen it is City Phones expert technicians always ready and available to help you. We specialize in the IPAD Air 3 screen repair service thus making the cracked screen of your IPAD look like new in just 30 minutes to an hour. Fixing IPADs is one of our many specialties and we repair the IPAD Air 3 screen on the spot taking 30 minutes to 1 hour. We keep our repair prices low without diminishing the quality of our repairs. Technicians at City Phones have more than 5 years of experience repairing IPAD screens and we strive to produce the best results every time after every repair. We are confident in the quality of our IPAD repair service so we provide a standard repair warranty with each IPAD screen repair we perform. You can also send us your broken IPAD by post for repair, we will repair your IPAD and send it to your address after the successful repair of your IPAD.
The new IPAD Air 3 is the follow-up to a legendary tablet, the IPAD Air 2.  The IPAD AIR 2 was also well-regarded for its speed — sporting 2GB of RAM for the first time in any iOS device, and a new chip that put an emphasis on GPU performance. At Cityphones we can fix your IPAD  Air 3. Most of the repairs are completed on the same day.
City Phones can fix the following issues with your IPAD Air 3 Tablet
   Broken Screens
   Faulty Battery
   Faulty Charging Port
   Faulty Microphone
   Faulty Headphone Port
   Faulty Back/Front Cameras
   Faulty Home Button
   Faulty Loudspeaker
Feel free to get in touch with the Apple IPAD repair experts on 0426504955 or use our online chat service.