IPAD AIR 2 Repair in Melbourne
IPAD Air 2 Repair
| Issue | Price |
| --- | --- |
| IPAD Air 2 Screen Repair ( LCD and Touch are still working ) | $199 |
| IPAD Air 2 LCD Repair (Broken LCD, No display, lines, dead pixels, etc ) | $299 |
| IPAD Air 2 Battery Replacement | $149 |
| IPAD Air 2 Charging Port Repair | $149 |
| IPAD Air 2 Microphone Repair | $149 |
| IPAD Air 2 Home Button Repair | $149 |
| IPAD Air 2 Ringer/loudspeaker Repair | $149 |
| IPAD Air 2 Headphone Port Repair | $149 |
| IPAD Air 2 Back Camera Repair | $149 |
| IPAD Air 2 Front Camera Repair | $149 |
| IPAD Air 2 Camera Lens Repair | $75 |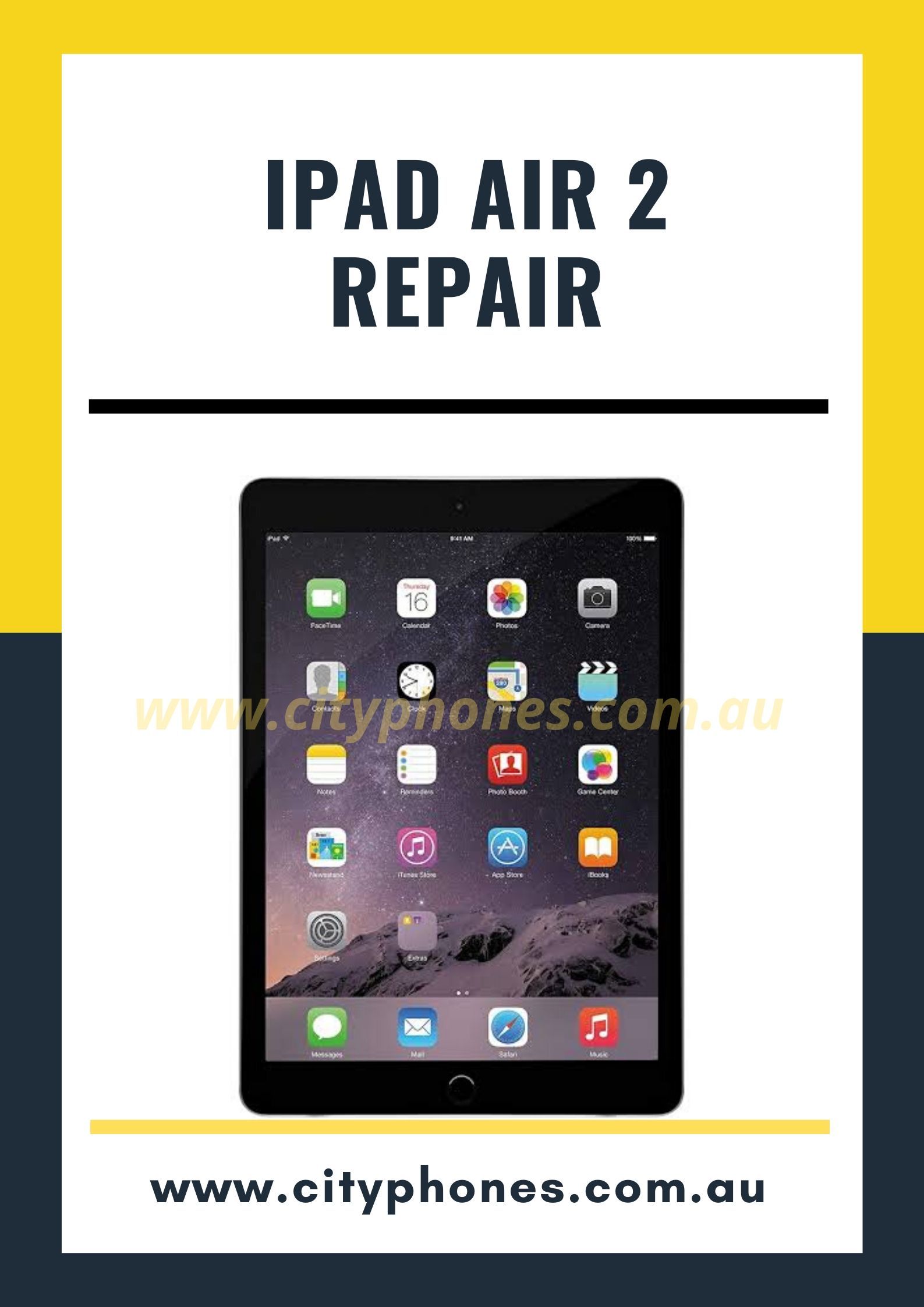 IPAD AIR 2 Repair in Melbourne
IPAD Air 2 Repair in Melbourne and Greensborough
IPAD Air 2 is a legendary tablet with well-regarded features, especially its speed. For the first time in any iOS device, 2 GB RAM was introduced along with a chip that put emphasis on the GPU performance. The IPAD Air 2 is thinner, lighter, and faster tablet than its predecessor, the IPAD Air, and features Touch ID with the height, width, and screen size the same as the IPAD Air. Have you accidentally cracked the IPAD Air 2 screen by dropping it from your hands or the battery of the IPAD Air 2 is not performing, as usual, which means the battery of your tablet needs replacement. Here at City Phones, we repair IPAD Air 2 with the help of trained and experienced technicians who use genuine parts to repair the IPAD Air 2 tablet on the spot. All repairs done by us come with a standard repair warranty and it takes just 30 minutes to an hour to get damaged IPAD Air 2 repair service by qualified professionals. We aim to produce our best work with every repair and thus by using the latest tools and technology we repair your IPAD Air 2 tablet perfectly at an affordable price quickly and accurately so that you can use and work on your tablet without any worry.
IPAD Air 2 Screen Repair in Melbourne and Greensborough
With City Phones, we can replace the cracked screen of the IPAD Air 2 in just 30 minutes to an hour from the hands of our expert technicians who have experience of more than 5 years replacing the cracked screen of the IPAD tablet with perfection. All our technicians get training at our head office in Melbourne before they are assigned a branch office and given repair work to do. Our trained technicians can repair all faults with your IPAD Air 2 tablet at an affordable price precisely and taking minimum time. We cover all types of repairs for Apple IPAD tablets which could be broken screen or broken LCD, faulty charging port, faulty battery, faulty headphone jack with faulty back and front cameras, and any other issues. With the aim of providing our customers 100% satisfaction from our repair work, we provide a fast and affordable IPAD tablet repair service. We have over 5 years of experience with Apple IPAD Air 2 tablet repairs. We take pride in our work and produce high-standard results with every repair work.
At Cityphones we can fix your IPAD Air 2 generation. Most of the repairs are completed on the same day.
City Phones can fix the following issues with your IPAD Air 2 Tablet
 Broken Screens
 Faulty Battery
 Faulty Charging Port
 Faulty Microphone
 Faulty Headphone Port
 Faulty Back/Front Cameras
 Faulty Home Button
 Faulty Loudspeaker
Feel free to get in touch with the Apple IPAD repair experts on 0426504955 or use our online chat service.