IPAD Mini 3 Repair in Melbourne
IPAD Mini 3 Repair
| Issue | Price |
| --- | --- |
| IPAD Mini 3 Screen Repair | $129 |
| IPAD Mini 3 LCD Repair (Broken LCD, No display, lines, dead pixels, etc ) | $150 |
| IPAD Mini 3 Battery Replacement | $150 |
| IPAD Mini 3 Charging Port Repair | $150 |
| IPAD Mini 3 Microphone Repair | $99 |
| IPAD Mini 3 Home Button Repair | $99 |
| IPAD Mini 3 Ringer/loudspeaker Repair | $99 |
| IPAD Mini 3 Headphone Port Repair | $149 |
| IPAD Mini 3 Back Camera Repair | $99 |
| IPAD Mini 3 Front Camera Repair | $99 |
| IPAD Mini 3 Camera Lens Repair | $75 |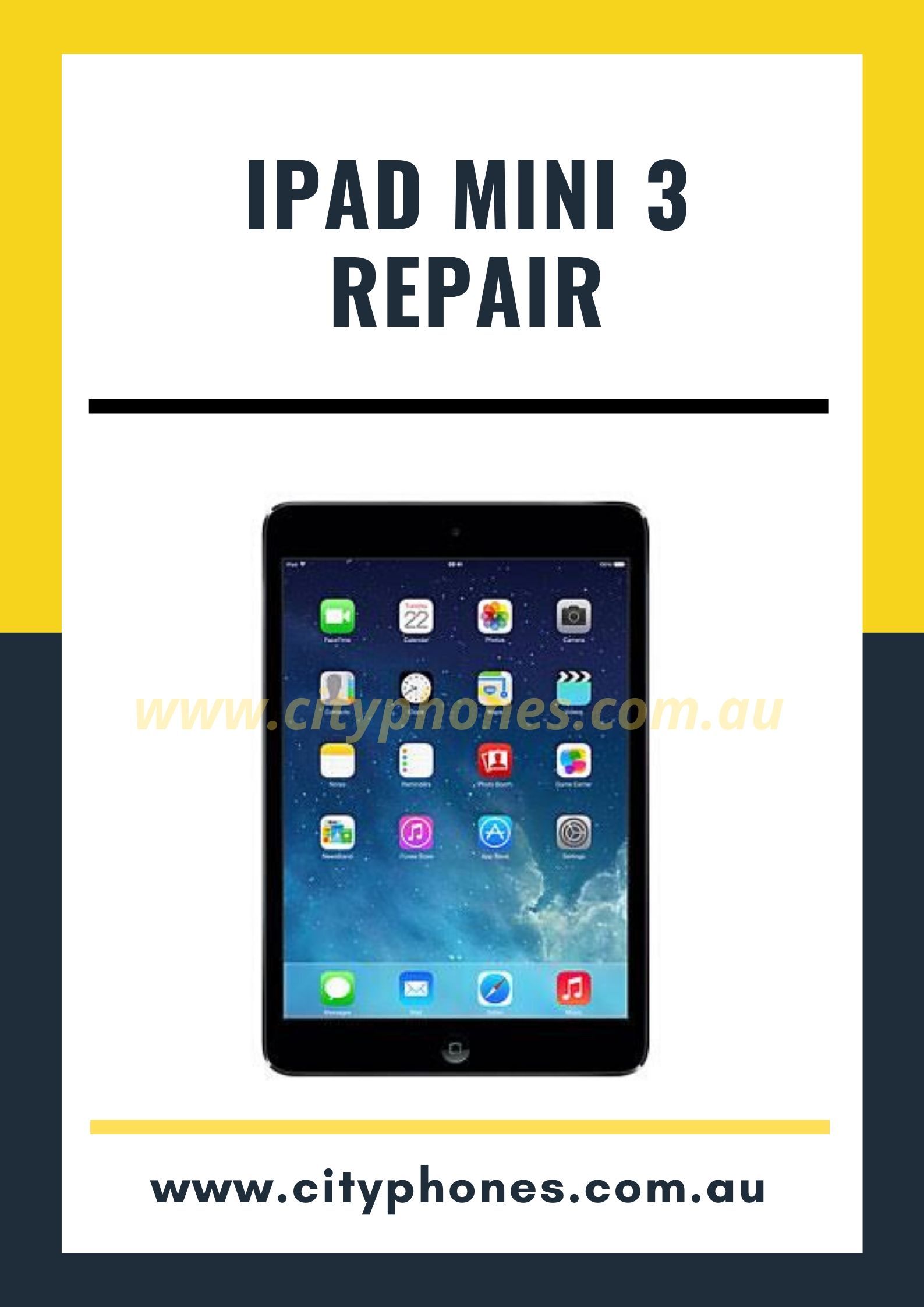 IPAD Mini 3 Repair in Melbourne
IPAD

Mini

3

Repair

in Melbourne and Greensborough
From LCD repairs to water damage emergency repairs, customers come to us because of our fast, accurate, affordable, and lowest prices IPAD Mini 3 repairs. Common IPAD issues City Phones can help you with are cracked screen, battery issues, charging port issues, front and back camera issues, power and home button issues, and more! Due to our efficient business model, we can focus on keeping stock of premium quality IPAD replacement parts needed in the repairs of IPAD Mini 3 which makes your IPAD repairs fast. All of our IPAD Mini 3 repairs come with a standard repair warranty to back up our repair service. Our expert technicians provide fast and affordable on-the-spot IPAD Mini 3 repair services at our stores in Melbourne and Greensborough. We use only genuine repair parts in all our IPAD Mini 3 repairs as repairs proceeded by the use of high-quality IPAD replacement parts lasts long and enhances the longevity of all our repairs.
IPAD

Mini

3

Screen

Repair

in Melbourne and Greensborough
IPAD is an amazing device used in studying by students, entertaining themselves by all generations of people and more, still they are quite fragile. In case you have accidentally dropped your IPAD Mini 3 which caused cracks on the screen of the IPAD Mini 3 tablet, our expert and experienced technicians will replace the cracked screen of your IPAD Mini 3 in just 30 minutes to an hour using original IPAD replacement parts. Even if the crack is small this can worsen over time and the risk of hurting the user's fingers on the jagged glass always remains. Here at City Phones, we can completely replace your IPAD Mini 3 screen with our IPAD screen repair service. We use high-quality IPAD replacement glass for as-new results. For quick, fast, and accurate IPAD repairs in Melbourne, contact City Phones. Most of our IPAD repairs are completed within just 30 minutes to an hour. You can also send your cracked screen IPAD to us with the help of an ordinary post at our store address, we will repair your IPAD with complete care and return it to you. We carry out all our repairs at our stores and do not send your IPAD to another service provider for repairs. This allows us to have the quickest and most affordable repair service in the market.
City Phones can fix the following issues with your IPAD Mini 3 tablet.
    Broken Screens
    Faulty Battery
    Faulty Charging Port
    Faulty Microphone
    Faulty Headphone Port
    Faulty Back/Front Cameras
    Faulty Home Button
    Faulty Loudspeaker
Feel free to get in touch with the Apple IPAD repair experts on 0426504955 or use our online chat service.