Samsung Galaxy Z Flip3 Screen Repair
Samsung Z Flip3 Repair
| Issue | Price |
| --- | --- |
| Screen Protector Replacement | $49 |
| Samsung Z Flip3 Screen Repair (Main/Internal Screen) | $530 |
| Samsung Z Flip3 Screen Repair ( Sub/Outer Screen) | $299 |
| Samsung Z Flip3 Battery replacement | Call |
| Samsung Z Flip3 Charging port replacement | Call |
| Samsung Z Flip3 Microphone Repair | Call |
| Samsung Z Flip3 Ear Speaker Repair | Call |
| Samsung Z Flip3 Ringer Repair | Call |
| Samsung Z Flip3 Back Camera Repair | Call |
| Samsung Z Flip3 Front Camera Repair | Call |
| Samsung Z Flip3 Camera lens Repair | Call |
| Samsung Z Flip3 Back Glass replacement ( Cracked Back glass ) | Call |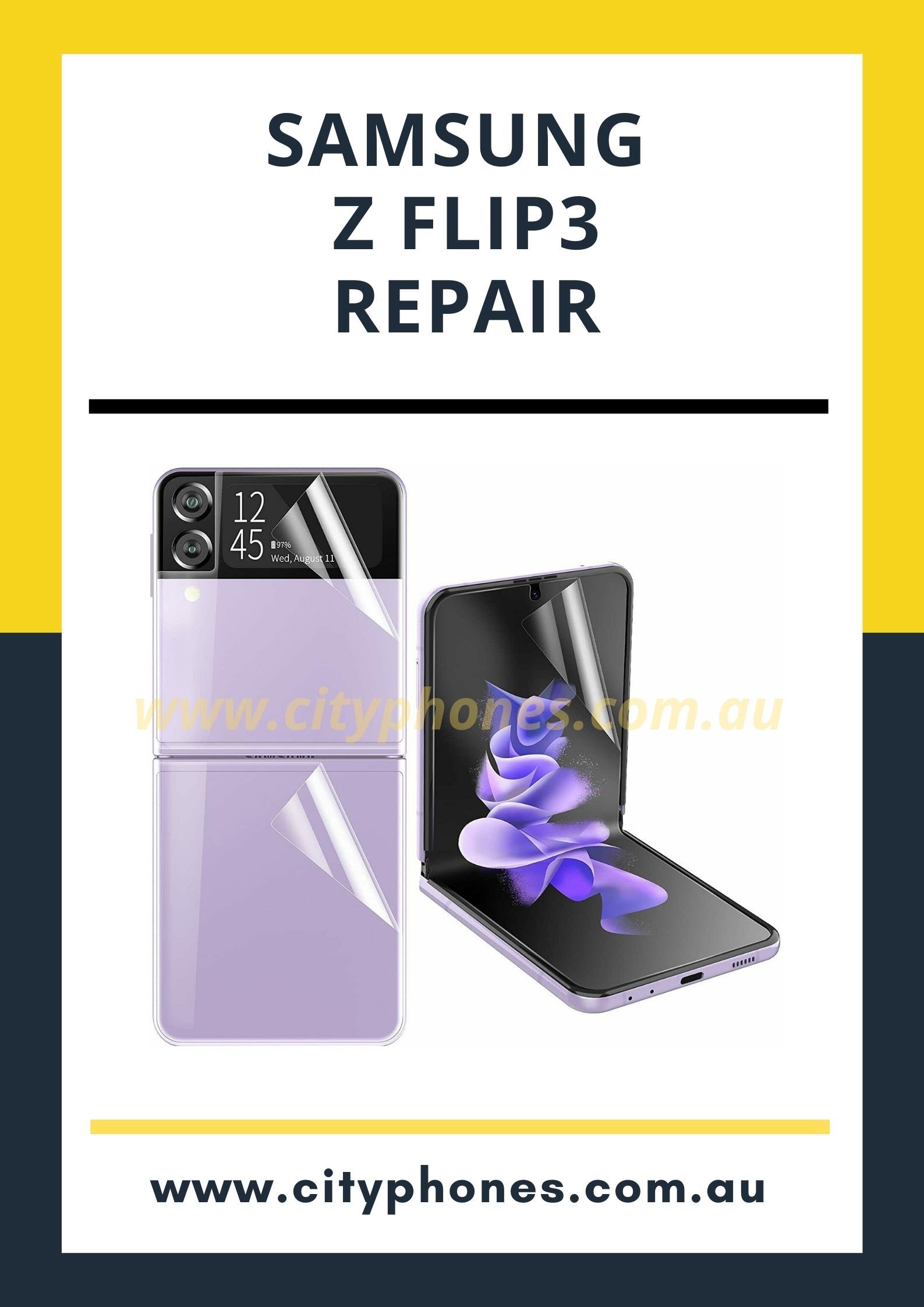 Samsung Galaxy Z Flip3 Repair
Samsung Galaxy Z Flip3 Screen Repair in Melbourne
The Samsung Galaxy Z Flip3 is an impressive foldable smartphone launched by Samsung in February 2020. This phone is more durable than its predecessor thanks to the stronger body, tighter hinges, and an IPX8 rating for water resistance. Samsung has also mentioned that its new phones are tested to withstand up to 200, 000 folds, but what if their screens break accidentally? This touch-screen flip phone is equipped with a triple camera system and ten modes to ensure you capture your best photographs. Along with a state-of-the-art camera system, the Galaxy Z Flip comes with a 3300mAh battery capacity and fast charging capabilities. The company's new phone, the Samsung Galaxy Z Flip3, has been designed to be as durable as possible. If the phone slips from your hands and hits a hard surface, the screen of the phone is likely to get damaged. There's nothing to worry about! The expert technicians at Cityphones will professionally handle all your Samsung Galaxy Z Flip3 repair services.
Samsung Galaxy Z Flip3 Screen Repair Melbourne
The Samsung Galaxy Z Flip3 features a 6.7-inch screen that folds in half to close. While the 2D face unlocks and fingerprint biometric features are incredibly cool technology, they make it hard to be without a functioning screen for long. If you need a Galaxy Z Flip3 – Screen repair, be sure to take it to the experts at Cityphones. Our trained technicians have plenty of experience in Samsung Galaxy Flip3 repairs, so you can rest assured knowing that your device is in great hands.
While you wait for your Samsung Galaxy Z Flip 3 phone to get its cracked screen repaired, don't forget to check out our wide selection of screen protectors. By applying tempered glass or a phone case, you can protect your phone from future damage.
Samsung Galaxy Z Flip3 Battery Replacement in Melbourne
Draining the phone battery is a common issue. If you find that your phone takes a longer time than usual to charge to a hundred percent or that your phone battery dies very quickly, you may have to get your phone checked, and possibly your battery needs to be replaced. We are experts in Samsung Galaxy Z Flip3 battery replacement, so you will only have to wait 30 minutes before your phone will begin charging again as usual. We provide a standard repair warranty with all repairs.
You can bring your phone to our phone repair centre and we will repair it and ensure these issues won't occur again. Our repair costs are low, but that doesn't change the nature of our repairs. We use only genuine parts in our repairs, making the standard of our repairs top-notch. We understand phones hold great value these days, so our trained staff will repair your phone as quickly as possible.
Samsung Z Flip3 screen repair service is available at Cityphones Melbourne. Apart from screen repair, we are able to do Samsung Z Flip3 back glass repair or Samsung Z Flip3 camera lens repair.
Most of these phones have Li-ion batteries which have a life of 1-2 years. But if someone is a heavy user may be battery needs to be replaced after 1 year. As a new phone only with a 2-year warranty so the battery is not covered under warranty. At Cityphones, we can do Samsung Z Flip3 battery replacement whenever you need it.
Another common issue in a phone is charging port failure. The main reason is using bad charging cable or water damage. We can do Samsung Z Flip3 charging port repair. Typically for this repair, we need 1 hour.
Our technicians have a lot of experience and can perform Samsung Z Flip3 repair very easily. If you're looking for Samsung Z Flip3 screen repair in Melbourne call us today to Book for repair. We also accept mail-In repairs so If you are living far away and cannot come to the store use this service for Samsung Z Flip3 repair.
We also sell Samsung Z Flip3 cases and tempered glass. Cases are very good at protecting and saving phones from damages. We have a huge range of Samsung Z Flip3 tempered glass and cases which you can buy online or in-store.
At Cityphones, we can fix your broken Samsung Z Flip3 screen in 2-3 hours. So if your Samsung Z Flip3 screen has dead pixels, No touch, Green lines, or black spots then call us or Book your repair online.
Cityphones Melbourne can fix the following issues with Samsung Galaxy Z Flip3 phones:
Broken Screens
Broken LCD
Faulty charging port
Battery Replacement
faulty back and front cameras
Water damage
Motherboard issues
Feel free to get in touch with an expert on 0426504955 or email us at info@cityphones.com.au.