Samsung A51 Repair
| Issue | Price |
| --- | --- |
| Samsung A51 LCD Replacement (Broken LCD, No display, lines, dead pixels, etc ) | $229 |
| Samsung A51 Battery Replacement | $75 |
| Samsung A51 Charging port replacement | $75 |
| Samsung A51 Microphone Repair | $75 |
| Samsung A51 Ear Speaker Repair | $75 |
| Samsung A51 Ringer Repair | $75 |
| Samsung A51 Headphone Socket Repair | $75 |
| Samsung A51 Back Camera Repair | $99 |
| Samsung A51 Front Camera Repair | $99 |
| Samsung A51 Camera lens Repair | $45 |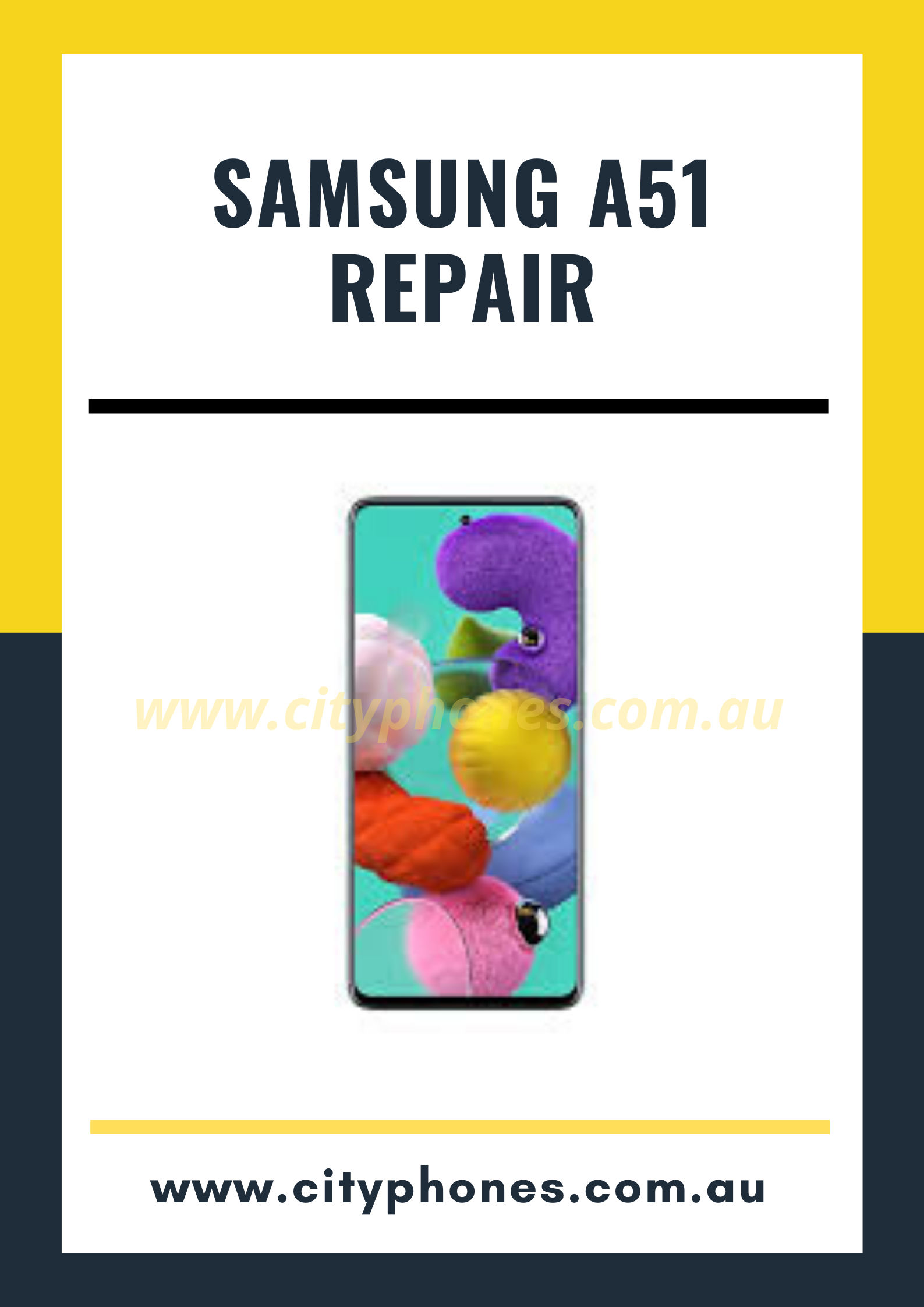 Samsung A51 Repair in Melbourne and Greensborough
Everyone is looking for the best place to get their Samsung mobile repaired quickly, and there are a lot of choices for repairing your Samsung A51 mobile phone. City Phones has locations in Melbourne and Greensborough and can service the majority of mobile phone faults. We can repair almost all faults in your Samsung A51 mobile phone on the spot for a reasonable price within 30 minutes to an hour. Customer satisfaction is our main aim. To get their mobile phones repaired in the minimum amount of time using only genuine repair parts backed up by a standard repair warranty. We are conveniently located in the Melbourne CBD and Greensborough Plaza, which could be easily accessible by all. We strive for excellence in the mobile repair field with every repair we do. Providing customers with high-quality mobile phone repair service in a fast, reliable, and affordable manner is our main aim. You can also send us your Samsung A51 mobile phone through the post for repair to any of our service centers located in Melbourne and Greensborough. At the earliest, we will repair your mobile phone and send it to your address. We understand the importance of a mobile phone, so we make every possible effort to repair your Samsung mobile phone as quickly as possible.
Samsung A51 Screen Repair in Melbourne and Greensborough
Do you desperately need the screen of your Samsung A51 mobile phone to be repaired? You've come to the right place! City Phones is your premium and preferred destination for all kinds of Samsung mobile phone repairs. We have been in the mobile phone repair industry since 2015 and collected over 5 years of experience. Most repairs are completed in 30 minutes to 1 hour. We cover all models and repair almost all things that break on your Samsung mobile phone. We understand that your phone plays an important role in your life. Therefore, we offer quality and fast service for our customers along with competitive prices and premium parts. We put all our efforts into quickly repairing your Samsung A51 mobile phone. With our fully skilled and experienced phone technicians, most issues, including Samsung phone screen repair and screen replacement, will be done within 30 minutes to an hour. Our repair costs are low, but that doesn't change the nature of our repairs. We use premium quality repair parts for your mobile phone for all kinds of repairs at an affordable price.
Samsung A51 offers plenty of value for its price in the form of a handsome design, long battery life, good camera quality, and a gorgeous display. It measures 6.24 by 2.90 by 0.31 inches (HWD) and comes in at 6.06 ounces. It's light and just narrow enough to hold and use in one hand without any big issues. The Galaxy A51 sports a fairly serious camera stack. On the back of the phone, you'll find four sensors: a 48MP wide-angle lens with an f/2.0 aperture, a 12MP ultra-wide lens with an f/2.2 aperture, a 5MP depth lens with an f/2.2 aperture, and another 5MP macro lens with an f/2.4 aperture.
The Galaxy A51 ships with Samsung's Exynos 9611 chipset and 4GB of RAM. There's 128GB of storage, of which 105GB is available out of the box. It can accommodate up to an additional 512GB of storage with a microSD card.
At Cityphones we can fix your Samsung A51. Most of the repair are completed on the same day. Call us today for more details.
City Phones can fix the following issues with your Samsung A51 Mobile Phone
Broken Screens
Broken LCD
Faulty charging port
Faulty Headphone Jack
Faulty back/front cameras
Back glass cover
Motherboard issues
Feel free to get in touch with the Samsung mobile repair experts on 0426504955 or use our online chat service.