Samsung Note 10 Repair in Melbourne
Samsung Note 10 Repair
| Issue | Price |
| --- | --- |
| Samsung Note 10 Screen Repair | $405 |
| Samsung Note 10 Battery replacement | Call us |
| Samsung Note 10 Charging port replacement | Call us |
| Samsung Note 10 Camera lens Repair | Call us |
| Samsung Note 10 Back Glass Replacement ( Cracked Backglass ) | Call us |
| Samsung Note 10 Microphone Repair | Call us |
| Samsung Note 10 Ear Speaker Repair | Call us |
| Samsung Note 10 Ringer Repair | Call us |
| Samsung Note 10 Headphone Socket Repair | Call us |
| Samsung Note 10 Back Camera Repair | Call us |
| Samsung Note 10 Front Camera Repair | Call us |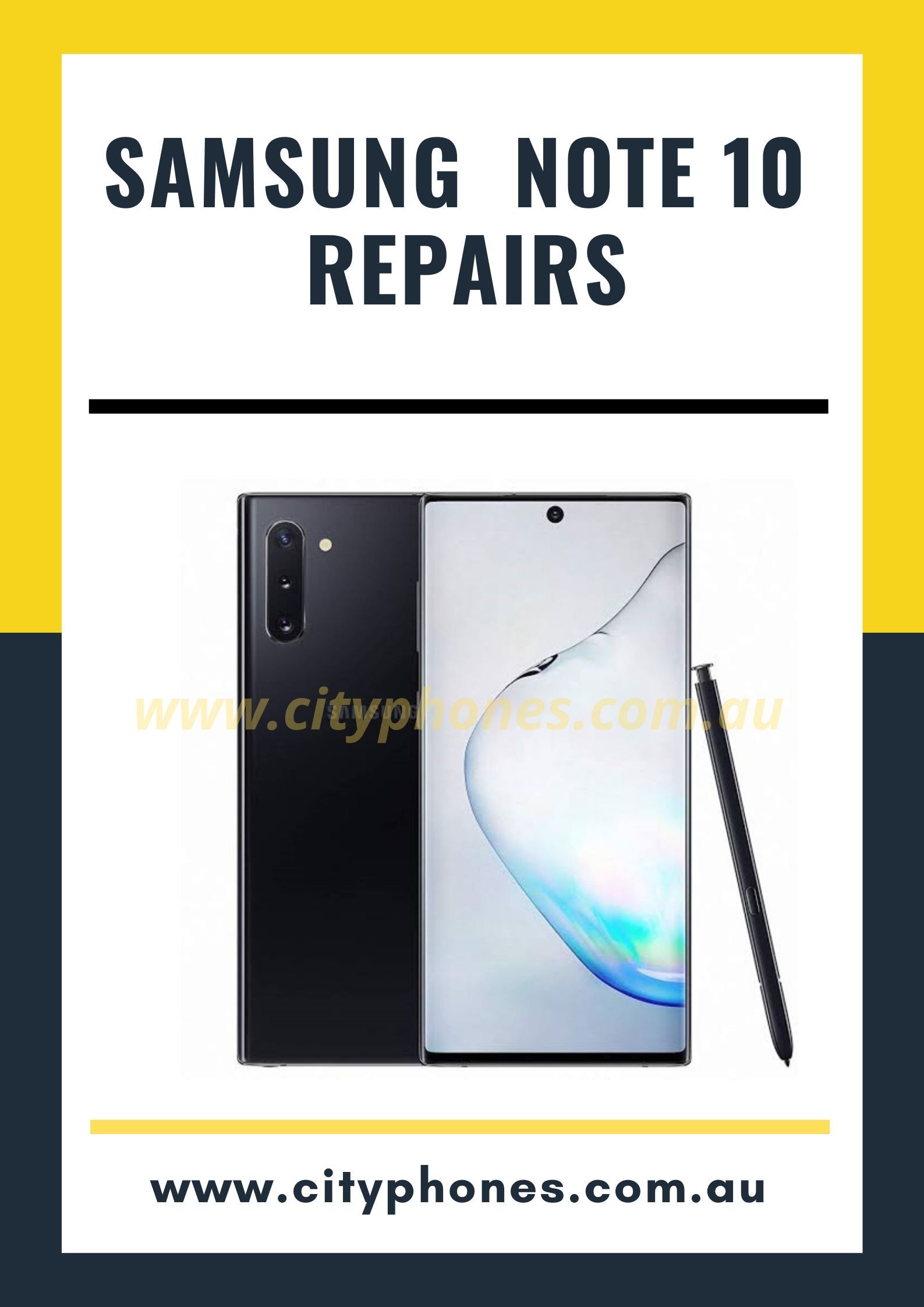 Samsung Note 10 Repair in Melbourne and Greensborough
Looking for the most appropriate
Samsung Note 10 repair
shop in Melbourne and Greensborough? Then look no further than City Phones. We are the authorized Samsung Service Center located conveniently in Melbourne, which means we dedicate ourselves to working directly with Samsung to ensure that you get the speedy repairs and parts you deserve. The best part of our repair service is that we also finish most
Samsung mobile phone repairs
in just 30 minutes to an hour and each fix is backed by a standard repair warranty. Your favorite Samsung service center, City Phones, also offers diagnostics, at no cost to you. We need access to your Samsung Note 10 mobile phone, our expert technicians will take minimum time in suggesting the best possible repair solution as a resolution to the problem you are facing with
Samsung phone repair
in Melbourne and Greensborough. We will proceed as per your choice and will always suggest to you the best possible solution to Samsung phone repairs in Melbourne and Greensborough. To back up our Samsung repairs, we offer a standard repair warranty on every repair we do. We use genuine parts for all our repair needs due to their long-lasting and durable nature.
Samsung Note 10 Screen Repair in Melbourne and Greensborough
For all your Samsung Note 10 screen repair needs in Melbourne and Greensborough, City Phones get it taken care of as fast as possible. Most common Samsung Note 10 mobile phone issues, such as cracked screens and broken LCDs, can be resolved by our expert technicians in 30 minutes to an hour. As you also get a standard warranty on all our repairs, you have nothing to worry about. You can visit our stores in person or send your damaged Samsung Note 10 mobile phone to us by post for repair. We will repair it and check other parts also of your Samsung Note 10 mobile phone for perfect working condition. If they need further repair, we will contact you and discuss further in this regard. After taking your approval, we will proceed further, with complete satisfaction and checking from our side that your device is working fine, we will send it to your address. We desire to provide customers with the best possible repair experience, along with complete peace of mind.
Samsung galaxy Note 10 Repairs in Melbourne CBD and Australia wide. Galaxy Note 10 is flagship phone launched by Samsung in 2019. After the failure of note 7, the Note 10 came in to restore the customers trust in Note family. If you have broken your Samsung Note 10 Screen and looking for a reliable repairer to fix it within a day than your search is over. Cityphones has the high quality and genuine Samsung parts to fix it and make it look like new again. Our repair prices are very competitive in the market but that does not decrease the quality of parts and workmanship.
City Phones can fix the following issues with your Samsung Note 10 Mobile Phone
Broken Screens
Broken LCD
Faulty charging port
Faulty Headphone Jack
Faulty back/front cameras
Back glass cover
Motherboard issues
Feel free to get in touch with the Samsung mobile repair experts on 0426504955 or use our online 
chat service
.