Huawei Nova 3i Repair
| Issue | Price |
| --- | --- |
| Huawei Nova 3i Screen Repair | $149 |
| Huawei Nova 3i Battery Replacement | $99 |
| Huawei Nova 3i Charging Port Repair | $99 |
| Huawei Nova 3i Microphone Repair | $99 |
| Huawei Nova 3i Ear Speaker Repair | $99 |
| Huawei Nova 3i Ringer/loudspeaker Repair | $99 |
| Huawei Nova 3i Headphone port Repair | $99 |
| Huawei Nova 3i Back Camera Repair | $99 |
| Huawei Nova 3i Front Camera Repair | $75 |
| Huawei Nova 3i Camera Lens repair | $75 |
| Huawei Nova 3i Back Glass Repair | $75 |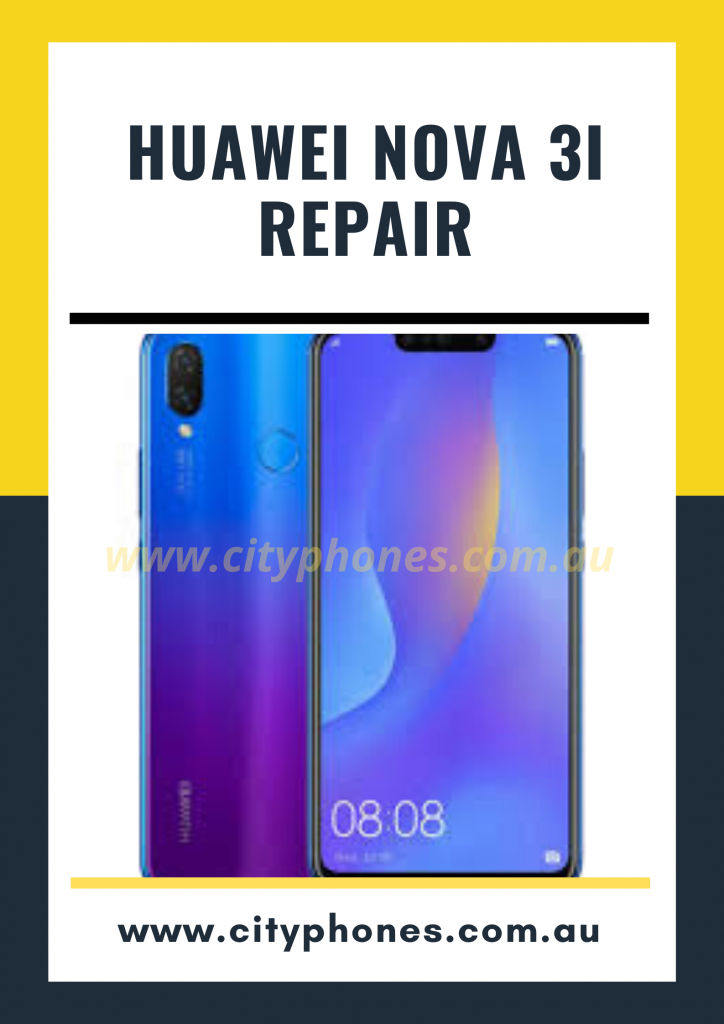 Huawei Nova 3i Repair in Melbourne
Huawei Nova 3i Repair Service in Melbourne
If you own the Huawei Nova 3i mobile phone, and you are searching for a quality and reliable Huawei Nova 3i repair service provider in Melbourne, you can count on City Phones for repair of your phone. When your Nova 3i needs anything from charging port replacement, battery replacement, to screen replacement, City Phones has precisely the right replacement parts, tools, and many years of experience to get the job done.
The Huawei Nova 3i is an Android smartphone. It features a 6.3-inch IPS LCD, 128GB of storage, 4GB of Ram, and the Hisilicon Kirin 710 chipset. Today's smartphone design trends are mostly all-glass, large high-resolution displays with a glass battery cover and your Huawei Nova 3i is no exception. The design approach makes for a stunningly futuristic look, yet it is so fragile as a device. If you have a shattered screen on your Huawei Nova 3i smartphone, you can count on City Phones for fast, professional, factory-standard screen replacement services. Most screen replacements for your Huawei Nova 3i are completed in 30 minutes to an hour in one of our Melbourne stores. Contact City Phones stores today to get a free non-obligatory quote on your Huawei Nova 3i screen repair.
Huawei Nova 3i Screen Replacement
Touch Screen and LCD Display Screen Replacement for Huawei Nova 3i
Replace the old, broken, cracked, or damaged Huawei phone's LCD screen and touch screen. The screen replacement and repair will make your smartphone device look new and more refreshing than ever before. Professional installation is highly recommended if you buy the screen from us. The screen chosen for replacement will be brand new and of the highest quality. Each touch screen and LCD is tested thoroughly before it is installed in your phone. The screen that will be replaced is of the same model and brand as your phone's.
Your phone's screen replacement will take just 30 minutes to 1 hour. We use only genuine parts while doing all Huawei mobile repairs in Melbourne. However, some phone models might take longer to allow the new screen to bond properly. The Screen Replacement will make your valued mobile phone look new, fresh, and more refreshing than ever. Our services are fast and budget friendly. Depending on the type of damage and the extent of the damage to your Huawei phone, repair costs will vary.
Huawei Nova 3i Charging Port Repair
If your Huawei Nova 3i isn't charging properly, don't come to the conclusion that the mobile phone charger or your battery has gone faulty. Based on many years of experience at City Phones, many times it is due to the broken charging port of your phone. The solution is to replace the charging port of your phone. City Phones will bring your device back to life again within a few minutes.
You can contact the City Phones customer care team at 0426504955 if you have any queries or questions about Huawei phone repair service to your Huawei Nova 3i mobile phone. Email us your questions and queries about repairs at info@cityphones.com.au. You can be walk-in with your Huawei phone to ask for a repair at a reasonable price. Our stores are located at 148 Elizabeth Street, Melbourne, VIC 3000, and Shop 2, 231 Elizabeth St, Melbourne CBD 3000. Monday through Friday, 9: 30 a.m. to 6: 30 p.m., and Saturday and Sunday, 10 a.m. to 5 p.m.