Nokia 3.1 Repair in Melbourne
Nokia 3.1 Repair
| Issue | Price |
| --- | --- |
| Nokia 3.1 Screen Repair | $119 |
| Nokia 3.1 Battery Replacement | $75 |
| Nokia 3.1 Charging Port Repair | $99 |
| Nokia 3.1 Microphone Repair | $99 |
| Nokia 3.1 Ear Speaker Repair | $99 |
| Nokia 3.1 Ringer/loudspeaker Repair | $99 |
| Nokia 3.1 Headphone port Repair | $99 |
| Nokia 3.1 Back Camera Repair | $99 |
| Nokia 3.1 Front Camera Repair | $75 |
| Nokia 3.1 Camera Lens Repair | $45 |
| Nokia 3.1 Back Glass repair | $65 |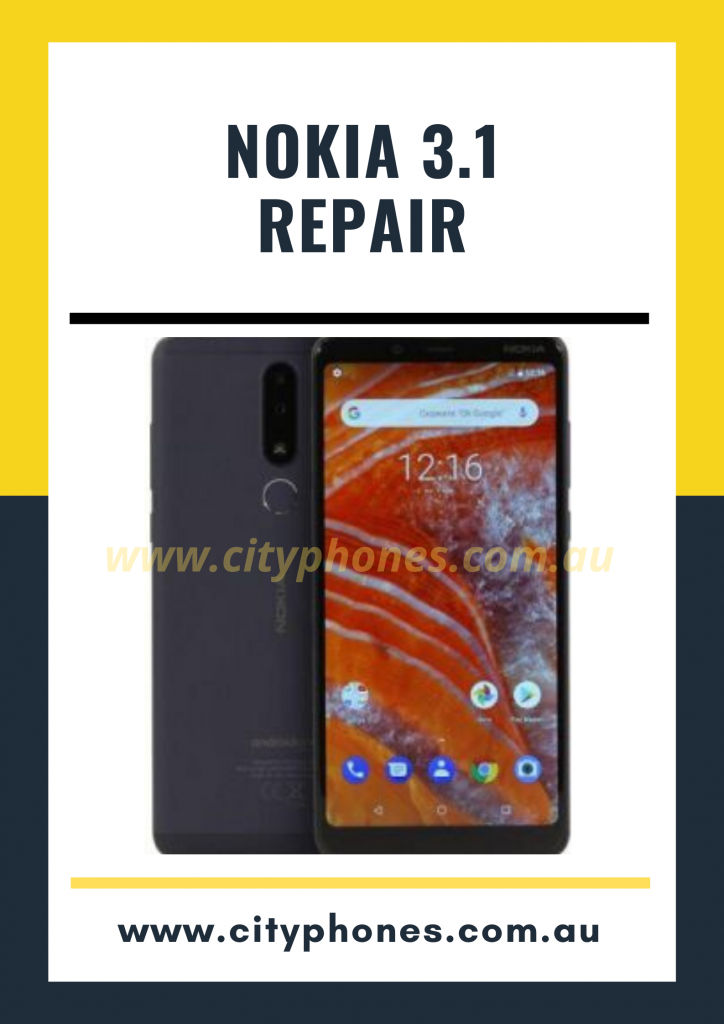 Nokia 3.1 Repair in Melbourne
Nokia 3.1 Repair in Melbourne and Greensborough
Most of us are looking for the best place to get Nokia 3.1 mobile phone repair quickly and there are a lot of choices to get your mobile repaired within Melbourne and Greensborough. City Phones does Nokia 3.1 mobile repair at their stores located at three locations within Melbourne and Greensborough where you can walk in with or without an appointment.  We repair almost every fault in the Nokia 3.1 mobile phone that can be economically viable for our customers. For Nokia 3.1 Repair, we have well-trained and experienced technicians who repair almost every fault which can occur in your Nokia mobile phone. City Phones has equipped staff with state-of-the-art tools and equipment to repair almost every fault which may occur in your Nokia 3.1 mobile phone. This modern equipment helps our team members in providing sustainable solutions. Meanwhile, we also ensure the efficiency and productivity between repairing procedures. Our technical staff implies a focused approach to every aspect of Nokia mobile phone repair.
Nokia 3.1 Screen Repair
Are you searching for the best Nokia mobile phone repair center to fix the cracked screen on your Nokia 3.1 mobile phone? Then you are in the right place. We perform Nokia 3.1 screen repair with the help of our expert team members who have many years of experience in this industry. We can repair your Nokia 3.1 mobile phone screen on the spot within 30 minutes to an hour. We repair your device with utmost care and always offer the best possible solution to your problem. All parts chosen for repair are properly tested and checked before being used in your Nokia mobile phone. Nokia phone screen replacement is the most common repair needed after your phone slips from your hands. We offer a standard repair warranty with every repair we perform except physical damage, liquid damage or other human-caused damage.
Some of the common Nokia 3.1 repair services we provide are:

 Broken Screen
 Broken LCD
 Faulty charging port
 Faulty Headphone jack
 Faulty back/front camera
 Water damage
 Battery not charging.
 Motherboard issues
Feel free to contact us if you have any queries or questions regarding the repair of your Nokia 3.1 mobile phone at 0426504955 or email at info@cityphones.com.au. We are located at 148 Elizabeth Street, Melbourne, VIC 3000 or Shop 2, 231 Elizabeth Street, Melbourne, VIC 3000 and L 01, Shop 137, 25 Main Street, Greensborough, VIC 3088.