HTC M8 Repair in Melbourne
HTC M8 Repair
| Issue | Price |
| --- | --- |
| HTC M8 Screen Repair | $149 |
| HTC M8 Battery Replacement | $89 |
| HTC M8 Charging Port Repair | $69 |
| HTC M8 Microphone Repair | $69 |
| HTC M8 Ear Speaker Repair | $69 |
| HTC M8 Ringer/loudspeaker Repair | $69 |
| HTC M8 Headphone port Repair | $69 |
| HTC M8 Back Camera Repair | $89 |
| HTC M8 Front Camera Repair | $69 |
| HTC M8 Camera Lens Repair | $49 |
| HTC M8 Back Glass repair | $99 |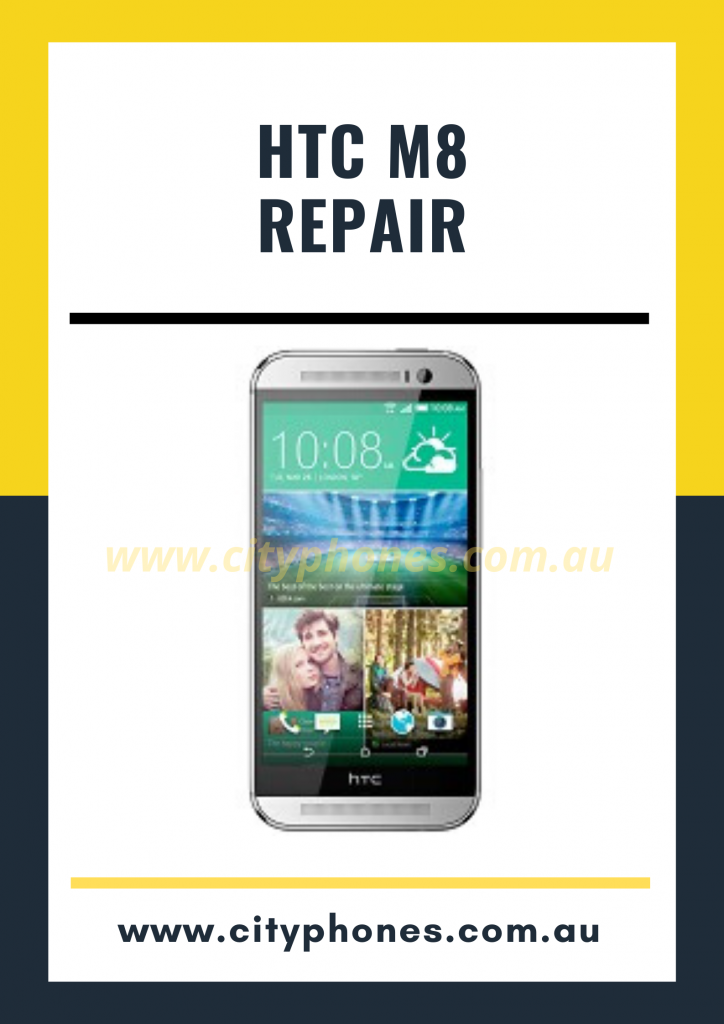 HTC M8 Repair in Melbourne
HTC M8 Repair in Melbourne and Greensborough
City Phones provides you with a professional and highly efficient HTC M8 mobile repair service for all types of issues you can face with your HTC mobile phone. The feature people love the most about the HTC M8 mobile phone is that it has a large and high-quality display screen. Still, this smartphone is prone to sustaining screen damage if you fail to keep it in a protective case. Screen repairs for smartphones are very costly, so you should take your damaged M8 mobile phone to an efficient and quick HTC M8 repair service provider company. If you have an HTC M8 mobile phone, and it needs repair, call us today for all your troubleshooting needs. Our technicians are highly experienced in the mobile technology industry and offer quality HTC M8 repair services for your mobile phone. City Phones is conveniently located in Melbourne and Greensborough, which is a highly recognized HTC mobile phone repair center. Whether your phone screen is blank, your phone's battery won't charge, or there are camera issues on your HTC phone, we will help you. Our expert technician can help you with all HTC mobile phone repair issues as we have many years of experience repairing HTC M8 mobile phones.
HTC M8 Screen Repair in Melbourne
Is the display screen of your HTC M8 mobile phone broken? Seeing a cracked display screen is frustrating, and it needs immediate replacement, so finding a reliable HTC phone screen replacement company that could replace your HTC mobile screen with complete care is very difficult. You should approach a company that can replace the HTC M8 display screen of your HTC mobile phone efficiently and quickly. City Phones knows that having a cracked display screen on your HTC mobile phone is annoying, and therefore we offer one of the lowest prices for display screen replacement on your mobile. We carry out express repairs in our workshop, i.e. we do not send the phone to another repair service provider. This allows us to provide the fastest and affordable service in the market. All our repair services come with a standard repair warranty. We use only genuine parts while undertaking repair services for the HTC M8 mobile phone, which extends the durability and reliability of your HTC M8 mobile phone.
Common HTC M8 repair services we provide are:
Broken Screen
Broken LCD
Faulty charging port
Faulty Headphone jack
Faulty back/front camera
Water damage
Battery not charging
Motherboard issues
Do you have any doubts in mind regarding our HTC M8 Plus repair service? Feel free to get in touch with our experts on 0426504955 or email us at info@cityphones.com.au. Alternatively, you can walk into our stores at 148 Elizabeth Street, Melbourne, VIC 3000, and Shop 2, 231 Elizabeth Street, Melbourne, VIC 3000 or L 01, Shop 137, 25 Main Street, Greensborough VIC 3088. The hours of operation are Monday through Friday, 9.30 a.m. to 6.30 p.m., and Saturday and Sunday, 10 a.m. to 5 p.m.