Google Pixel 8 Repair in Melbourne
Google Pixel 8 Screen Repair
| Issue | Price |
| --- | --- |
| Google Pixel 8 Screen/LCD Repair | Call us for stock availability and price |
| Google Pixel 8 Camera Lens Repair | Call us for stock availability and price |
| Google Pixel 8 Battery Replacement | Call us for stock availability and price |
| Google Pixel 8 Charging Port Repair | Call us for stock availability and price |
| Google Pixel 8 Microphone Repair | Call us for stock availability and price |
| Google Pixel 8 Ear Speaker Repair | Call us for stock availability and price |
| Google Pixel 8 Finger Print Scanner Repair | Call us for stock availability and price |
| Google Pixel 8 Ringer/loudspeaker Repair | Call us for stock availability and price |
| Google Pixel 8 Headphone Port Repair | Call us for stock availability and price |
| Google Pixel 8 Back Camera Repair | Call us for stock availability and price |
| Google Pixel 8 Front Camera Repair | Call us for stock availability and price |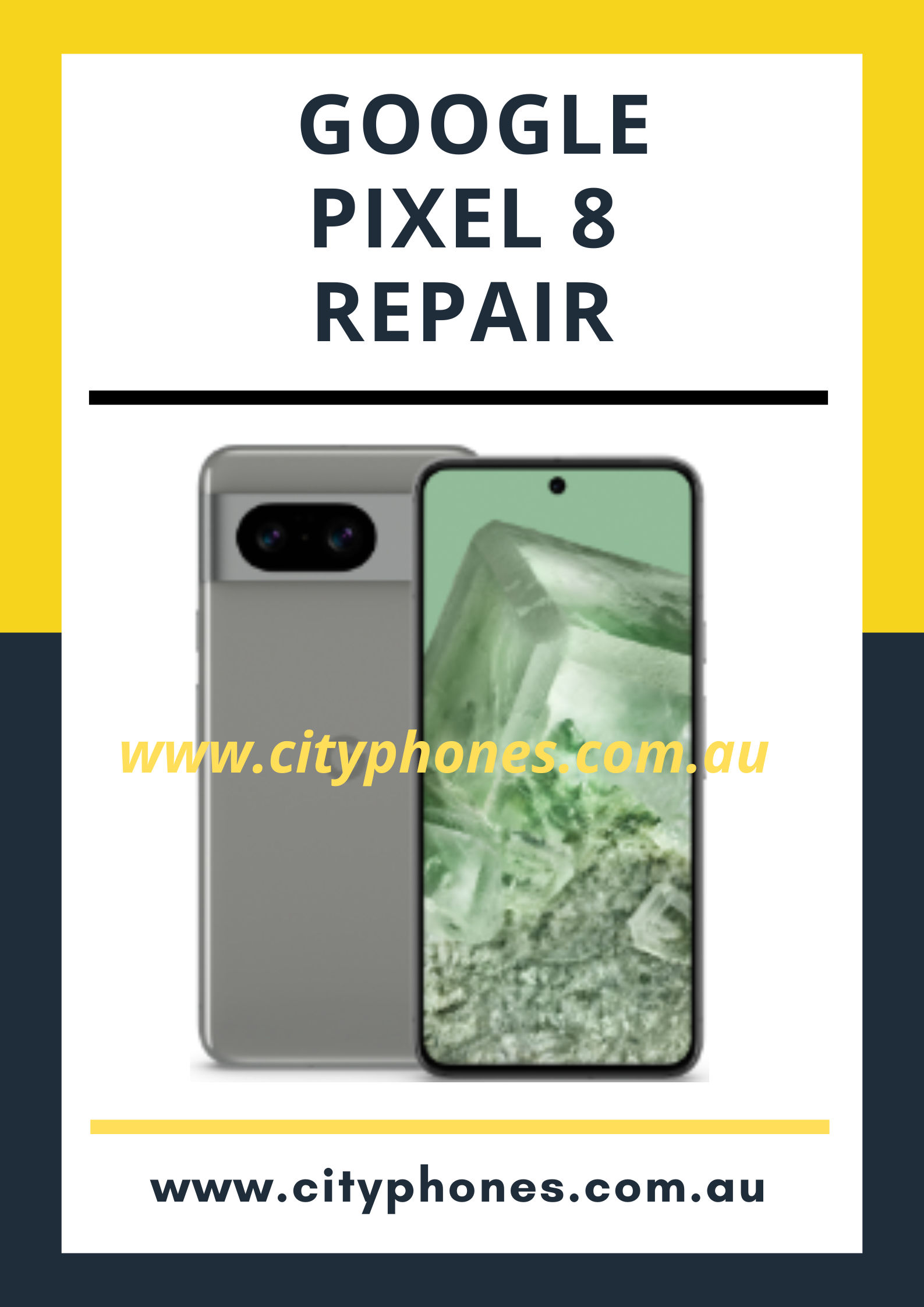 Pixel 8 Repair in Melbourne
What new features are introduced within Pixel 8?
Pixel 8 is a flagship Android-based smartphone developed and marketed by Google. This phone is built with AI in the center of thought. This power-packed phone is having first-of-its-kind technology introduced for the first time in mobiles powered by a Google Tensor G3 chip. This is a newly released phone from Google that comes with up to 5x zoom cameras, Android 14, fast charging, a long-lasting battery, built with durable materials that make scratches and water spills a no big deal. This phone has a fresh, modern design including a satin finish. The all-new Google Tensor G3 chip is custom designed with Google AI feature which allows advanced cameras to click superb photos and videos. This intelligent chip provides various smarter ways to help you throughout the day by making Pixel 8 super-fast and efficient. This phone comes with seven years of OS, Security, and Feature Drop updates. The translate-on-the-spot features help to provide live translation which interprets face-to-face conversations in 49 languages in real-time. Pixel 8 provides crisis alerts thus helping you remain a step ahead. Pixel 8 sends proactive crisis alerts and keeps you informed of nearby hazards like flood, fire, or tornado. Pixel 8 provides extra protection when you are online with the help of a VPN from Google One. This phone helps protect your online activity no matter what app or web browser you use.
What to do if I crack my Pixel 8 screen?



Pixel 8 screen is made up of Corning Gorilla Glass Victus cover glass which makes the screen of this phone very durable and scratch resistant. The back of this phone is made up of edgeless Corning Gorilla Glass Victus with a matte aluminum frame. Although the screen of the Pixel 8 is made up of durable material, accidents like slipping from hands could occur thus cracking the screen of the Pixel 8 into pieces. Carrying a cracked screen Pixel 8 could injure your hands thus replacing the cracked screen is the only permanent solution to get rid of this problem which could also damage the internal components of the Pixel 8. City Phones is a team of highly skilled and talented professionals who could restore the cracked screen of your Pixel 8 as it is newly purchased. With the help of original Pixel 8 screen replacement parts, these professionals replace the damaged screen of the Pixel 8 and make it look new again.
Where to get the Pixel 8 screen replaced?



The best possible Google Pixel 8 screen replacement providers are those professionals who have been replacing the cracked screen of the Pixel 8 for the last many years using genuine Pixel 8 parts to ensure the durability of the Pixel 8 screen replacement. Screen Replacement is the most common repair needed when a mobile phone meets with an accident. To make the Pixel 8 cracked screen look new again you need a professional who has expertise in the Pixel 8 screen replacement at an affordable price. City Phones is a team of highly professional technicians' experts in providing any type of repair within a Google Pixel phone. We believe in complete customer satisfaction and thus we ensure that any of our clients don't leave our repair store without being completely satisfied.
How much will it cost to replace the cracked screen of the Pixel 8?
The cost to replace the cracked screen of the Pixel 8 includes the cost of the original Pixel 8 screen and our labor cost. After replacing the cracked screen of the Pixel 8 we assure you that you will experience the same Pixel 8 screen benefits as you did at the time of purchasing a new Google Pixel 8 phone. We also offer a price match option which is that if you find any other repair store lower price than what we have offered you then we will match their price.
How will I come to know about the faulty LCD in my Pixel 8?
If you are seeing lines in various colors on the LCD screen of your Pixel 8 after meeting with an accident? or when you try to access your Pixel 8 phone it becomes blank, then it is sure that the LCD screen of your Pixel 8 phone has gone faulty and replacing the LCD screen is the best possible option in front of you. So, if you are searching for a skilled professional who could replace the faulty LCD screen skillfully then the professionals working at City Phones are the best ones to choose from as they possess the required talent and skills that are needed by a professional for replacing the faulty LCD screen. It will just take 30 minutes to an hour for our experienced technicians in replacing the faulty LCD screen of the Pixel 8 perfectly.
How long does it take to replace the Pixel 8 battery? 
If the Pixel 8 battery starts draining and you keep on charging your Pixel 8 again and again to keep working on your phone, then you need to replace the weakened battery of your Pixel 8. This will enable you to enjoy the same advantages of a fully functional battery that comes with the Pixel 8 battery. City Phones wants the customer not to have to visit us again in connection with the same issue. To address the same problem City Phones offers you a standard repair warranty in which if the customer faces the same issue, we will repair the issue free of cost. Battery replacement is the second most commonly occurring problem as a result of slipping the phone from your hands. If you are looking for a skilled professional who could perfectly replace the weakened battery and enable, you to work efficiently on your Pixel 8 phone then City Phones is the best possible group of skilled professionals. We take complete care while replacing the weakened battery of your Pixel 8 so you can rest assured that your phone battery will be replaced perfectly.
Where to get the Pixel 8 charging problem fixed?
If the charging port of the Pixel 8 stops charging, then it will be best to replace the faulty charging port immediately. Replacing the faulty charging port will enable you to use your Pixel 8 phone again like before. Due to the impact of the accident, the charging port of Pixel 8 may stop working. If you are looking forward to finding a highly skilled professional to replace the faulty Pixel 8 charging port then choose City Phones which is a team of highly experienced and talented professionals who have been replacing the Google Pixel phone charging port for many years. City Phones also offers mail-in service, if you live far from our repair store you have the option of sending your damaged phone via Australia Post and we will return your phone after completely repairing it and testing it for proper functioning.
City Phones also sells Pixel 8 Cases, Covers, and Screen Protectors at a much more competitive price with the Australian market. The World's leading brands of Pixel 8 cases and Pixel 8 screen protectors are available at City Phones both online and in-store. Get discounts of more than 50% on ordering online world's leading brands of Pixel 8 accessories. You can also visit our stores located in Melbourne and Greensborough to buy Pixel 8 cases and screen protectors to purchase them and get good discounts. Cases and Screen Protectors are very important for a mobile phone as they protect your costly mobile phone against sudden drops and scratches. Along with free shipping, a 10-day return policy and Afterpay payment offers in which you buy now and pay later you get many benefits on purchasing Pixel 8 cases and screen protectors.