IPHONE 7 Repair in Melbourne
IPHONE 7 Repair
| Issue | Price |
| --- | --- |
| IPHONE 7 Screen Repair ( LCD and touch are Still working ) | $79 |
| IPHONE 7 Battery Replacement | $69 |
| IPHONE 7 Charging Port Repair | $75 |
| IPHONE 7 Microphone Repair | $75 |
| IPHONE 7 Ear Speaker Repair | $75 |
| IPHONE 7 Home Button Repair (without touch id) | $75 |
| IPHONE 7 Ringer/loudspeaker Repair | $75 |
| IPHONE 7 Back Camera Repair | $99 |
| IPHONE 7 Front Camera Repair | $75 |
| IPHONE 7 Camera Lens repair | $40 |
| IPHONE 7 Back Frame Replacement | $149 |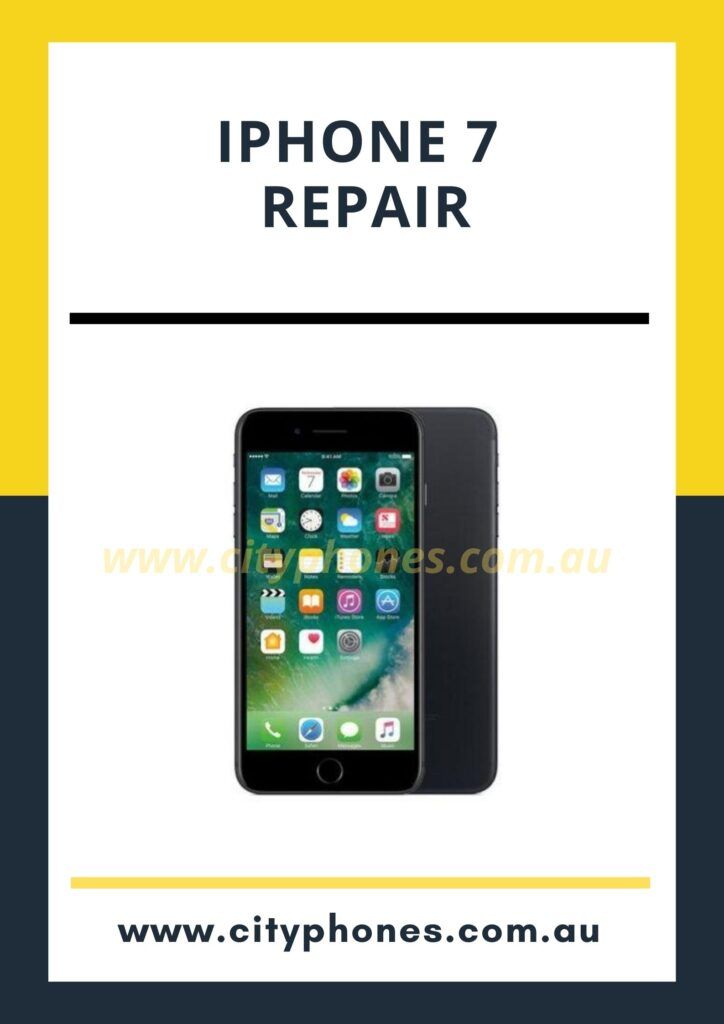 IPHONE 7 Repair in Melbourne
IPHONE 7 Repair in Melbourne and Greensborough
IPHONE 7 phone was released on September 16, 2016. The IPHONE 7 has remained a classic phone among the range of IPHONE models Apple has produced but it is not without its flaws. The IPHONE 7 is still prone to a vast array of damages and faults. From screen repair needs after sudden fall, charging port faults, battery replacement needs to camera repair needs. If you are facing any of these problems in your IPHONE 7 mobile phone, if you are looking for professionals who specialize in IPHONE 7 and cater to the repair needs of this device, look no further. City Phones is there to help you with all IPHONE 7 related issues with complete satisfaction and peace of mind.
IPHONE 7 Screen Repair in Melbourne and Greensborough
For reliable IPHONE Screen repair in Melbourne and Greensborough, don't look past the experts at City Phones. Situated in Melbourne and Greensborough, our phone repair store is well situated to assist locals with IPHONE screen repair for all Apple IPHONE models. Whether you require assistance in IPHONE 8 or IPHONE 7 screen repair in Melbourne, drop into our store today for prompt assistance. At City Phones, we pride ourselves on being able to fix cracked screen issues fast and at an affordable price. From completely smashed screens to minor chips and scratches, we can provide the repairs you need to restore your IPHONE to usable condition.
IPHONE 7 LCD Repair in Melbourne and Greensborough
If your IPHONE 7 glass screen is broken and the touch screen is working fine, City Phones will repair the glass of your IPHONE 7 phone so that your IPHONE 7 becomes usable and in good working condition. In case your IPHONE 7 touchscreen is not responding or has gone black or showing some multi-colored lines on it, City Phones will replace the LCD screen completely to make your IPHONE look like new as if it is recently purchased. City Phones uses only genuine IPHONE parts to provide a long-lasting effect to all our repair services and all our repairs come with a standard repair warranty to provide you peace of mind.
IPHONE 7 Battery Repair in Melbourne and Greensborough
If you find your phone battery does not last the whole day, the phone overheats without much use, the phone running slow, and other symptoms, you may need to replace the battery of your IPHONE 7 mobile phone. Contact City Phones for an assessment and phone battery replacement. City Phones provides simple, easy and fast service for IPHONE battery replacement in Melbourne CBD and Greensborough Plaza. At City Phones, we are well aware of how precious your IPHONE is to you so we strive to provide quality battery replacement at an economical price.
IPHONE 7 Charging Port Repair in Melbourne and Greensborough
Is your phone not charging correctly? You may be having issues with the charging port of your IPHONE 7 phone which has gone faulty and needs replacement. Charging ports get splashed by water, act up from physical damage, or even just wear out over time. City Phones' skilled technicians can replace faulty charging ports in the minimum possible time of just 30 minutes to an hour. There is a standard repair warranty with every repair we perform so can rest assured as our repair work is done using high-quality IPHONE parts and will be durable and will last longer.
IPHONE 7 Front and Back Camera Repair in Melbourne and Greensborough
The IPHONE 7's crystal-clear 7MP front camera might be the most-used feature on your phone. It can be devastating if it stops working properly. With the 12MP camera on the IPHONE 7, you can take professional-quality photos with nothing but your smartphone. But those sophisticated parts are sensitive and can easily damage or break. Common symptoms of your IPHONE 7 front and back camera that need repair is that the clicked images are fuzzy or blurry or completely black. A minor bump or fall can cause these problems, but City Phones can easily resolve these issues with the help of experienced technicians who will take not more than 30 minutes to an hour to bring back your front and back camera in action and your will again be able to take splendid photos from your IPHONE 7 cameras.
In case you haven't heard, matte black is the new black. Unfortunately, the jet-black finish faces more issues with scratches. If you seek IPHONE 7 repair in Melbourne, look no further. Our professional technicians will get your device back to normal in just 30 minutes!
Released on September 2016, the IPHONE 7 became the first-ever water-resistant IPHONE. This means that the repair procedure has grown more complicated, with all of the waterproofing and dust protection improvements. The speaker's output duct fits over a rubber speaker grille gasket for an added layer of ingress protection, which also has a fine mesh, in case the speaker grille doesn't do its water-blocking job. Apple even added a rubber gasket around the SIM tray and extra screws to the Lightning connector assembly. On top of that, there are plenty of thin and fragile button cables to work through that are extremely close to the waterproofed components. Not to worry, we have the specialty screwdrivers and the adhesive removal technique required to carefully access the inner parts, including the Lithium-ion battery. With the addition of tri-point screws that secure the cable bracket, many IPHONE 7 repairs will require up to four different types of drivers. Even the volume buttons are protected with a three-part mechanism, which proves to be much more difficult to disassemble than the button covers in other iDevices, but we'll take care of it all!
The plastic component where the headphone jack used to be is a barometric vent. With the added ingress protection afforded by the watertight seal, the IPHONE uses this baffle to equalize the internal and atmospheric pressures in order to have an accurate altimeter. This Taptic Engine takes advantage of its extra legroom, sizing up for its home button haptic duties. The IPHONE 7 also features an all-new 7 MP FaceTime HD camera with deep trench isolation and auto image stabilization – quite the upgrade from the 5MP FaceTime camera in the 6S. Cityphones also offers rear or back camera repair, as well as IPHONE screen repair in Melbourne.
There are also some minor differences in connector sizes and locations, post holes, and screw locations, but we've got it down. You can rest assured that we're IPHONE repair professionals and we know what we're doing. Take a look at our list of IPHONE 7 repair services below.