Samsung J5 Pro Repair in Melbourne
Samsung J5 Pro Repair
| Issue | Price |
| --- | --- |
| Samsung J5 pro Screen Replacement ( LCD and touch are still working ) | $129 |
| Samsung J5 pro LCD Replacement (Broken LCD, No display, lines, dead pixels, etc ) | $129 ( non-original) or $149 ( Original ) |
| Samsung J5 Pro Battery Replacement | $99 |
| Samsung J5 pro Charging port replacement | $99 |
| Samsung J5 pro Microphone Repair | $99 |
| Samsung J5 pro Ear Speaker Repair | $99 |
| Samsung J5 pro Ringer Repair | $99 |
| Samsung J5 pro Headphone Socket Repair | $99 |
| Samsung J5 pro Back Camera Repair | $99 |
| Samsung J5 pro Front Camera Repair | $99 |
| Samsung J5 pro Camera lens Repair | $45 |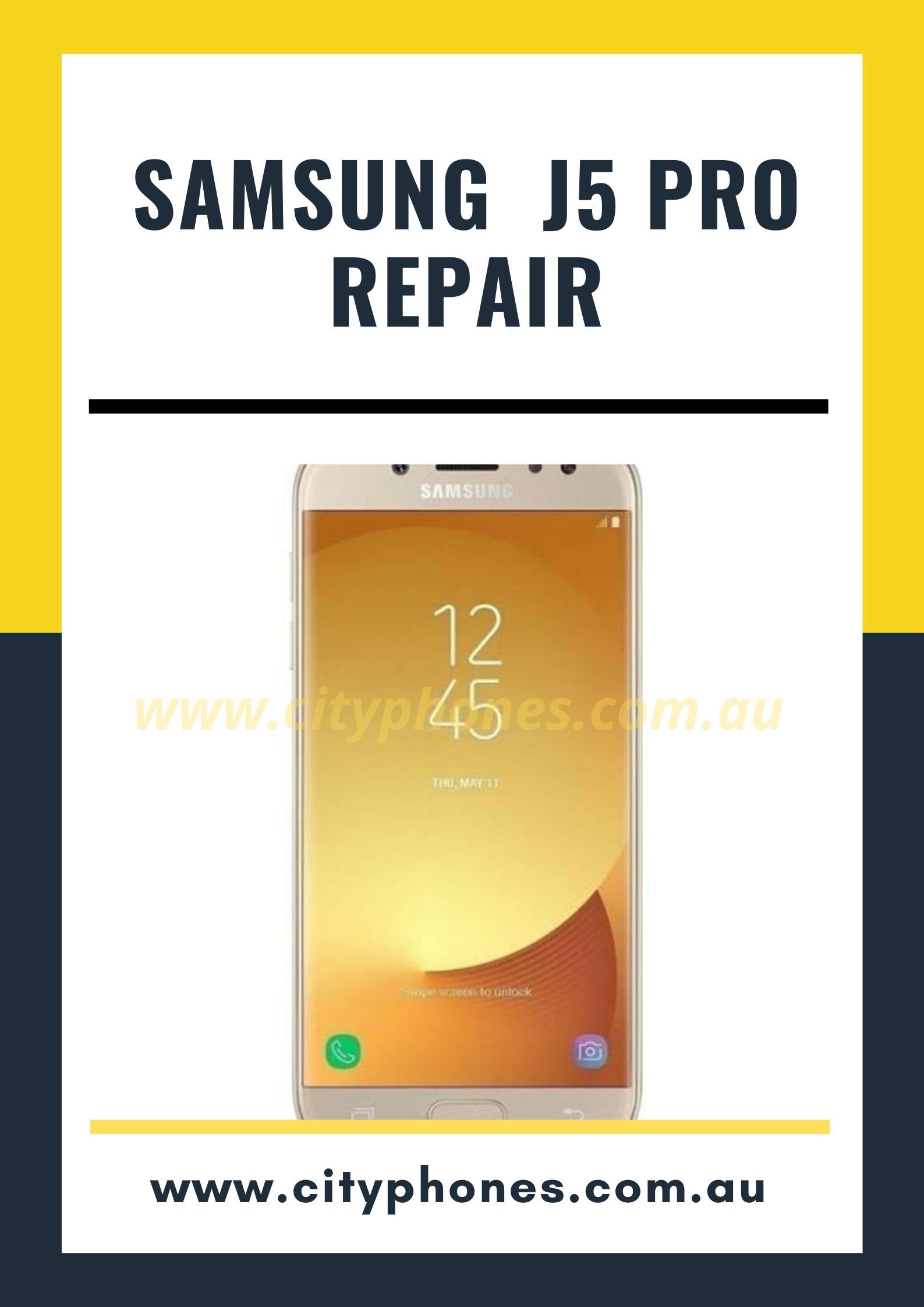 Samsung Galaxy J7 Pro Repair in Melbourne by City Phones
Samsung Galaxy J7 Pro is a fast phone with durability. This mobile phone has good specifications expected from a high-end smartphone. At City Phones, we understand the value of a smartphone very well. Our qualified and friendly staff is ready to help you out with any sort of issues with your mobile. All the repairs performed by us come with a warranty. City Phones is your trusted one-stop Samsung repair shop in Melbourne. We possess many repair options like mail-in repair service, book a repair online and walk-in repair services.
We provide all the services for Samsung Mobile phone repair as we are one of the Samsung authorized repair centers. We have been providing repair services for Samsung devices since many years and our trained staff can repair any issues with ease.
Samsung Galaxy J7 Pro Screen Replacement 
Do you have a cracked Samsung Galaxy J7 Pro screen? City Phones has been repairing and replacing Samsung Galaxy J7 Pro screens since many years. Our experienced and qualified technicians will immediately identify the problem, whether it's a cracked glass or LCD replacement, and will make your Samsung Galaxy J7 Pro as good as new within 30 mins to 60mins. City Phones is a Samsung Authorized Service Centre having experienced Samsung specialist Pro mobile.
Samsung Galaxy J7 Pro LCD Replacement 
In case your Samsung mobile phone starts showing black lines, the screen goes black, or the touch screen starts showing various issues, your Samsung mobile phone requires LCD replacement. In these situations, City Phones addresses your concern with great care and helps you with LCD replacement in minimum time with a guaranteed repair warranty.
Samsung Galaxy J7 Pro Battery Replacement
We provide a high-quality Samsung battery at our stores in Melbourne. If your phone starts taking a long time to charge or suddenly drops off charging your phone needs a battery replacement. We offer Samsung battery replacement at an affordable cost using only high-quality parts. These repairs come with a guaranteed repair warranty other than any physical damage, water damage, or any human-caused damage. You can visit our stores in Melbourne to get it replaced. Our expert technicians can have the battery replacement done within 30 minutes. So, you can visit our stores with or without taking an appointment to get your phone's battery replaced at a competitive price than the market. City Phones offer price match which means if you find the repair cheaper somewhere, let us know and we will match the price thus you get affordable and quality repair services.
Samsung Galaxy J7 Pro Charging Port Repair
In case you want to replace your mobile phones, faulty charging port or find that the charging port is not working and needs to be replaced, City Phones is always there to help you. Generally, the charging port repair doesn't take long. So, most devices with charging port issues can be repaired within an hour. Your phone will come to life in just a few minutes. We have all Samsung genuine parts in stock so in case you need urgently to replace the charging port of your mobile, we will help you with charging port repair.
Samsung Galaxy J7 Pro Mobile Phone Camera Repair
If you have scratched, damaged, or cracked your rear camera lens, unable to focus while clicking photos then City Phones can replace the glass separately without having to remove the original camera component. Damaged camera glass repair solutions are available at City Phones at an affordable price. Glass camera lens replacements take 30 mins to 1 hour.
We also sell mobile phone accessories like cases, covers, screen protectors, chargers, cables, earphones, and power banks for all mobile brands and models. Buy online original mobile phone accessories for your smartphone at an affordable price. If you have any doubt regarding our Samsung Galaxy J7 Pro mobile repairing, please feel free to call we at 0426504955 or just drop an email at info@cityphones.com.au.