HTC M7 Repair in Melbourne
HTC M7 Repair
| Issue | Price |
| --- | --- |
| HTC M7 Screen Repair | $149 |
| HTC M7 Battery Replacement | $79 |
| HTC M7 Charging Port Repair | $69 |
| HTC M7 Microphone Repair | $69 |
| HTC M7 Ear Speaker Repair | $69 |
| HTC M7 Ringer/loudspeaker Repair | $69 |
| HTC M7 Headphone port Repair | $69 |
| HTC M7 Back Camera Repair | $89 |
| HTC M7 Front Camera Repair | $69 |
| HTC M7 Camera Lens Repair | $49 |
| HTC M7 Back Glass repair | $99 |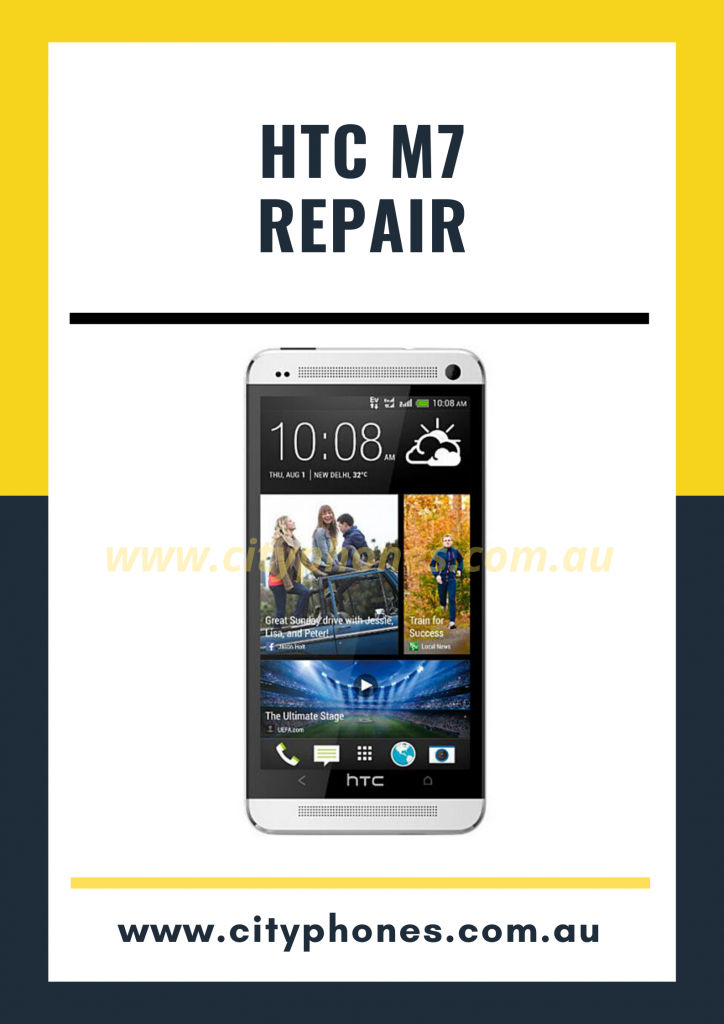 HTC M7 Repair in Melbourne
HTC M7 Repairs in Melbourne and Greensborough
Everything from the design to the powerful quad-core processor running on Android Jellybean makes HTC M7 an extremely popular and feature-packed smartphone. City Phones keeps you connected if you run into any trouble operating your HTC M7 smartphone. From a battery replacement to water damage, come to City Phones for local, fast service. There are a number of faults that can occur with the HTC One M7 smartphone. Screen repair is the most common fault, but over time, issues may arise with the camera, charging port, battery or ear speaker. If you're looking for a professional repair service to be carried out on your HTC One M7 in Melbourne and Greensborough, then look no further than City Phones. We are a professional HTC mobile phone repair service provider with experience of thousands of devices under our belt. All our repairs are performed by skilled technicians with years of expertise in the mobile repair field. We guarantee that we will return your phone in perfect condition and aspire to perform our utmost with every repair. Because of our fast repair times, low costs and the high quality of our repairs, City Phones is the best spot to fix your HTC M7 mobile phone.
HTC M7 Screen Repair
Is the display screen of your HTC M7 mobile phone cracked or broken? We know that having a broken mobile phone is really annoying, and therefore we offer a competitive and quality-based display screen replacement service within Melbourne and Greensborough. It happens many times that mobile phones slip from hands and hit a hard surface, thus damaging the screen of the mobile phone. It doesn't mean you have to replace your existing smartphone and buy a new replacement phone. Instead, choose our mobile phone repair service to get your HTC M7 repair conveniently. You can send us your damaged HTC M7 mobile phone for repair. We will repair it. Check other parts of the mobile, whether they are perfectly working or not. If they need repair for proper functioning, repair them and send them to your address. We use only genuine parts in repairing your HTC M7 mobile phone so that it extends the durability of your HTC M7 mobile phone. We provide a standard repair warranty with each repair we perform. Our skilled technicians have repaired many HTC M7 mobile phones, and we can guarantee that your HTC mobile phone will work again as before.
Some of the common HTC M7 repair services we provide are:
Broken Screen
Broken LCD
Faulty charging port
Faulty Headphone jack
Faulty back/front camera
Water damage
Battery not charging.
Motherboard issues
Do you have any doubts in mind regarding our HTC M7 mobile repair service? Feel free to get in touch with our experts on 0426504955 or email us at info@cityphones.com.au. Alternatively, you can walk into our stores at 148 Elizabeth Street, Melbourne, VIC 3000, and Shop 2, 231 Elizabeth Street, Melbourne, VIC 3000 or L 01, Shop 137, 25 Main Street, Greensborough VIC 3088. The hours of operation are Monday through Friday, 9.30 a.m. to 6.30 p.m., and Saturday and Sunday, 10 a.m. to 5 p.m.