Samsung Galaxy S20 Ultra Repair
Samsung Galaxy S20 Ultra Repair
| Issue | Price |
| --- | --- |
| Samsung S20 Ultra Screen Repair | $440 |
| Samsung S20 Ultra Battery replacement | Call |
| Samsung S20 Ultra Charging port replacement | Call |
| Samsung S20 Ultra Microphone Repair | Call |
| Samsung S20 Ultra Ear Speaker Repair | Call |
| Samsung S20 Ultra Ringer Repair | Call |
| Samsung S20 Ultra Back Camera Repair | Call |
| Samsung S20 Ultra Front Camera Repair | Call |
| Samsung S20 Ultra Camera lens Repair | Call |
| Samsung S20 Ultra Back Glass replacement ( Cracked Back glass ) | Call |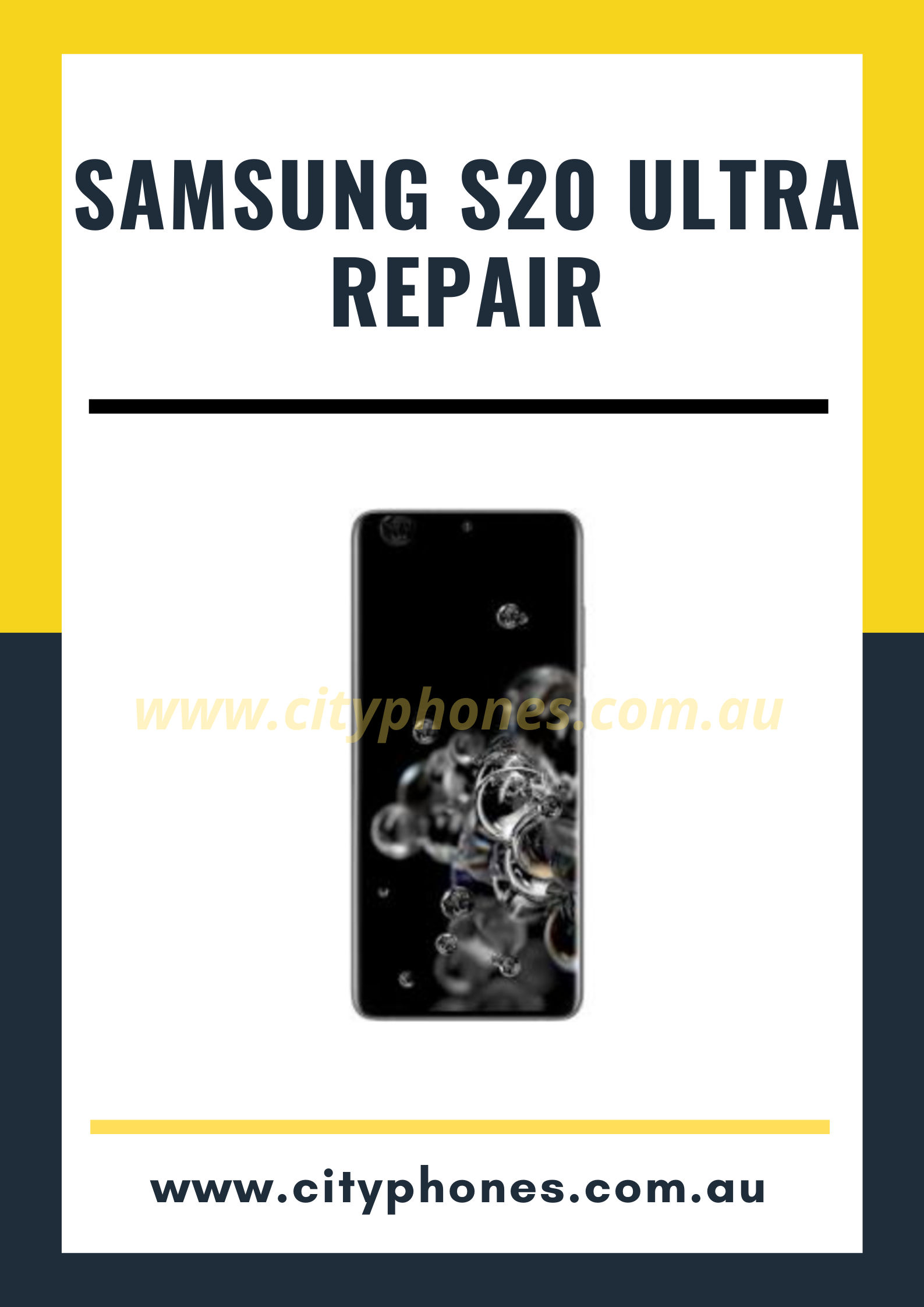 Samsung Galaxy S20 Ultra Repair
Samsung Galaxy S20 Ultra Repair in Melbourne and Greensborough
City Phones is a leading mobile phone repair store based out in Melbourne, Australia. We provide best-in-class repair services for mobile phone users. We provide repair services from our stores located in Melbourne and Greensborough. Do you possess a broken screen Samsung Galaxy S20 Ultra smartphone? Are you looking for a professional Samsung mobile screen repair service provider in Melbourne and Greensborough? Look no further than City Phones as we are the leading store within Melbourne and Greensborough which can fix the cracked Samsung Galaxy S20 Ultra, mobile screen on-the-spot taking just 30 minutes to an hour. We are also the most affordable Samsung Galaxy S20 Ultra screen repair service provider. Our repair prices are low as we perform all the repair jobs within our stores located in Melbourne and Greensborough, unlike other service providers who take the services of another repair technician to perform their repair job. Apart from that our Samsung Galaxy S20 Ultra repair prices are low; we have not diminished the quality of parts used in repair services as we use only genuine repair parts which enhances the durability of our repair service. We aim to provide our customers 100% satisfaction from our repair work. All our repairs come with a standard repair warranty which backs up our high-quality repair work. We cover a wide variety of physical repair services for the Samsung Galaxy S20 Ultra mobile phone.
Samsung Galaxy S20 Ultra Screen Repair in Melbourne and Greensborough
Have you accidentally broken the screen of your Samsung Galaxy S20 Ultra mobile phone screen? Use City Phones fast screen repair services to fix the cracked screen of your Samsung Galaxy S20 Ultra mobile phone the same day in Melbourne and Greensborough and that is in just 30 minutes to an hour. Our expert technicians use high-quality Samsung repair parts to repair the shattered screen of your Samsung mobile phone within 30 minutes to an hour. We repair most faults with your Samsung mobile phones such as cracked screen repair, battery replacement, charging port repair, front and back camera repair, water damage repair with motherboard repair services. City Phones understands that your phone plays an important role in your life. Therefore, we offer quality and fast service for our customers along with competitive prices and premium parts. When you choose us to perform screen repair services for your Samsung Galaxy S20 Ultra mobile phone we put all our efforts to bring back your mobile again in the same condition as it was before the damage. With the help of our expert and trained technicians, we can repair almost all faults which could occur within your Samsung Galaxy S20 Ultra mobile phone.
There are many impressive things about the S20 Ultra: the screen, the battery, 5G networking, speed, and more. But the flagship feature is the all-new camera system, which features ultra-high megapixel counts and telephoto zoom in an attempt to kick off the next stage of mobile photography. Samsung called this phone the S20 ultra instead of the S11 to indicate that it is the first of a new generation, and that might be too revealing. The Galaxy S20 Ultra is big. There's no getting around it. With a 6.9-inch screen, it's taller and thicker than the iPhone 11 Pro Max. And although it technically weighs less, it feels more imposing, which may be a balance thing. I'm comparing it to that phone just because it might be more familiar to more people, but it towers over other plus-sized phones like the Pixel 4 XL, too. It is well-made in that typical Samsung Galaxy way, with curved glass on the front and back — though, this time around, the front is a little less curved at the edges than the back.
City Phones can fix the following issues with your Samsung Galaxy S20 Ultra Mobile Phone.
   Broken Screens
   Broken LCD
   Faulty charging port
   Faulty Headphone Jack
   Faulty back/front cameras
   Back glass cover
   Motherboard issues
How to fix Samsung S20 Ultra in Melbourne with us?
You can book and come to the store for repair.

Living far away: You can post us your phone and we will send it back after repair.
What types of repairs we can do?
No display
Touch not working.
Phone not charging.
Phone not charging.
Battery problem
Water damage in phone
Samsung phone network unlock.
Back glass repair
Camera replacement
Camera lens replacement
To protect your phone, you can use case and tempered glass. Visit our online store to buy one. We fix all other Samsung models. Visit this link for more details