IPHONE SE 2022 Repair(3rd gen) Melbourne
IPHONE SE 3rd gen/2022 Screen Repair
| Issue | Price | Repair Time |
| --- | --- | --- |
| IPHONE SE 3rd gen Screen Repair ( High quality ) | $99 | 30 Minutes |
| IPHONE SE 3rd gen Back Glass Replacement | $99 | 90 Minutes |
IPHONE SE 3rd gen Repair
| Issue | Price | Repair Time |
| --- | --- | --- |
| IPHONE SE 3rd gen Battery Replacement | $99 | 60 Minutes |
| IPHONE SE 3rd gen Charging Port Repair | $99 | 60 Minutes |
| IPHONE SE 3rd gen Microphone Repair | $99 | 60 Minutes |
| IPHONE SE 3rd gen Ear Speaker Repair | $75 | 60 Minutes |
| IPHONE SE 3rd gen Ringer/loudspeaker Repair | $99 | 60 Minutes |
| IPHONE SE 3rd gen Back Camera Repair | $129 | 60 Minutes |
| IPHONE SE 3rd gen Front Camera Repair | $99 | 60 Minutes |
| IPHONE SE 3rd gen Camera Lens repair | $49 | 60 Minutes |
| IPHONE SE 3rd gen Back Frame Replacement | $149 | 60 Minutes |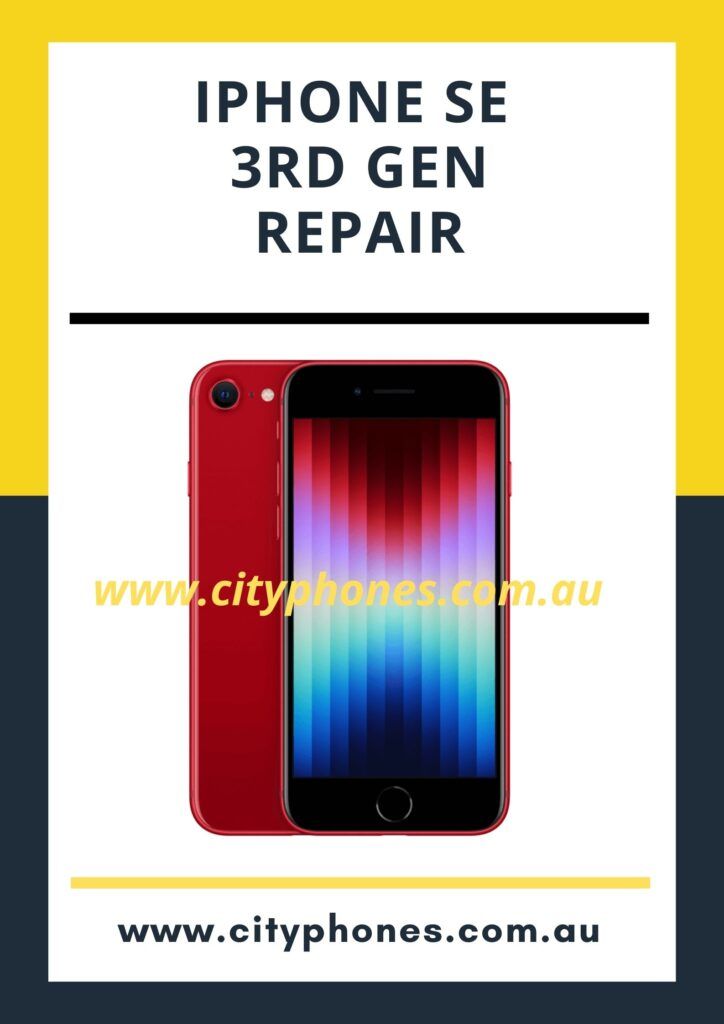 IPHONE SE 2022 Screen repair
City Phones is an IRP with a group of trained technicians. All our technicians are specialists in IPHONE repair services. IPHONE SE 3rd Generation phone has an average 4.7 inches screen size, yet the screen can get cracks from the sudden fall. In case you are looking to fix a broken screen on your phone then you need to approach an experienced iPhone repair provider. Screen replacement is one of the common repairs needed after an accidental fall of your phone. We can replace the IPHONE SE 3rd Generation screen in 30 minutes to an hour using only genuine IPHONE screen replacement parts.
IPHONE SE 2022 LCD Repair in Melbourne
This service is required if your IPHONE's touchscreen is not responding, it is going blank, or showing multiple-colored lines on it. This suggests that the LCD touchscreen is not working properly and needs to be replaced immediately. We house the best technicians who are more than capable of conducting efficient LCD replacement service on your iPhone SE 2022. City Phones can replace the LCD in just 30 minutes to an hour at an affordable price. We do offer a standard 90-day warranty on most of our repairs. But keep in mind that the warranty does not extend to liquid damage or physical damage after we have returned the device.
IPHONE SE 2022 Battery replacement service 
Are you experiencing battery-related issues like battery drainage or the battery not holding the charge with your phone? If yes, you need to immediately replace the faulty battery of your IPHONE. Battery replacement is also another common IPHONE repair needed after physical damage to your phone. City Phones provide battery replacement services for your IPHONE SE 3rd Generation phone at an affordable price.
IPHONE SE 2022 charging port repair 
Is your IPHONE SE 3rd Generation phone not able to charge? You might need to get the charging port replaced with the assistance of an experienced and highly skilled technician. It will not take more than 30 minutes to an hour for our experienced technicians to replace the faulty charging port of your IPHONE. We aim to provide our customers with complete peace of mind with our IPHONE SE charging port replacement services.
IPHONE SE 2022 Camera Repair
Front and back camera replacement is precision-based work and should only be carried out by a trained IPHONE repair technician. So, if you are searching for one of the best IPHONE repair providers then look no further as City Phones provide almost all the repair services for IPHONE SE 2022(3rd GEN).
Apple IPHONE SE (2022) repairs | City Phones Melbourne | City Phones Greensborough
We have trained technicians to fix almost every fault with IPHONE SE (2022). Our repair services are provided by experts and are economically viable for our customers. Apple iPhone SE (2022) Repairs are conducted in our City Phones Melbourne and Greensborough locations. You may walk in with or without an appointment. City Phones also offer mail-in service for most locations in Australia. We have online stores for all the accessories you need to protect your IPHONE from damage. Check our accessories range by clicking here.
We can repair most of the faults with Apple iPhone SE (2022):
Screen Replacement
LCD Replacement
Battery Replacement
Charging Port Replacement
Front Camera Replacement
Back Camera Replacement
Earpiece Speaker Replacement
Headphone Jack Replacement
Loudspeaker Replacement
Power Button Replacement
Volume button Replacement
Vibrator Replacement
Motherboard Element Repairs
Water Damage Repair Assessment
Fault Diagnosis & Quote Service
Insurance Damage Report & Quote Service
City Phones Repair Centre Locations:
1. City Phones Melbourne CBD
219 Elizabeth Street
Melbourne VIC 3000
2. City Phones Melbourne CBD
148 Elizabeth Street
Melbourne VIC 3000
3.  City Phones Greensborough
Floor G, Greensborough Plaza
Next to Coles, 25 Main Street
Greensborough VIC 3088