Samsung S20 FE Repair
| Issue | Price |
| --- | --- |
| Samsung S20 FE Screen Repair | $325 |
| Samsung S20 FE Battery replacement | Call us |
| Samsung S20 FE Charging port replacement | Call us |
| Samsung S20 FE Microphone Repair | Call us |
| Samsung S20 FE Ear Speaker Repair | Call us |
| Samsung S20 FE Ringer Repair | Call us |
| Samsung S20 FE Headphone Socket Repair | Call us |
| Samsung S20 FE Back Camera Repair | Call us |
| Samsung S20 FE Front Camera Repair | Call us |
| Samsung S20 FE Camera lens Repair | Call us |
| Samsung S20 FE Back Glass Replacement ( Cracked Backglass ) | Call us |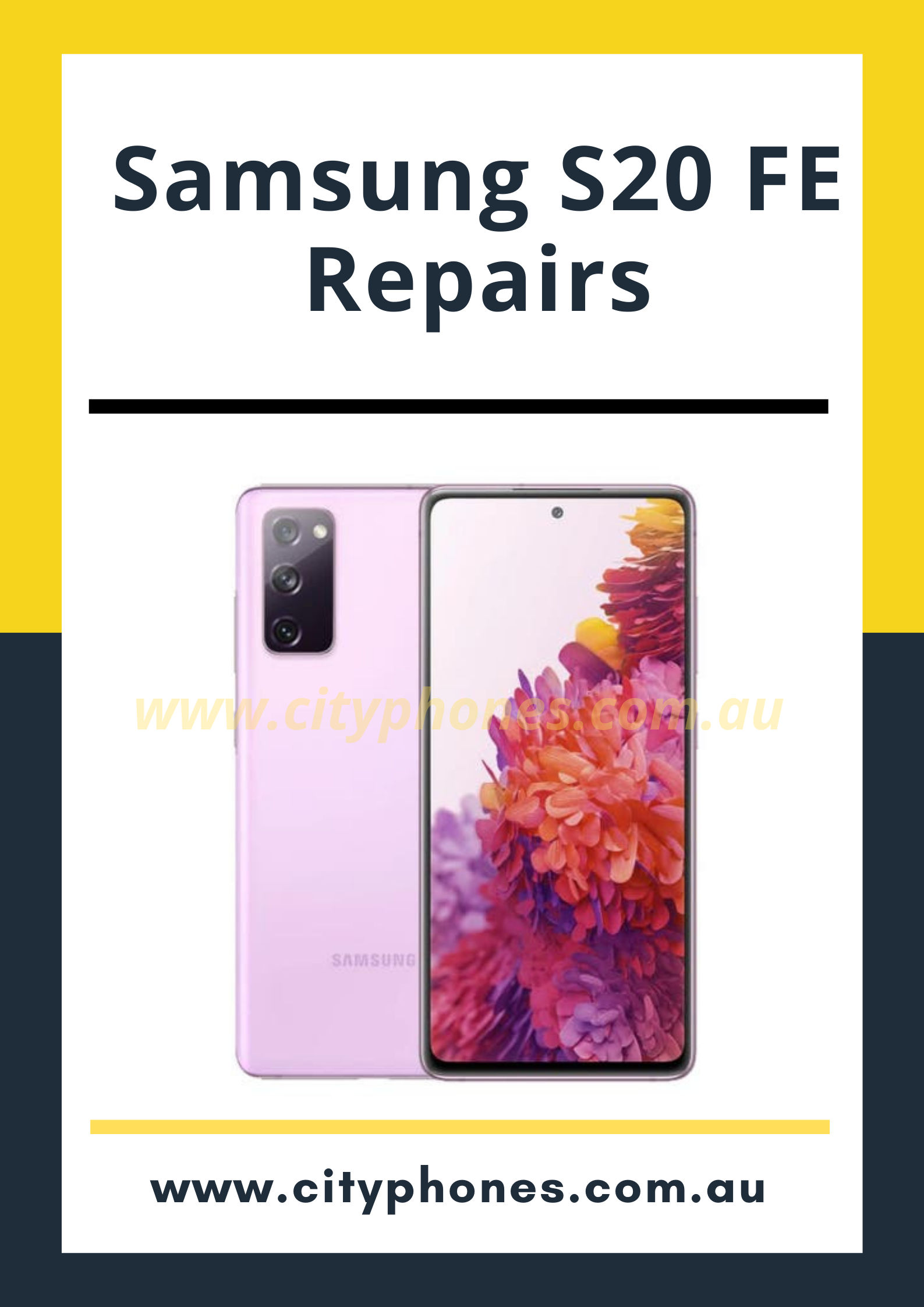 Samsung S20 FE Repair in Melbourne and Greensborough
Released in October 2020 the Samsung S20 FE phone features a Super AMOLED 6.5-inches screen with an 84.8% screen-to-body ratio. The Samsung Galaxy S20 FE features a colorful design, next-level photography, and pro-grade performance – without an enhanced price. The resolution of the screen is 1080 x 2400 pixels with 407 PPI density. The Samsung S20 FE phone has a build of an aluminum frame, plastic back, and glass front with 159.8 x 74.5 x 8.4 mm dimensions 190gm weight. The OS which ships with the phone is Android 10, upgradable to Android 12, One UI 4 and it supports Qualcomm SM8250 Snapdragon 865 5G (7 nm+) – Version 2 processor with Octa-core version 1 and octa-core version 2. Internal memory Samsung S20 FE phone supports are 128GB and 256GB with 6GB and 8GB RAM options to choose from. Have you broken your Samsung S20 FE and the glass, or the LCD screen is shattered? We can fix your Samsung mobile the same day of the fault occurrence as we offer Samsung S20 FE repair services in a minimum time taking just 30 minutes to an hour. Our Samsung expert technicians use the best quality Samsung replacement parts which are durable and long-lasting. Our Samsung mobile repair stores are located in Melbourne and Greensborough. Samsung S20 FE supports IP68 dust/water resistant technology although the screen is made up of toughened glass it is vulnerable to a sudden fall where the screen can get several cracks. If you are looking for professional technicians to repair your Samsung S20 FE mobile phone look no further as City Phones has a team of expert technicians who can repair the damaged screen in the minimum possible time.
Samsung S20 FE Screen Repair in Melbourne and Greensborough
If you have been trying to find a screen repair technician for your Samsung S20 mobile phone, City Phones is the repair center perfect to do the job of repairing the broken screen of your Samsung mobile. At City Phones stores in Melbourne and Greensborough, we go beyond just providing Samsung S20 FE screen repair at an affordable price as we just do not provide broken screen repair, we provide complete care to your mobile phone by providing free diagnosis to detect other faults in your Samsung phone difficult to detect by using the phone. Our trained technicians are prepared to fix every issue you can experience with your Samsung S20 FE mobile phone.
Samsung S20 FE LCD Repair in Melbourne and Greensborough
In case you are experiencing a broken glass issue with the Samsung mobile phone screen visit City Phones stores to get on-the-spot glass repair for your Samsung S20 FE broken LCD, you can have this if your phone's LCD and touchscreen are working. In case you are having an issue with them also you need to have the complete LCD replaced with a new branded one so that your Samsung S20 FE mobile looks new. If you are searching for a skilled professional to do the LCD replacement look no further as the City Phones team of trained professionals will complete the LCD replacement of your Samsung S20 FE phone in a minimum possible time of 30 mins to an hour. City Phones uses only genuine Samsung parts to get all repairs done from the hands of its experienced technicians.
Samsung S20 FE Battery Repair in Melbourne and Greensborough
If you are experiencing a battery drainage problem with your phone or the battery is not able to hold the charge it is time to replace the old battery of your Samsung S20 FE phone. City Phones with the assistance of its more than six years of experienced technicians will replace the battery of your Samsung S20 FE mobile phone conveniently and easily using genuine Samsung replacement parts. An additional advantage you have with City Phones is that we provide a guaranteed standard repair warranty with every repair performed. At a fraction of the price of a new Samsung S20 FE battery, you can get battery replacement conveniently by experienced technicians at an affordable price.
Samsung S20 FE Charging Port Repair in Melbourne and Greensborough
If your Samsung phone is creating problems with the charging of the phone it is time to have a charging port replaced with a new one. Charging port replacement is one of the common issues faced by Samsung phone users. Many times, it happens that your Samsung mobile is not charging after many efforts. It is time to check whether the fault is with the charging adapter, the charging cable, or the charging port of your Samsung mobile phone. For this, you need to take your mobile phone to an expert technician who can access your Samsung S20 mobile phone easily and diagnose the actual issue with the phone. Most of the time the fault is detected by the Samsung S20 FE charging port which is faulty due to inappropriate usage. City Phones experienced technicians will replace the faulty charging port of your Samsung mobile taking just 30 mins to an hour.
Samsung S20 FE repairs are conducted in Cityphones Melbourne and Cityphones Greensborough. You can Walk-in, book your repair appointment online, send your phone to us by post or use our pickup and drop-off service. Some areas might not have the pickup and drop-off service. We also provide repair at your place service in some areas of Melbourne. Please click on the Book repair button on this page that will navigate you to the appropriate Samsung S20 FE repair service you wish to book in.
Some of the other Samsung s20 FE repairs at City Phones include.
Screen Replacement
LCD Replacement
Battery Replacement
Charging Port Replacement
Front Camera Replacement
Back Camera Replacement
Earpiece Speaker Replacement
Headphone Jack Replacement
Loudspeaker Replacement
Power Button Replacement
Volume button Replacement
Vibrator Replacement
Motherboard Repairs
Water Damage Repair
Fault Diagnosis & Quote Service
Insurance Damage Report
And much more, visit our store, or alternatively, you can click on the Book Repair button on this page to book your repair. Every gadget and device needs proper care while handling, especially if they have big and delicate front screens. City Phones also offer Samsung S20 FE cases, covers, tempered glass and Samsung S20 FE screen protectors. These Samsung cases and screen protectors are very important and provide complete protection and defend your expensive phone from sudden drops and accidental falls. We have a rich collection of the World's best brands Samsung accessories available for your Samsung S20 FE phones available at a competitive price from the market which you can order online or in-store.  Our online store had a variety of options when it comes to phone cases or screen protectors.
We are open seven days.
City Phones
148 Elizabeth Street
Melbourne CBD 3000