IPHONE 6 Repair in Melbourne
IPHONE 6 Repair
| Issue | Price |
| --- | --- |
| IPHONE 6 Screen Repair ( LCD and touch are Still working ) | $69 |
| IPHONE 6 LCD Repair (Broken LCD, No display, lines, dead pixels, etc ) | $69 |
| IPHONE 6 Battery Replacement | $49 |
| IPHONE 6 Charging Port Repair | $59 |
| IPHONE 6 Microphone Repair | $59 |
| IPHONE 6 Ear Speaker Repair | $50 |
| IPHONE 6 Home Button Repair | $50 |
| IPHONE 6 Ringer/loudspeaker Repair | $50 |
| IPHONE 6 Headphone Port Repair | $69 |
| IPHONE 6 Back Camera Repair | $69 |
| IPHONE 6 Front Camera Repair | $69 |
| IPHONE 6 Camera Lens repair | $35 |
| IPHONE 6 Back Frame Replacement | $99 |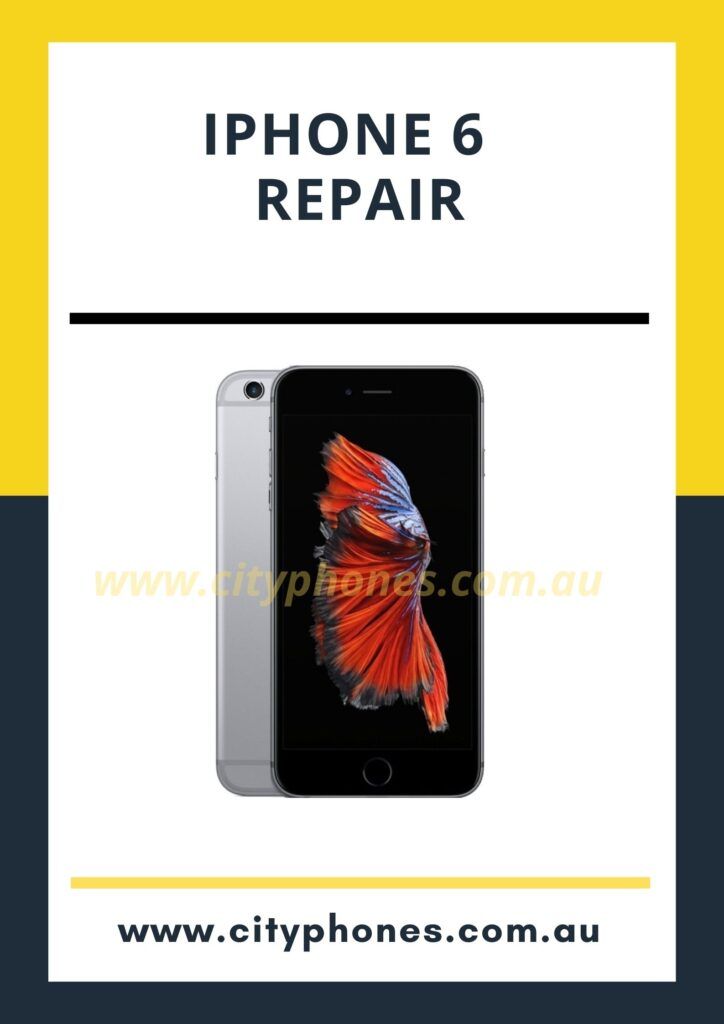 IPHONE 6 Repairs in Melbourne and Greensborough
A subtle difference from its previously released IPHONE models caught the attention of many customers. The phone was released in 2014 and rattled the smartphone market with a dimension of 132.1*67*6.9 mm with an increased weight of 129gm. The aluminum body continues but the real difference could be seen on the screens. The IPHONE 6 sports a 4.7-inch screen bigger than the previous models which are protected through an ion-strengthened glass with an oleophobic coating. The LED-backlit IPS LCD comes with a capacitive touchscreen containing 16m colors which produce an astounding 750*1334pixels.
It is one of the classics of the IPHONE range but that doesn't mean it exists without its flaws. Common problems which are seen in this IPHONE are screen breakage, charging port damage, battery issues, LCD issues, and front and back camera issues. Any one of these problems may occur at any given time. So the best course of action to take is to bring it to City Phones where professional technicians who have expertise in IPHONE 6 Repairs will assess and repair it for you without any kind of hindrance in between. Whatever problem you are facing with your IPHONE 6 mobile phone. If you are looking for professionals who specialize in IPHONE 6 and cater to the repair needs of this device, look no further. We are professional mobile phone and tablet repair experts having many years of experience repairing IPHONEs, IPADs, and IPODs.
IPHONE 6 Screen Repair in Melbourne and Greensborough
The common problem which users of a big screen IPHONE face is that the screen is highly prone to damage and breakage. If you want to get rid of the hassles of breaking the screen or you want to have a brand-new screen on your phone but fear of the quality of the screen takes you over. In case you are looking to free yourself from the hassle of a broken screen or LCD, look no further as we provide the best screen replacement you could ask for. We keep stock of replacement parts used for IPHONE 6 in advance. All the parts used in the repair of IPHONE 6 are genuine and of the highest quality.
IPHONE 6 LCD Repair in Melbourne and Greensborough
Broken LCD screens are one of the most common issues IPHONE users face. Usually, a broken LCD screen is the result of an IPHONE taking a nasty fall onto a hard surface. A screen protector can do only a little to protect the delicate glass of the LCD screen. If you are facing a broken glass screen of the IPHONE 6 phone, we at City Phones will repair it leaving behind the LCD touchscreen untouched. If you feel your LCD screen is creating problems for you, our expert technicians will carefully inspect your IPHONE 6 LCD screen and only after ensuring that your phone's LCD screen needs replacement we will proceed further, and your LCD screen is replaced with a new one which will be genuine and long-lasting.
IPHONE 6 Battery Repair in Melbourne and Greensborough
If you doubt your IPHONE 6 battery, bring your phone to us at our stores located in Melbourne and Greensborough. We will own your phone for a while, and we promise your phone's battery life isn't what it used to be. You might be experiencing that your phone dies very quickly after it is completely charged, or the phone might stop charging at all. In these conditions, your phone might likely need a new battery replacement. At City Phones, we have access to genuine Apple parts. The IPHONE 6 battery is no different; so if you're having battery-related issues, bring your IPHONE to City Phones in Melbourne and Greensborough for a quick repair from an experienced technician.
IPHONE 6 Charging Port Repair in Melbourne and Greensborough
Are you experiencing a charging problem with your IPHONE 6? If your IPHONE 6 is not charging with your charging adapter, then it might need a new charging port as the existing charging port is damaged due to wear and tear and also due to physical damage. City Phones offers to charge port replacement within Melbourne and Greensborough using genuine IPHONE replacement parts. We offer the best charging port repair services with the highest quality parts! Also taking just 30 minutes to an hour we will replace the old charging port with a new one. Get your Apple IPHONE 6 charging port replaced today at an affordable price. We also offer IPHONE 6 repair services via mail in which you send us your IPHONE 6 which needs repairs, and we return your IPHONE 6 phone after repair.
IPHONE 6 Front and Back Camera Repair in Melbourne and Greensborough
The IPHONE's advanced camera is perfect for getting spectacular landscape photos, portraits, and other pictures. If you are facing a broken IPHONE front and back camera, or one that's just not working, our experts can help! We care for every kind of IPHONE, so it doesn't matter if you need IPHONE 6 repair or an XS lens fixed. Come to City Phones today, and you'll be able to snap the perfect picture on your newly fixed IPHONE camera again before you know it. Need a new camera lens replacement? No problem. Want to get the whole thing replaced instead? Your wish is our command and with the assistance of our experienced technicians, we will have the job done in minimum time duration and at an affordable price.
We have quality parts and competitive prices in the market.  IPHONE 6 is a very durable and fast phone within budget. It has all the high specifications you can expect from a high-end smartphone.  We also understand the value of the device in our lives these days. We will have your device fixed as soon as possible, normally screen repair on Apple IPHONE devices takes around one hour. Our qualified and friendly staff is ready to help you out with any sort of damage.
Along with IPHONE 6 repairs, City Phones also deals with IPHONE 6 cases, IPHONE 6 covers, and IPHONE 6 screen protectors. We have a rich collection of the world's best brand IPHONE 6 cases, covers, tempered glass, and screen protectors available at a competitive price. Visit our online store to order premium quality IPHONE 6 accessories available with free shipping and an afterpay facility that allows you to shop now and pay for it later. At Cityphones we give most importance to our customer's phones as we know their value. All repair comes with a warranty from us.
Cityphones can fix the following damages to IPHONE 6,
-Cracked Screen
-Cracked LCD
-Non-Working Charging Port
-Non-Working Headphone Jack
-Non-Working Back/Front camera
-Water Damage
-Faulty Battery
-Motherboard issues