Microsoft Surface Go 3 Repair in Melbourne
Microsoft Surface Go 3 Repair
| Issue | Price |
| --- | --- |
| Microsoft Surface Go 3 Screen Repair | Call Us |
| Microsoft Surface Go 3 Battery Repair | Call Us |
| Microsoft Surface Go 3 Charging Port Repair | Call Us |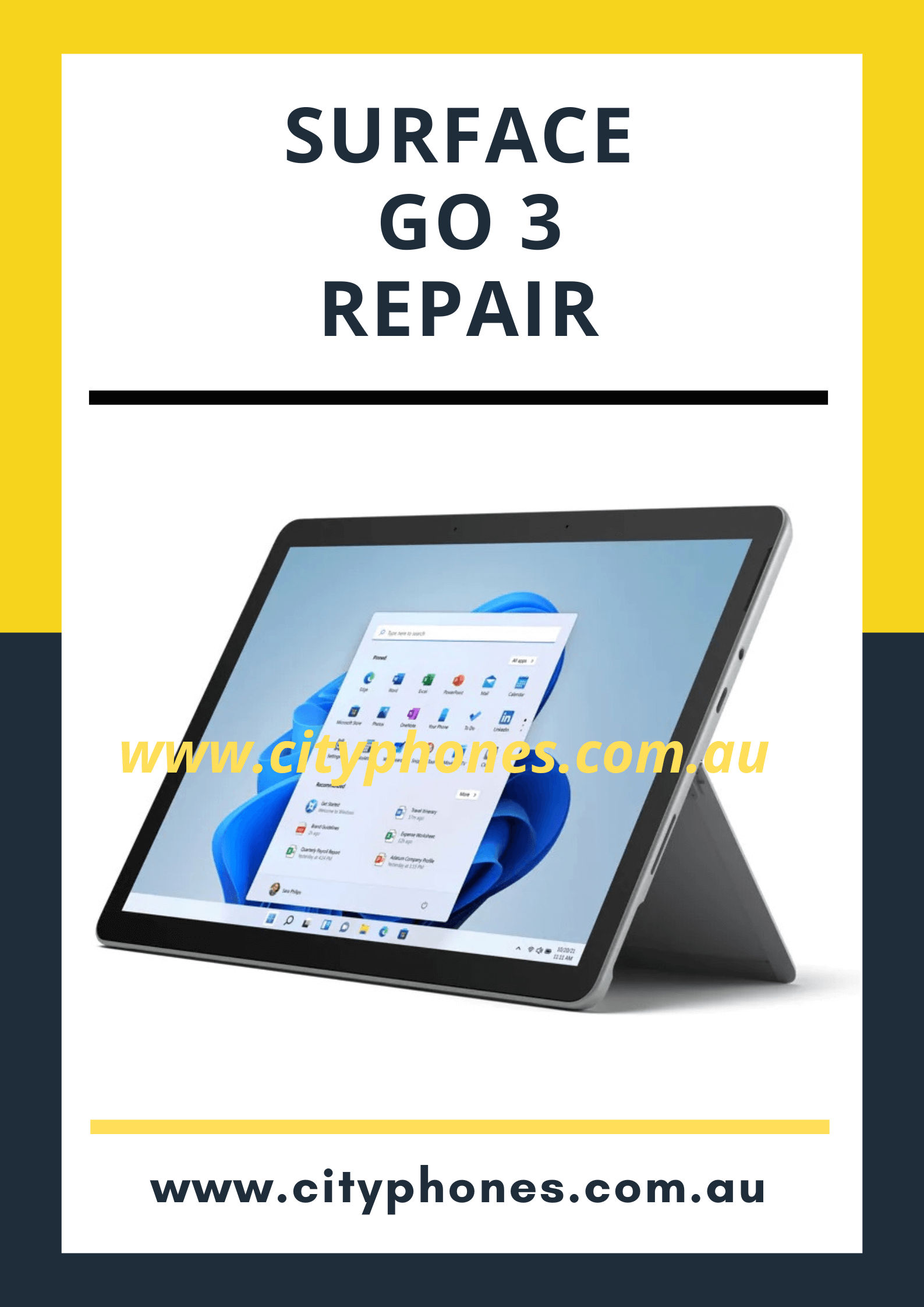 Microsoft Surface Go 3 Repair
Microsoft Surface Go 3 Screen Repair Melbourne
The Microsoft Surface Go 3 is the latest tablet manufactured by Microsoft that aims to be smaller than its predecessor Surface Go 2 with added features like a colorful display, solid design, and durability with excellent quality webcam. The Surface Go 3 is having strong build quality as Microsoft wants you to keep feeling as durable as a regular Surface. This device has 4GB of RAM and 64GB of eMMC storage with an Intel Pentium 6500Y processor. The Microsoft Surface Go 3 appears similar to the Microsoft Surface Go 2. Its silver magnesium shell feels rock solid and durable while its 10.5-inch screen is surrounded by relatively thin bezels. The Surface Go 3 remains smaller and more affordable. Over the years Microsoft has been manufacturing great Ultrabooks, Laptops, and Tablets for us which are full of amazing features. These latest tablets from Microsoft ship with Windows 11 yet these tablets are affordable. Launched on October 5, 2022, Surface Go 3 appears smaller than Surface Go 2 because of its smaller size and keyboard. It's the third iteration of Microsoft's budget-friendly 2-in-1 tablets. It's one of the smallest and lightest devices running the complete version of Windows, making it great for on-the-go productivity. This newest model from Microsoft features Intel Core i3 processors, Windows 11, and LTE/4G connectivity which are few of the most notable upgrades provided in Surface Go 3. This device is good to perform your daily tasks without any lagging. As an Apple and Samsung Authorized service center, City Phones can fix most of the issues you could face with your Microsoft Surface Go 3 device. Repair of this newest release from Microsoft comes under one of the best repair service we conduct with ease. We have been providing excellent quality Microsoft Surface Go repair service to our customers for a very long interval of time and we have become expert in providing screen repair, battery replacement, and charging port replacement service. The Surface Go 3 has a 10.5-inch PixelSense display with 1920X1280 resolution with a 3:2 aspect ratio and Corning Gorilla Glass 3 protection protects this device while taking a fall. As this device can be used like a portable tablet you can carry it with you daily at work. A slight fall may cause damage to the screen like a cracked screen or even the display of this tablet may get broken. This is the point where City Phones come to your use as we have technicians who are having more than six years of experience and can carry out screen replacement of the cracked screen Surface Go 3 device in minutes which may not exceed an hour. The use of genuine Microsoft parts makes every Surface Go 3 screen replacement special and durable.
Microsoft Surface Go 3 Battery Replacement in Greensborough
As claimed Microsoft Surface Go 3 tablet can run for 11 hours on battery. Battery life keeps on deteriorating with time and if you need to replace the current battery of your Microsoft Surface Go 3 tablet, City Phones is the best option to choose in front of you. We have genuine Microsoft Surface Go parts with us for battery replacement and we aim to provide the best possible battery replacement service to our all customers. Microsoft Surface Go 3 Battery replacement takes just 30 minutes to an hour and we guarantee your Microsoft Surface Go 3 will again start giving the same battery backup as before. We charge you a reasonable price for the Microsoft Surface Go 3 battery replacement service as we keep stock of all required parts normally used for the repair of the Microsoft Surface Go 3 with us.
Microsoft Surface Go 3 Charging Port Replacement in Melbourne
Is your Microsoft Surface Go 3 creating a problem while charging or do you have to move your charging cable to get it charged? If yes, City Phones offers a Charging Port or Dock replacement within your Microsoft Surface Go 3 in Melbourne. We offer the best possible and highest standard Microsoft Surface Go 3 charging port replacement service with the help of original Microsoft Surface Go 3 battery replacement parts to ensure durability and longevity to the Surface Go 3 charging port replacement within Melbourne. Desire to get the faulty charging port of your Microsoft Surface Go 3 replaced just in 30 minutes to an hour then choose City Phones which offers you the best possible charging port repair service at a reasonable price and in minimum possible time in Melbourne.
Microsoft Surface Go 3 has a 10.5-inch display screen and Intel Pentium Gold 6500Y or Intel Core i3-10100Y processor. RAM options to choose from are 4GB and 8GB with many internal storage options to choose from 64GB(eMMC) or 128GB SSD or 256GB SSD storage (expandable via microSD). The tablet has a 5MP front-facing camera with support for Windows Hello face unlock (1080p HD video) and an 8MP rear camera with auto-focus(1080p) HD video. Dimensions of this tablet are 245mm x 175mm x 8.3mm with a 24W power supply and up to 11 hours of battery life. It includes Qualcomm Snapdragon X16 with 4G LTE connectivity.
Don't hesitate to contact us if you desire to know more about the Microsoft Surface Go 3 repair in Melbourne and Greensborough. Our contact number is 0426504955 and our email id is info@cityphones.com.au. Our store addresses are Location 1:- 148 Elizabeth Street Melbourne, VIC 3000, Location 2:- 219-B Elizabeth Street Melbourne, VIC 3000, and Location 3:- L 01, Shop 137, 25 Main St, Greensborough, VIC. Our Store opening timings are Monday to Friday 9.30 am to 6.30 pm and Sat, Sun 10 am to 5 pm.