Samsung A70 Repair
| Issue | Price |
| --- | --- |
| Samsung A70 LCD Replacement (Broken LCD, No display, lines, dead pixels, etc ) | $249 |
| Samsung A70 Battery Replacement | $75 |
| Samsung A70 Charging port replacement | $75 |
| Samsung A70 Microphone Repair | $75 |
| Samsung A70 Ear Speaker Repair | $75 |
| Samsung A70 Ringer Repair | $75 |
| Samsung A70 Headphone Socket Repair | $75 |
| Samsung A70 Back Camera Repair | $99 |
| Samsung A70 Front Camera Repair | $99 |
| Samsung A70 Camera lens Repair | $45 |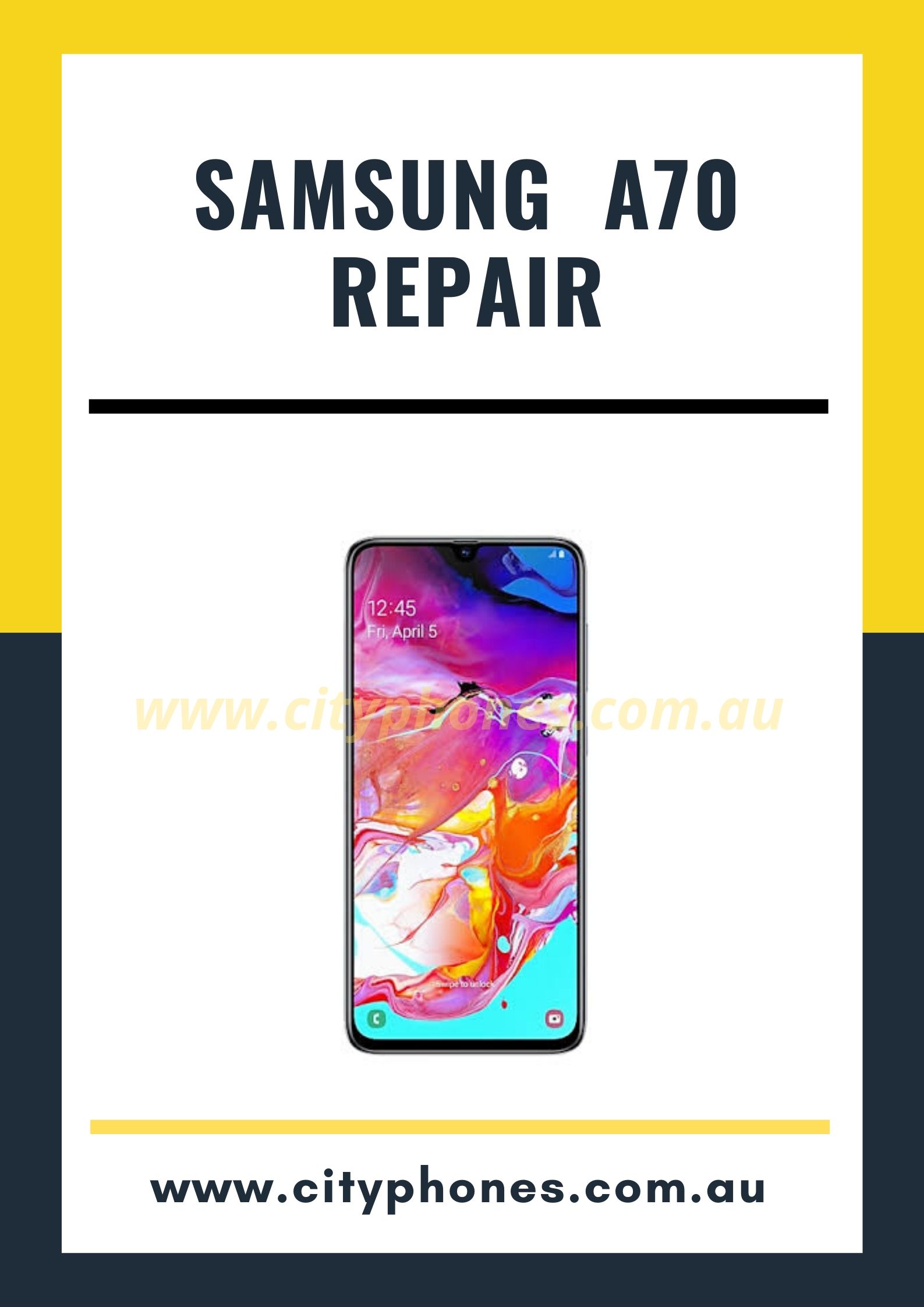 Samsung Galaxy A70 Screen Repair Melbourne CBD
At City Phones, we repair your Samsung Galaxy A70 phone on the spot. We have a wide range of parts available with us to repair your Samsung A70 smartphone. Several defects may occur due to heavy usage of the phone with your Samsung Galaxy A70 mobile phone. Samsung Galaxy A70 Screen Repair is one the most common faults which may occur in your smartphone. If you're in search of an expert smartphone repair shop in Melbourne CBD look no further than City Phones. We provide professional Samsung Galaxy A70 repairs in Melbourne. We are an experienced mobile phone & tablet repair store with expertise in Samsung mobile repair.
Samsung A70 Screen Repair Service by City Phones
As we have mentioned earlier that screen repair is one of the most common type of repair, we work hard to make your mobile phone look as it was at the time of purchase, cracked screens could be repaired only with the use of quality parts and expert technicians City Phones is one of the best places where you will find quality repairing services. This is because our experienced staff is well trained and equipped with the latest technology to provide quality repairs to your smartphones and tablets. All our repair services come with a guarantee including Samsung screen repair service. After every repair, we check every part of your device for proper functioning and make sure that we deliver fault-free smoothly working devices.
Customer satisfaction is our prime motive so we provide repairing services with extra care. We are aware of the fact that your smartphone is fragile and costly, internal parts are very sensitive that is why only so our expert technicians perform every repair service.
Samsung Galaxy A70 Repair Via Postal Service or Courier Service
City Phones offer collection service via courier for almost all the repair services and areas in Australia. All that is required from your end is to visit the repair page of your Smartphone model and book your service online.
Samsung Galaxy A70 Repair Warranty
City Phones' done all repairs come with a warranty.
Repair Appointment of Samsung Galaxy A70 Smartphone
At City Phones it isn't necessary to make an appointment with us as you can just walk-in into one of our stores with your faulty device, most of the repair services can be done within 30-60 minutes.
Different Samsung Galaxy A70 Repair Services
Mentioned below are some of the common repair services we provide for Samsung Galaxy A70
-Broken Screens
-Broken LCD
-Faulty charging port
-Headphone Jack Disfunction
-Faulty back/front cameras
-Faulty back/front cameras
-Back glass cover
-Motherboard issues
We also sell smartphone accessories for all brands and models online. Book online these genuine smartphone cases, back covers, and screen protectors. Feel free to get in touch with the experts of Samsung Galaxy A70 Repair Service contacting 0426504955 or using an online chat service.
.