HTC M10 Repair in Melbourne
HTC M10 Repair
| Issue | Price |
| --- | --- |
| HTC M10 Screen Repair | $159 |
| HTC M10 Battery Replacement | $120 |
| HTC M10 Charging Port Repair | $99 |
| HTC M10 Microphone Repair | $99 |
| HTC M10 Ear Speaker Repair | $99 |
| HTC M10 Ringer/loudspeaker Repair | $99 |
| HTC M10 Headphone port Repair | $99 |
| HTC M10 Back Camera Repair | $99 |
| HTC M10 Front Camera Repair | $99 |
| HTC M10 Camera Lens Repair | $49 |
| HTC M10 Back Glass repair | $99 |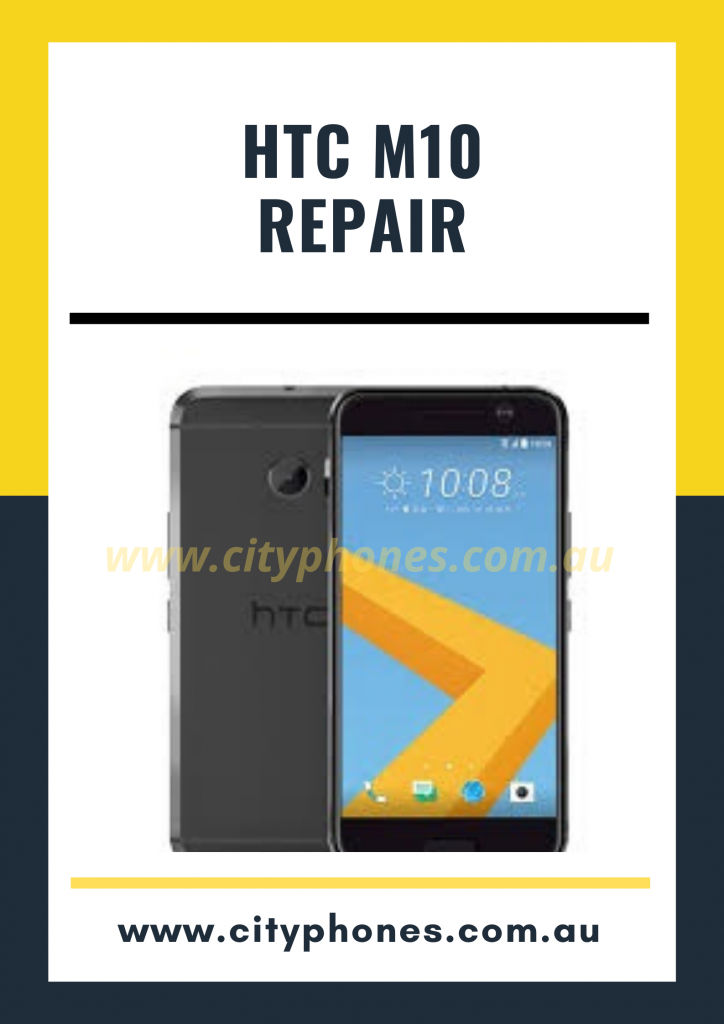 HTC M10 Repair in Melbourne
HTC M10 Repair in Melbourne and Greensborough
City Phones provides you with professional and highly efficient repair services for all types of issues you can face with your HTC M10 mobile phone. We can help you with all your HTC M10 repairs in Melbourne and Greensborough. We have vast experience in the mobile technology industry. We have a well-trained team of technicians that can repair almost all the repairs within 30 minutes to 1 hour. Most faults that could occur in your HTC M10 mobile phone after being damaged, like cracked screen repair, battery replacement, charging port repair, camera replacement, speaker repair, etc. are repaired with complete satisfaction at City Phones' stores. If you have an HTC mobile phone that needs repair, call us today for all the troubleshooting needs. We are conveniently available at phone number 0426504955 to answer your queries. We have a highly experienced team of technicians who offer quality repair services for your HTC M10 mobile phone. Our repair prices are affordable, and we offer competitive mobile repair solutions for your HTC M10 repair.
HTC M10 Screen Repair
Is the display screen of your HTC M10 mobile phone cracked? Do you feel frustrated while using your damaged HTC M10 mobile phone? We have the solution to every problem you may face with your HTC M10 mobile phone. We know that having a broken screen is annoying, and therefore we offer one of the lowest prices for screen replacement in the market. Accidents happen to everyone, but that doesn't mean you should spend your entire budget for an expensive new replacement phone. Instead, choose our mobile phone repair service to get your HTC M10 repaired at an affordable price. We take a minimum repair time of 30 minutes to 1 hour to repair your HTC M10 display screen. We provide a standard repair warranty with each repair we perform, and it also backs our repair service and builds trust among our customers. All parts we use while repairing your HTC M10 mobile phone are genuine. We carry out all repairs within our stores, so we have the fastest and cheapest HTC mobile repair service in the market.
Some of the common HTC M10 repair services we provide are:

        Broken Screen
        Broken LCD
        Faulty charging port
        Faulty Headphone jack
        Faulty back/front camera
        Water damage
        Battery not charging.
        Motherboard issues
We have stores at three locations, which are 148 Elizabeth Street, Melbourne, VIC 3000, another at Shop 2, 231 Elizabeth Street, Melbourne, VIC 3000, and at L 01, Shop 137, 25 Main Street, Greensborough, VIC 3088. Feel free to contact us if you have any queries or questions regarding the repair of your HTC M10 mobile phone at 0426504955 or email at info@cityphones.com.au.