Samsung Galaxy S20 Repair
Samsung Galaxy S20 Repair
| Issue | Price |
| --- | --- |
| Samsung s20 screen repair | $400 |
| Samsung S20 Battery replacement | Call |
| Samsung S20 Charging port replacement | Call |
| Samsung S20 Microphone Repair | Call |
| Samsung S20 Ear Speaker Repair | Call |
| Samsung S20 Ringer Repair | Call |
| Samsung S20 Back Camera Repair | Call |
| Samsung S20 Front Camera Repair | Call |
| Samsung S20 Camera lens Repair | Call |
| Samsung S20 Back Glass replacement ( Cracked Backglass ) | Call |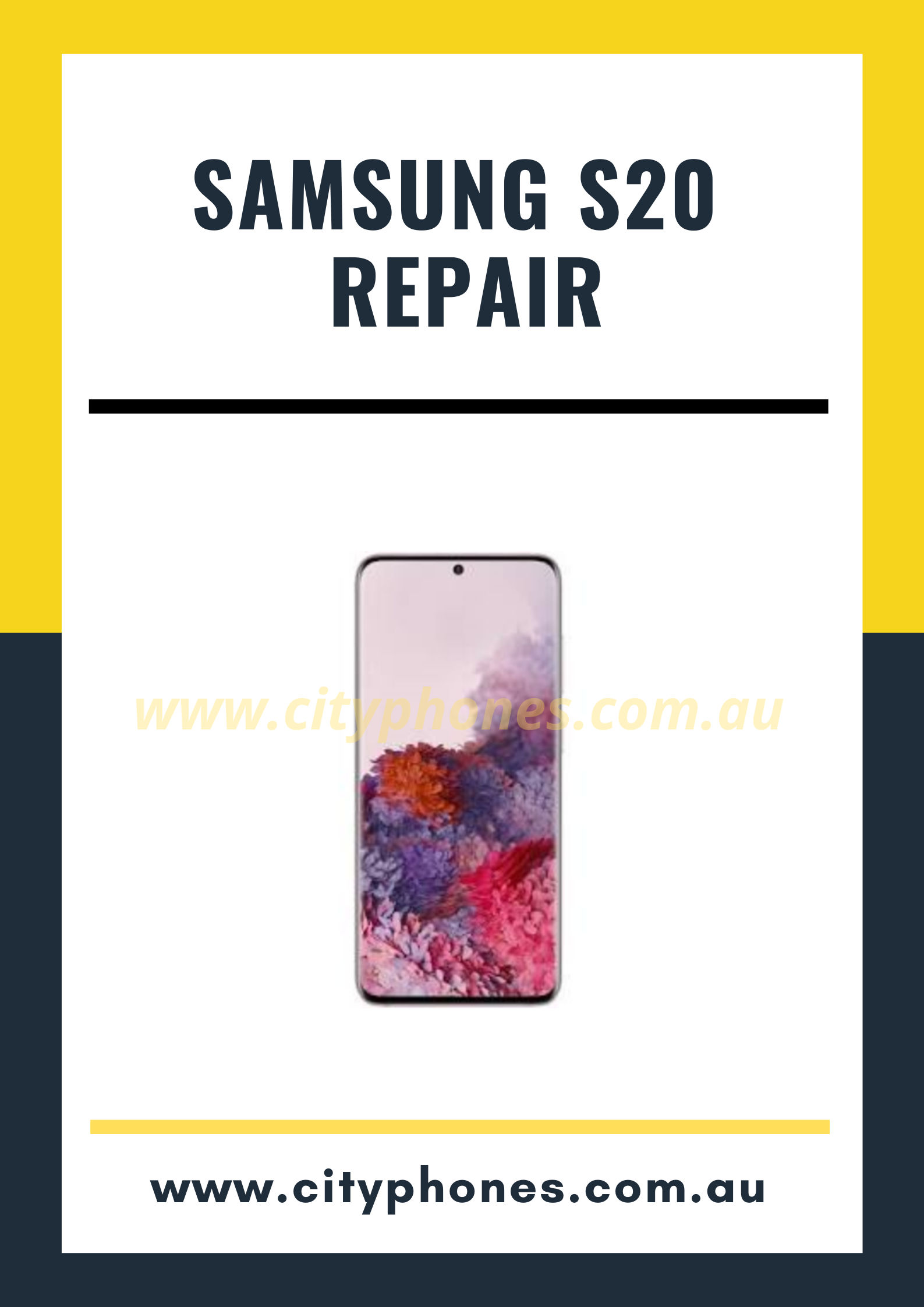 Samsung Galaxy S20 Repair
Samsung Galaxy S20 Repair in Melbourne and Greensborough
Samsung Galaxy S20 was released in March 2020 weighs about 163 grams with the dimensions of 151.7 mm x 69.1 mm x 7.9 mm. It comes with Gorilla Glass 6 protection at the front and back. A 6.2-inch dynamic AMOLED 2X capacitive touchscreen can produce 16 million colors. The phone runs on Android 10 with an octa-core processor with 128GB of storage with 8GB RAM. It has a powerful triple camera setup at the back with 12MP, 64MP, and 12MP cameras for wide, telephoto, and ultra-wide pictures with a dual-camera design at the front with a 10MP camera. These advanced cameras of the phone take magnificent photos with no deterioration. A 4000mAh battery that supports 25W super-fast charging that supports the powerful screen for a full day's usage. Just a slip-up from hand might cause the phone to have major physical damage like screen cracks and display screen damages. Phones nowadays are made with very durable materials. However, many sensitive parts are open to physical damages during the day to day life. The screen is one of the most sensitive parts of the phone. City Phones has a team of very experienced and skilled technicians who can provide Samsung Galaxy S20 repair services the same day of the occurrence of the fault. These technicians at City Phones are experts in the repair of Samsung mobiles and have gained more than six years' experience in the Samsung mobile phone repair using only genuine parts which are long-lasting and very durable. For hand-to-hand repair of the Samsung phones, you can visit our stores located in Melbourne and Greensborough.
Samsung Galaxy S20 Screen Repair in Melbourne and Greensborough
City Phones offers the best possible solutions to any physical damages that might have occurred in your mobile phone. From screen replacement, LCD screen replacement, battery replacement to faulty charging port replacement we provide the best hardware solutions needed to make your damaged phone just like new. In case you are experiencing a broken screen issue with your Samsung Galaxy S20, and you are looking for a trustable and professional technician who can resolve Samsung Galaxy S20 broken screen issue with perfection then you can visit City Phones stores within Melbourne and Greensborough who can provide on-the-spot screen replacement solution to your Samsung mobile thus making your old Samsung phone look like new.
Samsung Galaxy S20 LCD Repair in Melbourne and Greensborough
If you are experiencing issues with the touchscreen of your Samsung Galaxy S20 phone like touchscreen of your Samsung Galaxy S20 mobile has gone blank or many multicolored lines are visible on the screen of the phone or you are unable to view anything on the touchscreen of your Samsung phone, you need a new LCD replacement with your Samsung phone. City Phones can help with the original Samsung Galaxy S20 LCD replacement at an affordable price. City Phones aims to provide complete satisfaction to its customers so we use only genuine Samsung parts during LCD replacement to your phone because by using these high-quality parts we can provide durable and long-lasting repair solutions to our customers.
Samsung Galaxy S20 Battery Repair in Melbourne and Greensborough
Is your Samsung phone's battery not lasting as long as it used to be? City Phones offers high-quality battery replacement service for Samsung Galaxy S20 phones in Melbourne and Greensborough. We offer the best Samsung replacement parts at an affordable price. Our skilled technicians will replace the faulty battery of your Samsung Galaxy S20 phone in just 30 minutes to an hour using genuine Samsung replacement parts. You can get the battery replaced at a fraction of the cost of a new one covered within the City Phones repair service. Get your Samsung battery replaced today from the hands of the most experienced technicians in Melbourne and Greensborough. Our battery replacement services are available via mail-in repair as well. If you live far away and desire to get the faulty battery of your Samsung Galaxy S20 mobile phone replaced at an affordable price just send your faulty mobile phone via postal service to us. We will return your repaired Samsung mobile within the minimum possible time.
Samsung Galaxy S20 Charging Port Repair in Melbourne and Greensborough
City Phones offers the best charging port repair services within Melbourne and Greensborough as we use only high-quality original Samsung Galaxy S20 parts. We keep stock of most of the parts generally needed during Samsung phone repairs after the phone gets damaged by the customer accidentally. If your Samsung phone is not charging as it used to be then you need a new Samsung Galaxy S20 charging port replacement. It's time to look for the professional Samsung Galaxy S20 charging port replacement service. The good thing is that users can always use the services provided by City Phones. As one of the most used Samsung repair store in Melbourne and Greensborough, we will be glad to take care of all the charging issues you are facing with your Samsung Galaxy S20 phone. We will use the latest equipment to fix the problem you are facing with the charging port of your Samsung Galaxy S20 phone.
City Phones also offer Samsung Galaxy S20 cases, covers, tempered glass and Samsung Galaxy S20 screen protectors. These Samsung cases and screen protectors are very important and provide complete protection and defend your expensive phone from sudden drops and accidental falls. We have a rich collection of the World's best brands Samsung accessories available for your Samsung Galaxy S20 mobile phones available at a competitive price from the market which you can order online or in-store.
At Cityphones we are ready for fixing Samsung s20
Samsung s20 screen repair
Samsung s20 battery replacement
Samsung s20 back glass repair
Samsung s20 camera repair
Samsung s20 LCD repair
Samsung s20 camera lens repair
Samsung s20 water damage repair
Samsung s20 charging port repair
Samsung s20 network unlock
Samsung s20 screen replacement
How to fix Samsung s20 in Melbourne with us?
Living far away: You can post us your phone and we will send it back after repair.
What types of repairs we can do?
No display
Touch not working
Phone not charging
Phone not working
Battery problem
Water damage in phone
Samsung phone network unlock
Back glass repair
Camera replacement
Camera lens replacement
Please feel free to get in touch with expert on 0426504955.