IPHONE 8 Plus Repair in Melbourne
IPHONE 8 Plus Repair
| Issue | Price |
| --- | --- |
| IPHONE 8 Plus Screen Repair | $99 |
| IPHONE 8 Plus Back Glass Replacement | $99 |
| IPHONE 8 Plus Battery Replacement | $69 |
| IPHONE 8 Plus Charging Port Repair | $99 |
| IPHONE 8 Plus Microphone Repair | $99 |
| IPHONE 8 Plus Ear Speaker Repair | $75 |
| IPHONE 8 Plus Home Button Repair (without touch id) | $75 |
| IPHONE 8 Plus Ringer/loudspeaker Repair | $75 |
| IPHONE 8 Plus Back Camera Repair | $175 |
| IPHONE 8 Plus Front Camera Repair | $99 |
| IPHONE 8 Plus Camera Lens repair | $75 |
| IPHONE 8 Plus Back Frame Replacement | $149 |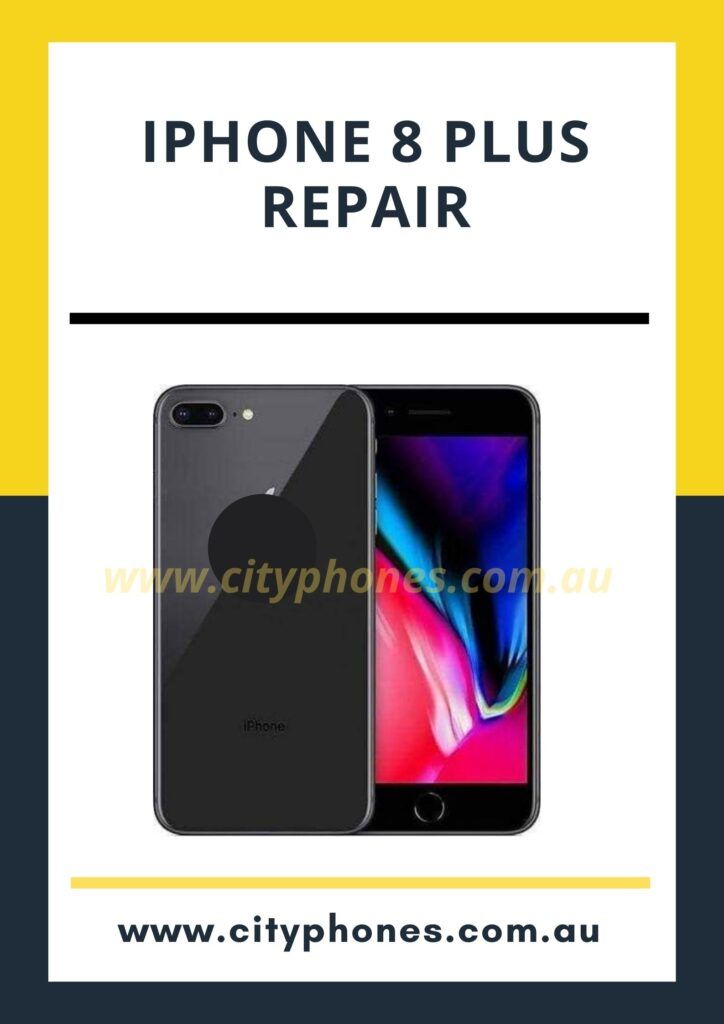 IPHONE 8 Plus Repair in Melbourne and Greensborough
IPHONE 8 Plus was released on 22nd September 2017 with a display type of Retina IPS LCD and screen size of 5.5 inches with a 67.4% screen-to-body ratio. It has 1080 x 1920 pixels resolution and 401PPI density. The weight of IPHONE 8 Plus is 202gm with a body thickness of 7.5mm. The operating System which comes loaded in this phone is iOS 11 upgradable to iOS 15.2. It has got a Hexa-core CPU with Apple A11 Bionic (10 nm) Chipset. The phone has three internal memory options for its customers to choose from 64GB, 128GB, and 256GB. The phone has got dual 12MP Wide and telephoto cameras which have 2x optical zoom in; digital zoom up to 10x. The selfie camera of IPHONE 8 Plus is 7 MP f/2.2, 32mm (standard). IPHONE 8 Plus has built-in gorilla glass made front glass as well as back glass and the body is made up of an aluminum frame. IPHONE 8 Plus is a favorite among its customers, but it is still prone to damages. The phone can have screen breakage, charging port problems, camera faults, battery replacement needs, and can have speaker issues. Any one of these problems may arise at any time. If you are looking for professionals who can solve these problems with ease look no further. City Phones has experienced technicians who specialize in IPHONE repairs.
IPHONE 8 Plus Screen Repair in Melbourne and Greensborough
The common problem that all IPHONE face which are not an exception in the IPHONE 8 Plus are screen breakage or damage. The solution to this is IPHONE 8 Plus screen replacement and City Phones provides screen replacement of the IPHONE 8 with superb pricing and in minimum repair time. All of this is done with a fast turnaround time. All the parts used are genuine and of the highest quality possible. With devices, these days cracked screens are very common and you need an IPHONE 8 Plus screen repair service with quality parts and expert technicians. City Phones is your destination for cracked screen repair service.
IPHONE 8 Plus LCD Repair in Melbourne and Greensborough
A damaged display can be annoying! Glass splitters can also be stuck inside fingertips. We can replace your LCD, OLED, or just the glass, we'll replace your screen the right way and have it looking brand new. If you are experiencing a problem with your IPHONE 8 Plus screen like you are not able to use your LCD Screen or your phone's screen is showing lines or is having dead pixels or the LCD screen has gone blank, then it needs replacement service. At City Phones, we have a team of expert technicians that can provide you with quick and professional LCD replacement using high-quality parts.
IPHONE 8 Plus Battery Repair in Melbourne and Greensborough
If you find that your IPHONE battery does not last the whole day, the phone overheats without much use, these may be symptoms of your IPHONE needing a battery replacement. At City Phones battery replacements are frequently done in our store as batteries become faulty after some time. However, in most cases, it's because of improper maintenance of the battery. If your device doesn't charge properly, then it might have got a faulty battery that needs replacement. Our professional and expert technicians are skilled to replace the faulty battery of your IPHONE 8 Plus perfectly so that you can use your mobile phone again like before.
IPHONE 8 Plus Charging Port Repair in Melbourne and Greensborough

Do you have a problem with charging your IPHONE 8 Plus mobile phone? It's probably a problem related to the charging port which means that you should look for IPHONE 8 Plus charging port replacement and repair services. You have come to the right place as City Phones can assist you in IPHONE 8 Plus charging port repair service with Melbourne and Greensborough. We have got all it needs to replace or repair a charging port on any IPHONE 8 Plus and we will do this smoothly and quickly.
IPHONE 8 Plus Front and Back Camera Repair in Melbourne and Greensborough

Is your Apple IPHONE 8 Plus's front and back camera damaged or not working? City Phones offers front and back camera replacement of IPHONE 8 Plus in Melbourne and Greensborough. We offer the best IPHONE front and back camera replacement service with the highest quality parts! Get your IPHONE 8 Plus front camera fixed in the minimum time possible. Our repair service is available via mail-in repair as well. We will replace your IPHONE 8 Plus front and back camera within the minimum possible time.
Are you in need of IPHONE 8 Plus repair in Melbourne? Visit the Cityphones flagship store conveniently located in the heart of Melbourne CBD. From the front, we have an IPHONE that looks about the same as a 6 Plus from 2014. Flip it over and one new feature really shines. That glossy glass back serves two purposes: wireless charging and doubled crackability. Despite alleged durability, the back glass is more susceptible to breakage and tough to replace when cracked. The color of the glass was achieved through a seven-layer color process, but on the material itself and reinforced with an internal, laser welded, steel and copper structure. The Lightning connector assembly is guarded with a gasket for ingress proofing and Apple has kept their Penta lobe in place. The IPHONE 8 Plus actually requires more heat to relax its adhesives and allow us to reach the inner parts.
Just like the IPHONE 8, Apple ditched the tri-point screws we're accustomed to seeing on this bracket and replaced them with Phillips #000 screws. The battery connector still uses common Phillips/JIS fasteners, but that's not a problem for us, because we have all the different drivers needed for your IPHONE repair. Also mirroring the IPHONE 8, we find four battery tabs, where in prior years there were but two. Looks like Apple's decision to switch to four tabs from two was to avoid a sticky situation on their new wireless charging coil.
The IPHONE 8 Plus model features a factory-calibrated-for-AR dual camera unit. These 12 MP cameras are solidly fixed together, enabling software used for portrait mode to combine images from both lenses. The logic board features a different midframe assembly and is secured using the same standoff screws and Phillips screws seen in other IPHONEs. The IPHONE's lower components are kept under a combination of brackets and delicately folded flex cables, which we need to be extremely careful with when caring for your IPHONE. Cityphones also offers loudspeaker, earspeaker, vibrator and front camera repair, in addition to IPHONE screen repair in Melbourne. Take a look at our list of IPHONE 8 Plus repair services below.