Huawei Y9 2019 Repair
| Issue | Price |
| --- | --- |
| Huawei Y9 2019 Screen Repair | $180 |
| Huawei Y9 2019 Battery Replacement | $99 |
| Huawei Y9 2019 Charging Port Repair | $99 |
| Huawei Y9 2019 Microphone Repair | $99 |
| Huawei Y9 2019 Ear Speaker Repair | $99 |
| Huawei Y9 2019 Ringer/loudspeaker Repair | $99 |
| Huawei Y9 2019 Headphone port Repair | $99 |
| Huawei Y9 2019 Back Camera Repair | $99 |
| Huawei Y9 2019 Front Camera Repair | $75 |
| Huawei Y9 2019 Camera Lens Repair | $75 |
| Huawei Y9 2019 Back Glass repair | $99 |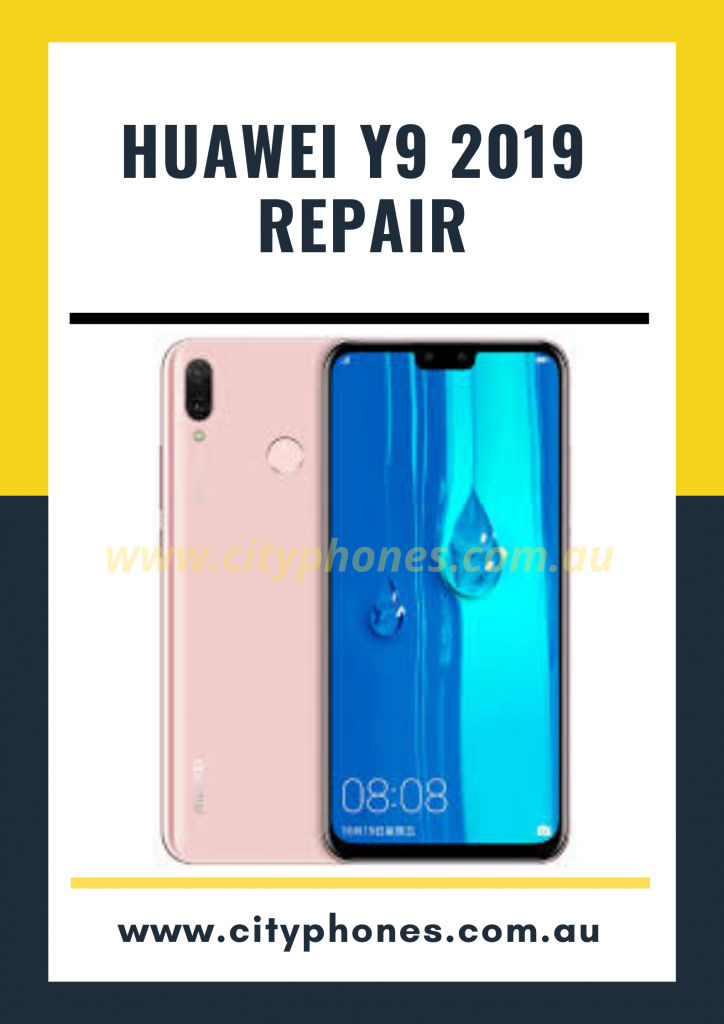 Huawei Y9 2019 Repair in Melbourne
Huawei Y9 2019 Repair in Melbourne
We have a well-trained team of technicians that can repair almost all the repairs within 30 minutes. We repair most faults with Huawei mobile phones, such as cracked screen repair, speaker repair, battery replacement, home button repair, volume button repair, camera replacement, charging port repair, etc. We provide repair services from our stores located in Melbourne. If you want to get an instant repair quote, you can visit the website and get an instant quote, and you can book your mobile repair as well.
City Phones: Melbourne's Leading Huawei Repair Specialists
Over a thousand repairs make us Melbourne's most trusted Huawei mobile phone repair shop. We make it simple, easy, and hassle-free to get your phone back to life without. Our specially trained technicians for Huawei Y9 2019 provide a high-quality repair service, performing each task with perfection while bringing your phone back to life. We also check each part of your repaired mobile before delivery and provide repair if needed.
Huawei Screen Y9 2019 Repair
Repair the broken screen of your Huawei Y9 2019 with the most trusted and reputed Huawei mobile phone repair service provider in Melbourne. Our professional repair technicians make sure that the replaced screen works perfectly. Bring your Huawei Y9 or send it via post. We will make sure the repair is done professionally with high-quality parts. The repair applies to a mobile phone that has a cracked, damaged, broken, smashed screen or screen that is not responding to your touch.
Huawei Y9 Screen Replacement
Phone with a broken screen is frustrating. Many of us end up with a cracked screen after dropping it, causing a faulty display. Replace your Y9 2019 crack screen before it worsens.  Our shop's repair costs are affordable, and repairs are usually completed in 30 minutes to an hour. Screen replacement is needed in case your Huawei Y9 2019's screen or digitizer has a noticeable crack. 
Screen Repair Service includes.
Digitizer Touch Screen Glass for Huawei Y9
display for the Huawei Y9
Fitting of the Huawei Y9 Display Screen
Standard Repair Warranty with All Repairs
Repair Feature
New High-Quality Touch Screen Replacement
New High-Quality Display Replacement
Replace your broken, damaged, unusable touch screen and display.
Repairs are usually completed in a few hours.
Huawei Y9 Battery Replacement
Is your Huawei Y9 2019 battery draining fast? Surely you will have a Huawei Y9 2019 battery problem. Because of the issue, Huawei Y9 Prime 2019 battery replacement is inevitable. For Huawei Y9 2019 repairs, City Phones uses genuine spare parts that last longer. We are equipped to resolve every issue with Huawei Y9 2019.
Fast Repairing for Huawei Y9 2019
City Phones offers timely repair services for your mobile phone. We can repair your Huawei Y9 Prime 2019 in 30 minutes to an hour. We carry out Huawei screen repair and battery replacement instantly. All the issues with your Huawei mobile phones are resolved in a short time. We have a turnaround time of 30 mins to 1 hour for phone repairs in Melbourne. Meanwhile, we also ensure the efficiency and productivity between repairing procedures. Therefore, we are known for our enduring quality repair services.
Why Choose Us?
As you also get a standard warranty on all our repairs, you have nothing to worry about. Our technicians can have the device repaired and ready in just a couple of hours. You can visit our store or send the device to us via post. We also offer free pick-up and drop-off services for specific areas, Contact us for further details regarding our pick-up and drop-off services.
City Phones is one of the best choices for mobile phone repair offering a high-quality repair service at an affordable cost. For any queries or questions regarding your mobile phone repair service, feel free to contact us on 0426504955 or email us at info@cityphones.com.au.