Samsung Galaxy S10E Repair
Samsung Galaxy S10e Repair
| Issue | Price |
| --- | --- |
| Samsung Galaxy S10e Screen Repair | $340 |
| Samsung Galaxy S10e Battery replacement | Call |
| Samsung Galaxy S10e Charging port replacement | Call |
| Samsung Galaxy S10e Microphone Repair | Call |
| Samsung Galaxy S10e Ear Speaker Repair | Call |
| Samsung Galaxy S10e Ringer Repair | Call |
| Samsung Galaxy S10e Back Camera Repair | Call |
| Samsung Galaxy S10e Front Camera Repair | Call |
| Samsung Galaxy S10e Camera lens Repair | Call |
| Samsung Galaxy S10e Back Glass Replacement ( Cracked Backglass ) | Call |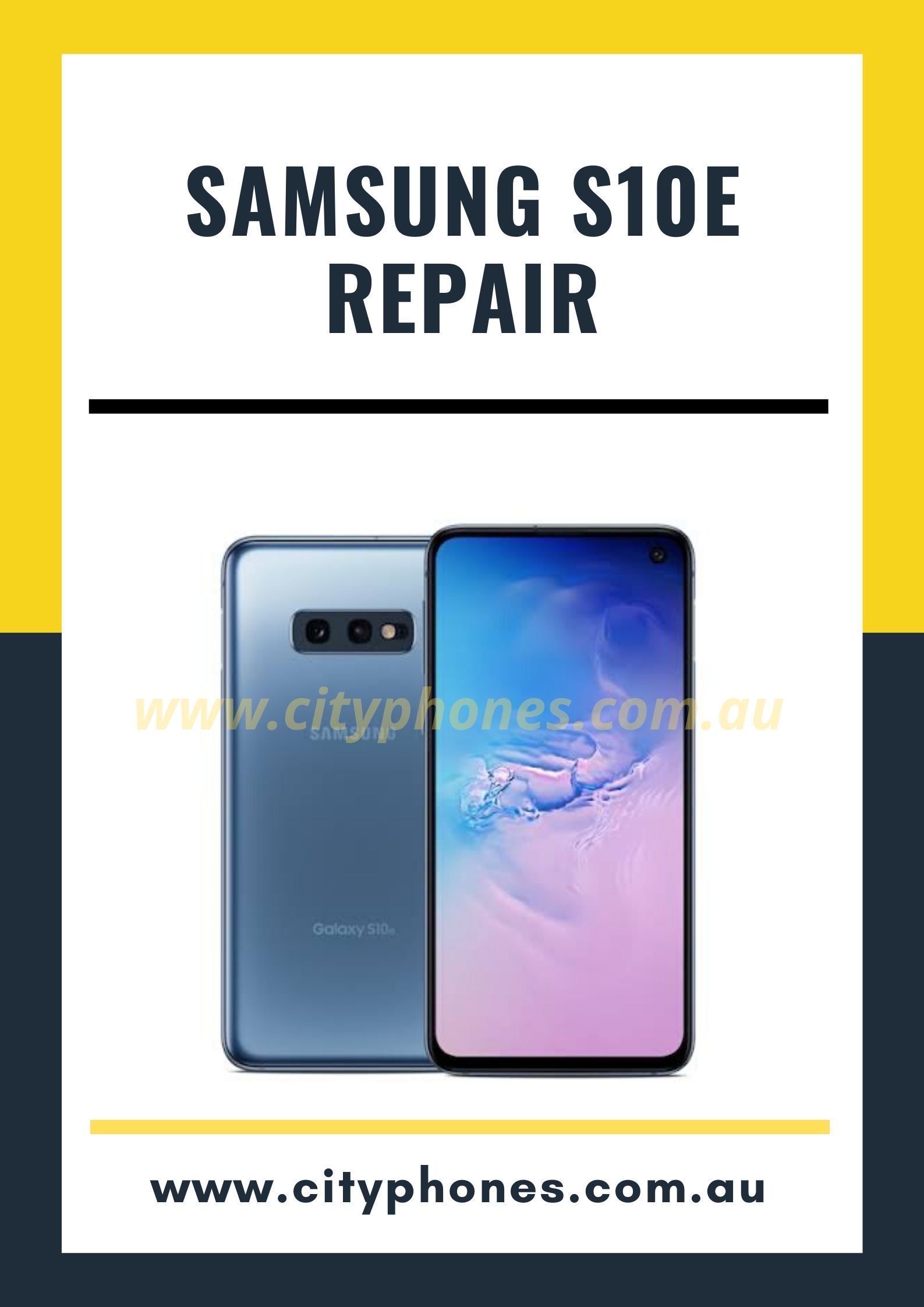 Samsung Galaxy S10E Repair
Samsung Galaxy S10e Repair Melbourne
City Phones provide all manners of repair for damaged or broken Samsung phones. With the help of a dedicated team and highly skilled and knowledgeable repair technicians and a wealth of spare parts available to provide repairs with, you will find repairs at City Phones to be the best available in Melbourne. We keep customer satisfaction our top priority and keep two things in mind while providing our Samsung phone repair service: affordability and time-efficiency. We understand that people are often deterred from having their phones repaired due to the cost of replacing a damaged part and the time it takes to complete the repair, and therefore we ensure that we provide our parts at an affordable price and that our repair services are fast. We'll most likely have the repair done on the same day you bring it in, or even within the hour, such is the efficiency of our team members. From Samsung Galaxy S10e screen replacements, Samsung Galaxy S10e battery replacements, Samsung Galaxy S10e charging Port repair, and Samsung Galaxy S10e front and back camera repair, if it's an issue with your Samsung mobile phone then we most likely will be able to fix it. Our repairs also come with a standard repair warranty which covers defects in labor and parts and will not cover physical damage or liquid damage. All you have to do is to visit our store located at 148, Elizabeth Street, Melbourne, Victoria 3000 and we will solve all your dilemmas regarding your Samsung Galaxy S10e. We provide an efficient Samsung Galaxy S10e repair service in Melbourne. We have a group of excellent technicians who are specialists in Samsung phone repair. Simply walk into our Greensborough Plaza store and have any of our staff members access your Samsung mobile phone. They will help you figure out the actual problem and come up with the best repair solution for your device.
Samsung Galaxy S10e Screen Repair in Greensborough
Is your Samsung Galaxy S10e screen broken? Repair it today with the help of experienced technicians. Our expert staff has you covered. With manufacturer-specified replacement screens, batteries, cameras, and camera lenses, City Phones will provide a reasonably priced repair job that will get your Samsung Galaxy S10e up and working again. We have repair centers in Melbourne and Greensborough. The Samsung Galaxy S10e is the larger counterpart to the Galaxy S10. One of the biggest differences between the two models of Samsung phones is the addition of a second portrait camera on the rear of the mobile phone. Samsung Galaxy S10e curved screen has a stunning 6.2-inch SUPER AMOLED display with a screen resolution of 1440 x 2960 resolution. The Samsung Galaxy S10e has a single selfie camera clocking in at 8 MP along with a 12 MP main camera and a 12 MP portrait camera. Samsung outfitted the Galaxy S10e with a 3500 mAh battery that can get around 20 hrs of talk time. As with other phones, the Samsung Galaxy S10e can wind up having screen scratches, cracks, and other damage that might make using the phone difficult or impossible. As a result, you can turn to us for all of your repair and service needs. We offer the best-in-class Samsung Galaxy S10e screen replacement at a reasonable price.
Samsung Galaxy S10e Battery Repair in Melbourne
Is your Samsung Galaxy S10e not holding charge or battery draining fast? Bring it to our repair store in Melbourne to get same-day repair service. Our Samsung phone repair time is 30 minutes to an hour. City Phones offer Samsung Galaxy S10e battery replacement in Melbourne. We offer the best Samsung battery replacement service with the highest quality parts! Get your Samsung Galaxy S10e battery replaced today at a reasonable price! Our Samsung battery replacement service is available via mail-in repair as well. We will replace your Samsung Galaxy S10e battery within a reasonable time frame. This repair applies to a device that has damaged, broken, or faulty battery. We use the latest equipment to fix the problem or an authentic battery as part of the replacement process.
Samsung Galaxy S10e Charging Port Repair Greensborough
Samsung Galaxy S10e not charging? It's likely a problem with your charging port. We can replace this in 30 minutes to an hour within Greensborough today. Any damage to the charging port can leave your smartphone an utter waste. Hence this defect within your Samsung Galaxy S10e phone should be rectified quickly and our technicians are specialized in doing Samsung charging port replacement at a reasonable price. We keep stock of Samsung mobile phone charging ports so our highly qualified and trained technicians can start the Samsung phone charging port replacement as early as possible. They are capable of replacing the Samsung Galaxy S10e charging port on the spot while you can wait in our store.
Samsung Galaxy S10e Front and Back Camera Repair Melbourne
Samsung Galaxy S10E fuzzy, taking blurry images or simply showing a black camera screen? City Phones can replace your Samsung Galaxy S10e front and back camera lens in just 30 minutes to an hour. You and your Samsung Galaxy S10e deserve to have a perfectly working camera. Book your repair with City Phones in Melbourne today. Blurry pictures, shaky images, and disruptive shades of light can all be fixed, replaced, and restored back to working condition within minutes at our Melbourne store.