IPHONE X Repair in Melbourne
IPHONE X Screen Repair
Issue
Price
Repair Time
IPHONE X LCD Repair

Price Drop

$99 ( Aftermarket high quality )
30 minutes
IPHONE X Back Glass Replacement
$99
60 Minutes
| Issue | Price | Repair Time |
| --- | --- | --- |
| IPHONE X Battery Replacement | $99 | 30 Minutes |
| IPHONE X Back Camera Repair | $149 | 30 Minutes |
| IPHONE X Charging Port Repair | $119 | 60 Minutes |
| IPHONE X Microphone Repair | $119 | 60 Minutes |
| IPHONE X Ear Speaker Repair | $119 | 30 Minutes |
| IPHONE X Ringer/loudspeaker Repair | $119 | 30 Minutes |
| IPHONE X Front Camera Repair (without Face id) | $129 | 30 Minutes |
| IPHONE X Camera Lens repair | $75 | 30 Minutes |
| IPHONE X Back Frame Replacement | $149 | 60 Minutes |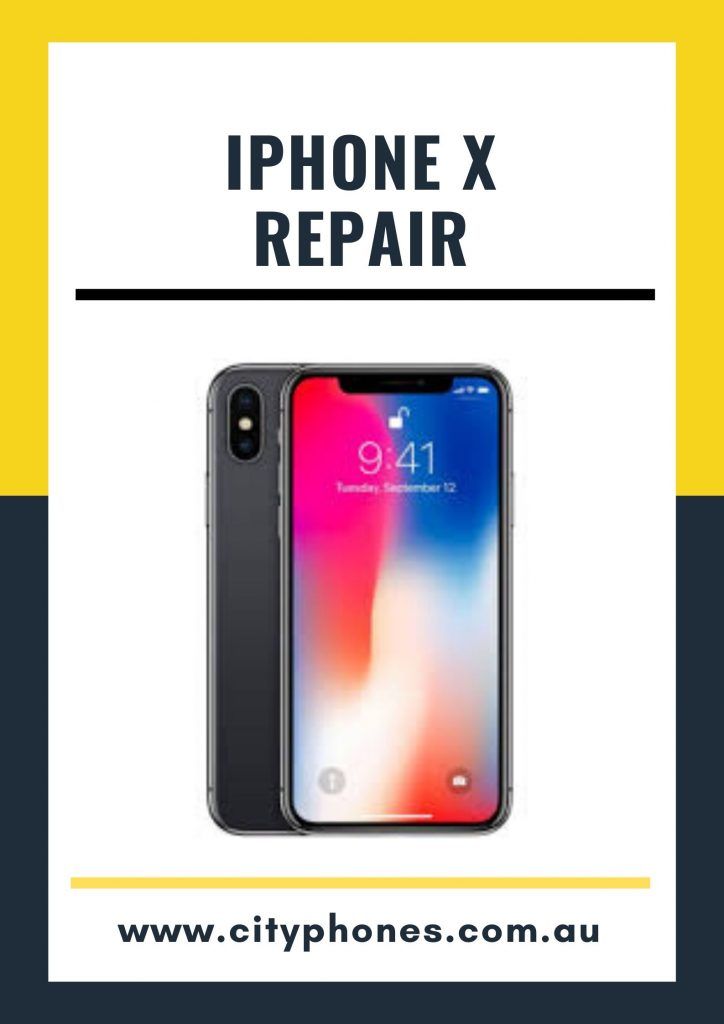 iPhone X Repair in Melbourne
IPHONE X Repair in Melbourne and Greensborough
Introduced by Apple on its 10th anniversary, the IPHONE X is Apple's 18th iteration, and it has all the high specifications you can expect from a high-end smartphone. With its rounded edges and edge-to-edge display, the likelihood of drop damage is increased because of the glass in the front and back. If the back glass breaks, we need to remove every component and replacing the entire chassis. The IPHONE X also possesses fussy cables that tie unrelated components together into complex assemblies, making it expensive and difficult to replace. If you need a hand with IPHONE X repair in Melbourne, Cityphones is here to help. IPHONE X was released on 3rd Nov 2017 with a Super Retina OLED display and screen size of 5.8 inches with an 82.9% screen-to-body ratio. It has 1125 x 2436 pixels resolution and 458 PPI density. The weight of IPHONE X is 174g with a body thickness of 7.7mm. The OS that ships with IPHONE X are iOS 11.1.1, up gradable to iOS 15.2. It has got a hexa-core 2.39 GHz CPU with internal storage options like 64GB and 256BG. The main camera is 12MP having features like Quad-LED dual-tone flash, HDR (photo/panorama), panorama, HDR.
IPHONE X has got a good scratch-resistant glass with an oleophobic coating, yet this powerful device is vulnerable to physical damage. From screen breakage, charging port faults, camera faults, to battery problems or earpiece speaker problems, your IPHONE may face any one of these problems at any given time. Are you looking for high-quality hardware service for your new IPHONE X repair in Melbourne, then look no further. City Phones is the best phone repairs shop that offers any cell phone repair including your IPHONE X. We cover a wide variety of physical repair services for IPHONE X. You can visit our store for any mobile phone repair service in Melbourne and Greensborough.
IPHONE X Screen Repair in Melbourne and Greensborough
IPHONE X is a well-built phone with its sleek design and top-of-the-line features, this IPHONE has attracted many new IPHONE buyers. However, the widescreen is still vulnerable to physical damage. A broken screen is perhaps the most common hardware malfunction. As screens are glass, a single drop might lead to several cracks on the screen. Screen repair is also one of the most expensive repairs, among others. If you possess a broken screen IPHONE X mobile contact City Phones which has got few of the most experienced technicians who can replace the broken glass of your IPHONE X in just 30 minutes to an hour. We offer high-quality IPHONE X screen repairs here at Melbourne CBD and Greensborough Plaza at an affordable price.


IPHONE X LCD Repair in Melbourne and Greensborough
If your IPHONE X LCD screen needs repair i.e. it is broken or the LCD screen has no display, lines, dead pixels, etc. you need a new LCD replacement. IPHONE X has got a super retina OLED LCD. IPHONE X LCD repair is required only in case your IPHONE screen is useless and you can't use it all. For instance, if your LCD screen has got lines or went black or it has touch issues. In that case, we can replace the complete IPHONE X LCD OLED display screen.
IPHONE X Battery Repair in Melbourne and Greensborough
If you are looking to have your IPHONE X battery replacement then visit our store. Battery replacement covers the replacement of the faulty battery on your IPHONE X mobile. With genuine repair parts used for the repair, you can get a brand new battery replacement for your IPHONE X at a much less price. Our experienced technicians are familiar with the battery-related issues that IPHONE X may face. Your device is in safe hands as we only use high-quality parts for the battery replacement of the IPHONE X mobile phone.
IPHONE X Charging Port Repair in Melbourne and Greensborough
If you want to have high-quality IPHONE X charging port repair/replacement at an affordable price then visit our stores in Melbourne and Greensborough. We offer the charging port replacement using only high-quality genuine parts. If your IPHONE is not charging or creating problems while charging you can visit our store for on-the-spot charging port repair and replacement in minimum possible time of 30 minutes to an hour. With every repair we perform we offer a standard repair warranty to back our IPHONE X repair service.
IPHONE X Front and Back Camera Repair in Melbourne and Greensborough
IPHONE X front camera repair/replacement entails the replacement of the selfie camera of your phone. Selfie camera replacement means the selfie camera lens replacement with a new one which is a high precision repair work and should only be carried by an IPHONE repair expert technician. You can walk into our store and have a selfie camera lens replacement done in 30 minutes to an hour. City Phones is the best place to have your IPHONE back camera repair/ replacement within Melbourne and Greensborough. You can visit our store and have the back camera repair/replacement done perfectly and in minimum time.
City Phones also deals in IPHONE X cases, IPHONE X covers with IPHONE X screen protectors with a rich collection of world's leading brands IPHONE cases, covers, tempered glass, and screen protectors available at a competitive price than the market. With IPHONE X accessories you can protect your precious IPHONE smartphone against physical damages. Visit our online store to order premium quality IPHONE X accessories available with free shipping and afterpay facility in which your order your favorite IPHONE X case, cover, or screen protector now and pay for it later.
There's also not one, but two battery cells (a first in an IPHONE!) and two stacked halves of the logic board. The halves are soldered together and require a hot air rework station to separate the layers, making board-level repair extremely difficult. Comparing the footprint of the logic board in the IPHONE X with that of the IPHONE 8 Plus, the IPHONE X motherboard is about 70% of the size of the IPHONE 8 Plus board—that's a lot more floor space for battery.
The new dual-celled battery has four pull-tabs that are adhered to the sides of the cells, rather than folded over the top, making the procedure a little trickier than usual. To make room for the extra front-facing sensors, the earpiece speaker has been shifted down quite a bit and there's an additional chip between the Taptic Engine and lower speaker. The tri-point screws from previous versions remain standing sentry over any repairs once we get past the pentalobe screws guarding the door.
The dual rear camera has a beefy bracket that looks like it might offer some bendgate-proofing support for the delicate components. The cameras are additionally secured to the rear case with some foam adhesive to keep things from jostling out of place. Guess these cameras really need to stay put for Portrait Mode and similar features to work their magic! Surrounding the camera housing cover glass, tiny spot welds are likely holding the walls of the camera bump to the case. The TrueDepth front camera system rallies a team of sensors to bring facial recognition to the IPHONE X.
In the rear case, the first bracket is covered in spring connectors and EMI grounding fingers and has a ribbon cable stuck to the back. The lower speaker enclosure is replete with sticky waterproofing adhesive around the port and lastly, the Taptic Engine and famed barometric vent are also present. Apple's Taptic Engine continues to be a linear oscillator vibration motor. The ear speaker has been newly redesigned with a cool duct to channel sound out of the display. It's also home to a loudspeaker, microphone, ambient light sensor, flood illuminator, and proximity sensor. Our engineers will demonstrate the dual tweezer technique to successfully repair the Lightning connector, which is looking extra-reinforced, with a wider bracket that screws into the sidewall of the frame. It also features through holes for the exterior pentalobe screws to pass through and key into the display. Cityphones also performs IPHONE screen repair in Melbourne. Would you like to get your device fixed? Take a look at our list of IPHONE X repair services below.