Huawei Mate 20 Pro Repair

Huawei Mate 20 Pro Repair
| Issue | Price |
| --- | --- |
| Huawei Mate 20 Pro Screen Repair | $449 |
| Huawei Mate 20 Pro Battery Replacement | $99 |
| Huawei Mate 20 Pro Charging Port Repair | $99 |
| Huawei Mate 20 Pro Microphone Repair | $99 |
| Huawei Mate 20 Pro Ear Speaker Repair | $99 |
| Huawei Mate 20 Pro Ringer/loudspeaker Repair | $99 |
| Huawei Mate 20 Pro Headphone port Repair | $99 |
| Huawei Mate 20 Pro Back Camera Repair | $149 |
| Huawei Mate 20 Pro Front Camera Repair | $99 |
| Huawei Mate 20 Pro Camera Lens Repair | $75 |
| Huawei Mate 20 Pro Back Glass repair | $99 |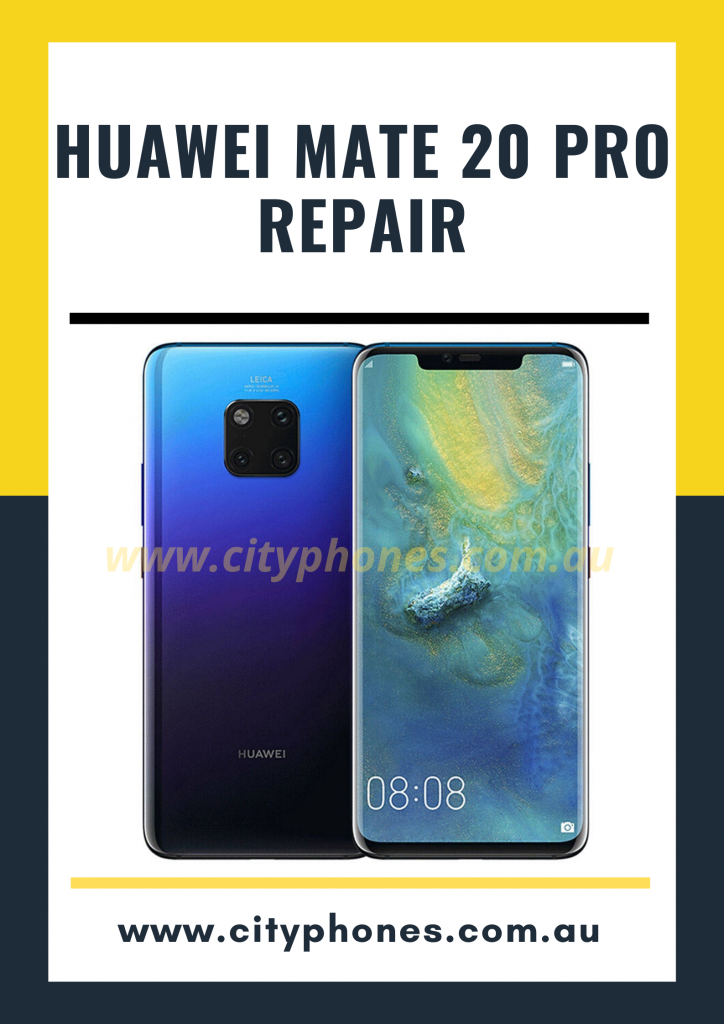 Huawei Mate 20 Pro Repair in Melbourne
Huawei Mate 20 and Mate 20 Pro premiered side by side at a special event in London. The Mate 20 Pro, which is in for a review today, employs all of Huawei's latest innovations such as the high-res AMOLED screen, the large-zoom triple-camera, and 40W fast charging, while the Mate 20 cuts a few corners towards achieving a more affordable price tag.
Just like last year, the Mate 20 Pro and Mate 20 are intended for different markets. And we can make an educated guess that most of the regions that got the Mate 10 Pro in 2017 will once again get the Pro model and vice versa.
So, the Huawei Mate 20 Pro is the one boasting a curved 1440p AMOLED screen and the better triple camera with the largest optical zoom. It also enjoys a much faster 40W fast charging, in addition to the 15W wireless charging and there is even a reversed wireless charging support. The Pro is also IP68 water resistant, has 3D face unlock, stereo speakers, and an under-display fingerprint reader.
Huawei Mate 20 Pro screen repair in Melbourne CBD by qualified professionals. We have high-quality parts available to fix your Huawei Mate 20 Pro screen on the spot.
Our friendly and welcoming staff is capable to have it ready while you have lunch or a cup of coffee. New devices are high tech these days and they also have very fragile parts inside. So, if these devices are handled by unprofessional, they can cause more damage it.
BEST HUAWEI MATE 20 PRO SCREEN REPAIR IN MELBOURNE
With Cityphones, you do not have to worry about it. Our trained experts can fix it in just minutes.  We cover all types of repair for Huawei Mate 20 Pro phones, whether its broken screen or broken LCD, broken charge port, headphones not working properly or any other issue.
Cityphones can fix the following damages to Huawei Mate 20 Pro.
-Broken Screens
-Broken LCD
-Faulty charging port
-Faulty Headphone Jack
-Faulty back/front cameras
-Motherboard issues
-Broken parts
Please feel free to contact us on 0426504955
Huawei Screen Repair Melbourne.
Huawei Mate 20 Pro Screen Repair in Melbourne.
Huawei Mate 20 Pro battery Repair in Melbourne.