Nokia 6 Repair in Melbourne
Nokia 6 Repair
| Issue | Price |
| --- | --- |
| Nokia 6 Screen Repair | $139 |
| Nokia 6 Battery Replacement | $75 |
| Nokia 6 Charging Port Repair | $99 |
| Nokia 6 Microphone Repair | $99 |
| Nokia 6 Ear Speaker Repair | $99 |
| Nokia 6 Ringer/loudspeaker Repair | $99 |
| Nokia 6 Headphone port Repair | $99 |
| Nokia 6 Back Camera Repair | $99 |
| Nokia 6 Front Camera Repair | $75 |
| Nokia 6 Camera Lens Repair | $45 |
| Nokia 6 Back Glass repair | $65 |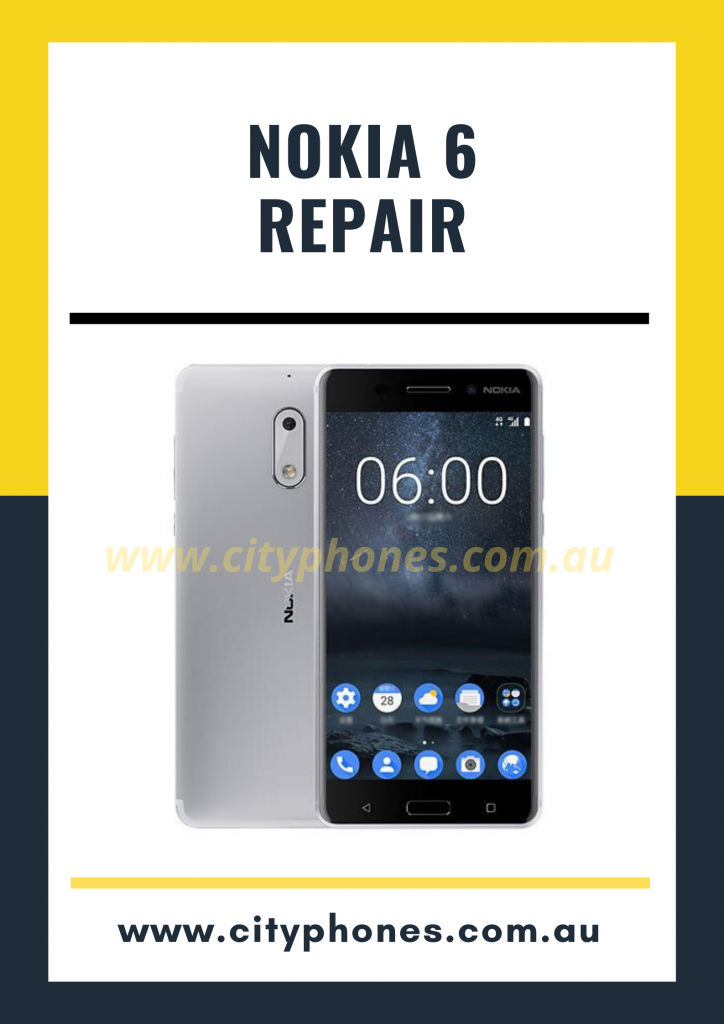 Nokia 6 Repair in Melbourne
Nokia 6 Repair in Melbourne and Greensborough
Nokia 6 repair in Melbourne and Greensborough with expert technicians and high-quality parts. City Phones offers a standard repair warranty with all repairs. Our technicians are specially trained to repair your Nokia 6 mobile with complete care and perfection. City Phones provides quick and purposeful repair of your Nokia 6 mobile phone with result-oriented work, maintaining the repair deadlines. We imply a focused approach to every aspect of Nokia repairs, so we execute productive solutions for all that was not possible before. Our different approach has provided productive solutions for Nokia 6 screen repairs. All our repairs are reasonably priced for the Nokia 6 mobile phone. We repair all faults with your Nokia 6 mobile phone using only high-quality parts. We provide repair services from our stores located in Melbourne and Greensborough. Our website provides you with instant repair quotes for your Nokia 6 mobile phone and you can also book a repair by visiting the relevant mobile phone model page on the website. We have a well-trained team of professional technicians who can repair your Nokia mobile phone in 30 minutes to an hour. We repair most Nokia mobile phones' most common faults, such as cracked screens, battery replacement, charging port replacement, camera replacement, and water damage repair.
Nokia 6 Cracked Screen Repair and Battery Replacement
Screen repair is the most common repair needed when your Nokia phone suddenly drops from your hands. As mobile screens are glass, a single drop may cause several cracks in your Nokia mobile screen. We offer only high-quality parts for the Nokia 6 screen replacement which are tested by our staff to be in 100% working condition. All the repairs we perform are backed up by a standard repair warranty. We also provide a high-quality battery replacement for your Nokia 6 mobile phone at a reasonable price. We only select high-quality batteries for your Nokia 6 mobile phone to replace from among the many grades and quality of batteries available for your Nokia 6. At City Phones, we give most importance to our customer's phones as we understand the value of a mobile phone. We take the minimum time to replace the screen and battery of your Nokia 6 mobile phone.
Some of the common Nokia 6 repair services we provide are:
   Broken Screen
   Broken LCD
   Faulty charging port
   Faulty Headphone jack
   Faulty back/front camera
   Water damage
   Battery not charging.
   Motherboard issues
Feel free to contact us if you have any query or question regarding the repair of your Nokia 6 Mobile phone at 0426504955 or email at info@cityphones.com.au. We are located at 148 Elizabeth Street, Melbourne, VIC 3000 or Shop 2, 231 Elizabeth Street, Melbourne, VIC 3000 and L 01, Shop 137, 25 Main Street, Greensborough, VIC 3088.