Samsung Note 9 Repair
| Issue | Price |
| --- | --- |
| Samsung Note 9 Screen Repair | $405 |
| Samsung Note 9 Battery replacement | Call us |
| Samsung Note 9 Charging port replacement | Call us |
| Samsung Note 9 Microphone Repair | Call us |
| Samsung Note 9 Ear Speaker Repair | Call us |
| Samsung Note 9 Ringer Repair | Call us |
| Samsung Note 9 Headphone Socket Repair | Call us |
| Samsung Note 9 Back Camera Repair | Call us |
| Samsung Note 9 Front Camera Repair | Call us |
| Samsung Note 9 Camera lens Repair | Call us |
| Samsung Note 9 Back Glass Replacement ( Cracked Backglass ) | Call us |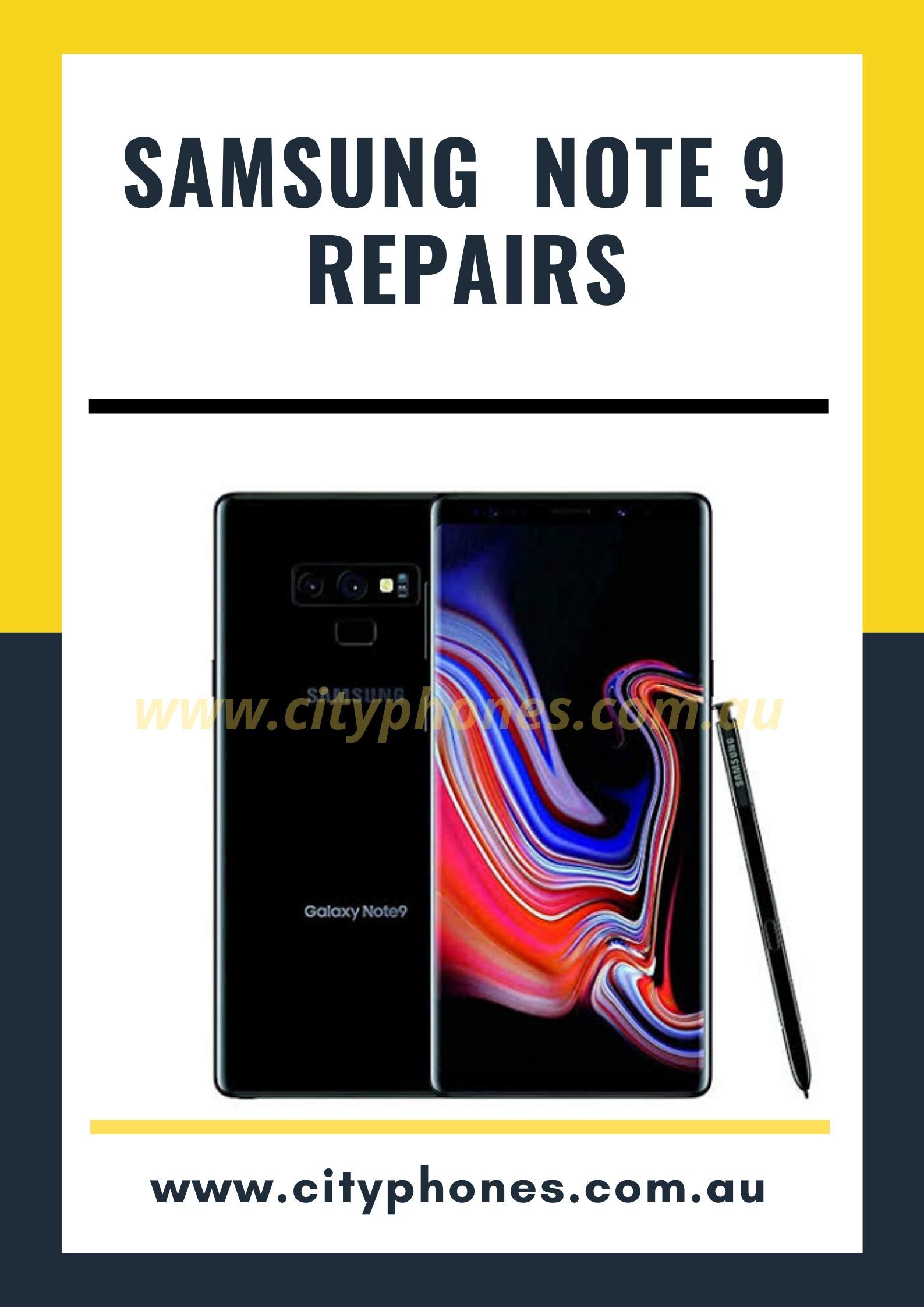 Samsung Note 9 Repair in Melbourne and Greensborough
City Phones is a Samsung Authorized Service Center dedicated to working directly with Samsung to get you the trust of Samsung in repairs provided by us. We use only genuine parts while repairing your mobile phone, backed by a standard repair warranty to get you the repairs and the use of the correct parts for your electronics. The best part of our repair is that we take minimum time repairing the fault in your Samsung mobile phone. City Phones provides diagnostics free of cost to you. Here at City Phones, we have more than 5 years of experience providing repair services for your Samsung mobile phones of all models. Whether your Samsung Note 9 mobile phone is suffering from a shattered screen, needs battery repair, charging port repair, back and front camera repair, and also water damage repair, needs repair of various internal components of your Samsung mobile phone's motherboard. We are the leading Samsung mobile phone repair service provider due to the fast and affordable repair of mobile phones. Our repair service covers most of the world's leading brands like Apple, Samsung, Google Pixel, and LG. We desire to exceed your expectations for the quality of service you want by providing you with excellence in service and communication for your entire repair process.
Samsung Note 9 Screen Repair in Melbourne and Greensborough
Samsung phones are very capable phones within their budget, but no device is invincible. In the case of mishaps, City Phones will help you till you have your working phone with you, as we understand that nowadays, having a working mobile phone is very important to a person. These days, life is very busy and if you have a damaged mobile phone with you, it puts a break on your life. So, understanding this, we repair your damaged mobile as early as possible. We can get you and your device up and running in no time, with no hassles. We are a trusted name when it comes to Samsung Note 9 repair services in Melbourne and Greensborough. We provide our customers the service they are looking for when their mobile phone is damaged. Our team of expert technicians is capable of providing fast and affordable repair services to get your Samsung Note 9 mobile phone in working condition. Bring us your Samsung Galaxy today if you have a cracked Samsung mobile phone to get it repaired on the spot within 30 minutes to an hour. We will never let you down on the scale of repair quality and your expectations.
Samsung galaxy Note 9 Repairs in Melbourne CBD and Australia wide. Galaxy note 9 is flagship phone launched by Samsung in 2018. After the failure of note 7, the Note 8 came in to restore the customers trust in Note family. If you have broken your Samsung Note 9 Screen and looking for a reliable repairer to fix it within a day than your search is over. Cityphones has the high quality and genuine Samsung parts to fix it and make it look like new again. Our repair prices are very competitive in the market but that does not decrease the quality of parts and workmanship.
City Phones can fix the following issues with your Samsung Note 9 Mobile Phone
Broken Screens
Broken LCD
Faulty charging port
Faulty Headphone Jack
Faulty back/front cameras
Back glass cover
Motherboard issues
Feel free to get in touch with the Samsung mobile repair experts on 0426504955 or use our online chat service.