Nokia 8 Repair
| Issue | Price |
| --- | --- |
| Nokia 8 Screen Repair | $175 |
| Nokia 8 Battery Replacement | $75 |
| Nokia 8 Charging Port Repair | $99 |
| Nokia 8 Microphone Repair | $99 |
| Nokia 8 Ear Speaker Repair | $99 |
| Nokia 8 Ringer/loudspeaker Repair | $99 |
| Nokia 8 Headphone port Repair | $99 |
| Nokia 8 Back Camera Repair | $99 |
| Nokia 8 Front Camera Repair | $99 |
| Nokia 8 Camera Lens Repair | $45 |
| Nokia 8 Back Glass repair | $65 |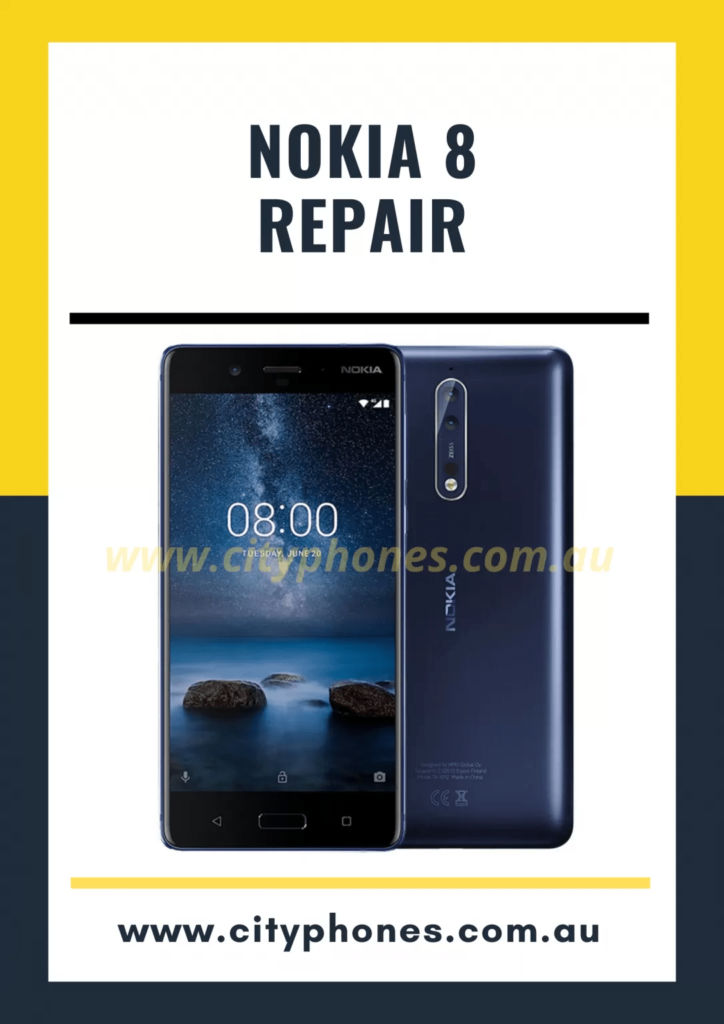 Nokia 8 Repair in Melbourne
Nokia 8 Screen Repair in Melbourne
City Phones are Nokia 8 repair experts in the Melbourne CBD. We have an expert team of technicians who are trained to repair all faults with your Nokia 8 series mobile phone. We offer a standard repair warranty with each repair we perform. We are specially trained to repair Nokia 8 series mobile phones with complete care. We see that all the repairs we perform are quick and purposeful as repair deadlines are easily maintained. We provide the best possible solution to your mobile phone problem, and all the repairs we perform are reasonably priced. We have high-quality and genuine parts with the most competitive repair prices in the market. The Nokia 8 is a very durable and fast-performing budget mobile phone. This phone has all the high-end specifications you can expect from a budget smartphone. We also understand the value of the smartphone in our lives, so we make every effort to repair your Nokia 8 mobile phone as soon as possible. Screen repair on the Nokia 8 mobile phone takes around 30 minutes to 1 hour. Our well-trained staff is ready to assist you with all the problems you face with your mobile device. Here we give most importance to the customer's mobile phone, as we know the value of mobile phones very well.
City Phones will repair the following damage to the Nokia 8 series mobile phone.
Broken Screen
Broken LCD
Faulty charging port
Faulty Headphone jack
Faulty back/front camera
Water damage
Battery not charging
Motherboard issues
Feel free to get in touch with our experts on 0426504955.