IPHONE 11 Screen Repair
Issue
Price
Repair Time
IPHONE 11 Screen Repair

Price Drop

$99 ( Aftermarket Qualiity )
30 Minutes
IPHONE 11 Back Glass Replacement
$129
1-2 hours
| Other IPHONE 11 Repair | Price | Repair Time |
| --- | --- | --- |
| IPHONE 11 Battery Replacement | $99 | 60 Minutes |
| IPHONE 11 Back Camera Repair | $149 | 60 Minutes |
| IPHONE 11 Camera Lens repair | $75 | 30 Minutes |
| IPHONE 11 Back Frame Replacement | $149 | 60 Minutes |
| IPHONE 11 Charging Port Repair | $99 | 60 Minutes |
| IPHONE 11 Microphone Repair | $99 | 60 Minutes |
| IPHONE 11 Ear Speaker Repair | $99 | 60 Minutes |
| IPHONE 11 Ringer/loudspeaker Repair | $99 | 60 Minutes |
| IPHONE 11 Front Camera Repair (without Face id) | $149 | 60 Minutes |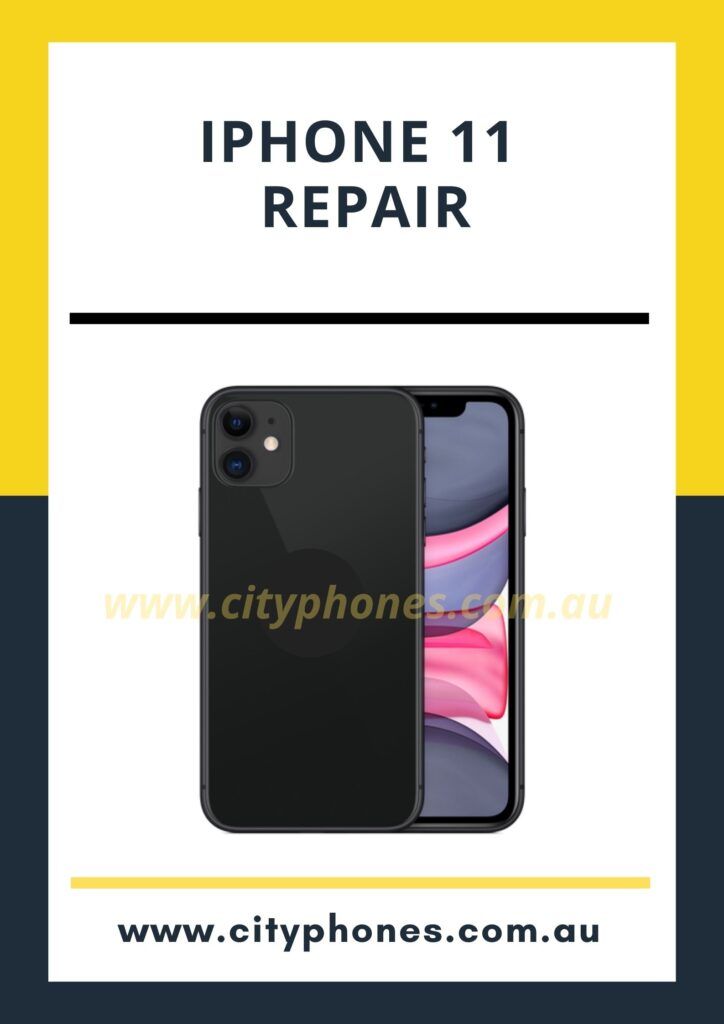 IPHONE 11 Repair in Melbourne and Greensborough
IPHONE 11 was released on 20th Sept 2019. It is powered by an Apple A13 Bionic processor with 6.1 inches display screen and 828 x 1792 pixels screen resolution. Advanced protection is provided to the glass screen of IPHONE 11 with scratch-resistant glass, oleophobic coating with LCD type of 625 nits (type) Liquid Retina IPS LCD display. Network technology it supports are GSM / CDMA / HSPA / EVDO / LTE and it is having 150.9 x 75.7 x 8.3 mm (5.94 x 2.98 x 0.33 in) dimensions with 194 g of weight. It runs on iOS 13, is upgradable to iOS 15.2 OS, and has Hexa-core (2×2.65 GHz Lightning + 4×1.8 GHz Thunder) CPU. Internal memory it supports is 64GB, 128GB and 256GB, the rear camera consists of a 12MP (wide) +12 MP (ultrawide) 2X optical zoom+12 MP (wide) lens. The front camera has a 12 MP + TOF 3D camera sensor.  Although the front glass of IPHONE 11 is built of Gorilla glass yet it is quite vulnerable to physical damages like sudden drop or accidental slip from the owner's hands onto a hard surface like a floor, surely, the screen of IPHONE 11 will have several cracks after the accident. In these conditions, the role of City Phones comes into play as our expert and professional technicians will replace the broken IPHONE 11 touch screen within just 30 minutes to an hour. We keep in mind that our IPHONE repair services are of the highest standard and durable. That is why we use only genuine IPHONE replacement parts as they provide long-lasting and longevity to our repair service.
IPHONE 11 Screen Repair in Melbourne and Greensborough
A broken screen is one of the commonest issues IPHONE users deal with after an accident or a sudden drop. Usually, a cracked screen is the result of an IPHONE falling on a hard surface. A screen protector could protect your IPHONE 11 touch screen only up to a certain height and if the fall of your favorite IPHONE is beyond that limit it is likely to crack. Although the cracked screen of an IPHONE 11 is often still usable, it's frustrating to see again and again the cracked screen of your IPHONE and also it's quite dangerous to make a call or text to someone on a cracked screen as it may damage your hand's skin. Getting your IPHONE 11 touch screen replaced is very simple, and it prevents your IPHONE from getting other hardware issues that can't be fixed, even by the IPHONE repair specialists. We replace many broken screens of IPHONE 11 and thus our IPHONE repair experts have mastered the art of screen replacement in a very convenient and efficient manner which you can rely upon. If you want to replace your IPHONE 11 screen, urgently bring your IPHONE 11 to our store we'll have you back enjoying the newly replaced screen thus making your IPHONE 11 look new.
IPHONE 11 LCD Repair in Melbourne and Greensborough
The IPHONE 11 LCD screen is 6.1 inches large so if you start feeling that the LCD screen is not behaving as usual then you can contact our technicians to have a look at the IPHONE 11 screen and find the problem with the mobile phone screen. In case your IPHONE screen goes black, shows purple or green lines on the touch screen or you are having touch issues while operating your IPHONE then the experienced technicians working at City Phones for the last 6 years will replace the faulty LCD screen of your IPHONE. LCD replacement is carried out by our experienced technicians using only genuine IPHONE parts which provides a long-lasting effect to the repair service. After the LCD replacement and repair service from City Phones, your IPHONE will start looking like new as you saw it at the time of purchase.
IPHONE 11 Battery Replacement in Melbourne and Greensborough
In case your IPHONE 11 is not holding the battery charge then you can contact City Phones to have access to your IPHONE 11 mobile phone for a while. We assure you that your IPHONE battery life isn't what it used to be before. We will diagnose properly whether the issue is with your IPHONE battery, or the issue is with your IPHONE charging port. If your IPHONE is having battery related issues, we will replace your IPHONE battery with a new one so that you will not face any battery-related issues in the future. We at City Phones will perform battery replacement within 30 minutes to an hour and also, we provide a standard repair warranty with every repair we perform. We strongly believe in total customer satisfaction, so we employ our most experienced IPHONE repair technicians to replace the battery of your IPHONE 11 mobile phone. All the battery replacements we do are completed in the scheduled time frame.
IPHONE 11 Charging Port Repair in Melbourne and Greensborough
If your IPHONE is creating problems with charging, then in most of the cases we have seen the problem is with your IPHONE charging port which needs replacement as the old charging port has got faulty and it needs replacement. This is the second most common issue found in IPHONE after the screen repair service. It gets damaged by a sudden fall from hands by the owner. With the assistance of our IPHONE repair technicians, who have more than 6 years of experience in changing the charging port of the IPHONE, we can replace the charging port of your IPHONE 11 on-the-spot within just 30 minutes to an hour. With the help of genuine IPHONE replacement parts, we replace your IPHONE 11 charging port with a new genuine IPHONE replacement part with enhanced durability.
IPHONE 11 Front/Back Camera Repair in Melbourne and Greensborough
The prime objective of an IPHONE camera is clicking amazing photos so if your IPHONE camera is taking blurred photos then it is sure your IPHONE's front, or back camera lens needs replacement. It is disheartening if your IPHONE 11 front and back camera is not taking good quality photos of your life's most memorable moments from both sides of the cameras so in this case, you need to replace the lens of your IPHONE mobile front and back camera lens. Front and Back camera lens replacement of IPHONE 11 is a very crucial issue and it should be done by expert IPHONE 11 repair technicians only. We are City Phones and have more than six years of experience replacing IPHONE front and back camera lenses so trust us and contact us for all the IPHONE front and back camera lens replacement service.  We complete all our front and back camera lens replacement service at our store and do not forward our IPHONE camera lens replacement to others that's why our repair prices are low as compared to others and also affordable compared to other IPHONE cameras lens replacement service providers. We take utmost care in replacing the IPHONE front and back camera lens for our customers as we understand that clicking high-quality photos is very important to you.
City Phones also deals with high-quality IPHONE 11 cases and covers along with world's leading brands IPHONE 11 tempered glass and IPHONE 11 screen protectors. These premium quality IPHONE 11 cases and screen protectors will protect your IPHONE 11 from various physical damages like accidental fall from hands or the sudden drop. Visit our store online to order IPHONE 11 accessories with free shipping and an afterpay facility where you can buy now and pay later.
IPHONE 11 Screen repair cost and services in Melbourne CBD and Australia wide via post. Just mail in your broken device to our IPHONE repair center in Melbourne CBD and we will ship it back to repair. We have quality parts and competitive prices in the market.  IPHONE 11 is a very durable and fast phone within budget. It has all the high specifications you can expect from a high-end smartphone.  We also understand the value of the device in our lives these days.
We will have your device fixed as soon as possible, normally in 30 minutes hour. Our qualified and friendly staff is ready to help you out in any sort of damage. At Cityphones we give most importance to our customer's phone as we know their value. All repair comes with a warranty from us.
Cityphones can fix the following damages to IPHONE 11,
-Cracked Screen
-Non-Working LCD
-Non-Working charging port
-Non-Working Headphone Jack
-Non-Working Back/Front Camera
-Water Damage
-Non-Working Battery
-Motherboard Problem
If you are looking for good aces or tempered glass for IPHONE 11 then check our ONLINE STORE.